FOMA 9: Radical Open Architecture
Our ninth edition of Forgotten Masterpieces focuses on two Dutch architects from the period between 1950's until the 1970's, Herman Haan and Frank van Klingeren, which are relatively unknown outside the Netherlands. Although they differ in their architecture, what connects them is their position towards an open society, which was – sometimes quite literally – realized in their work. Besides that, they were both media (television mainly) personalities in an era when this was not common among architects.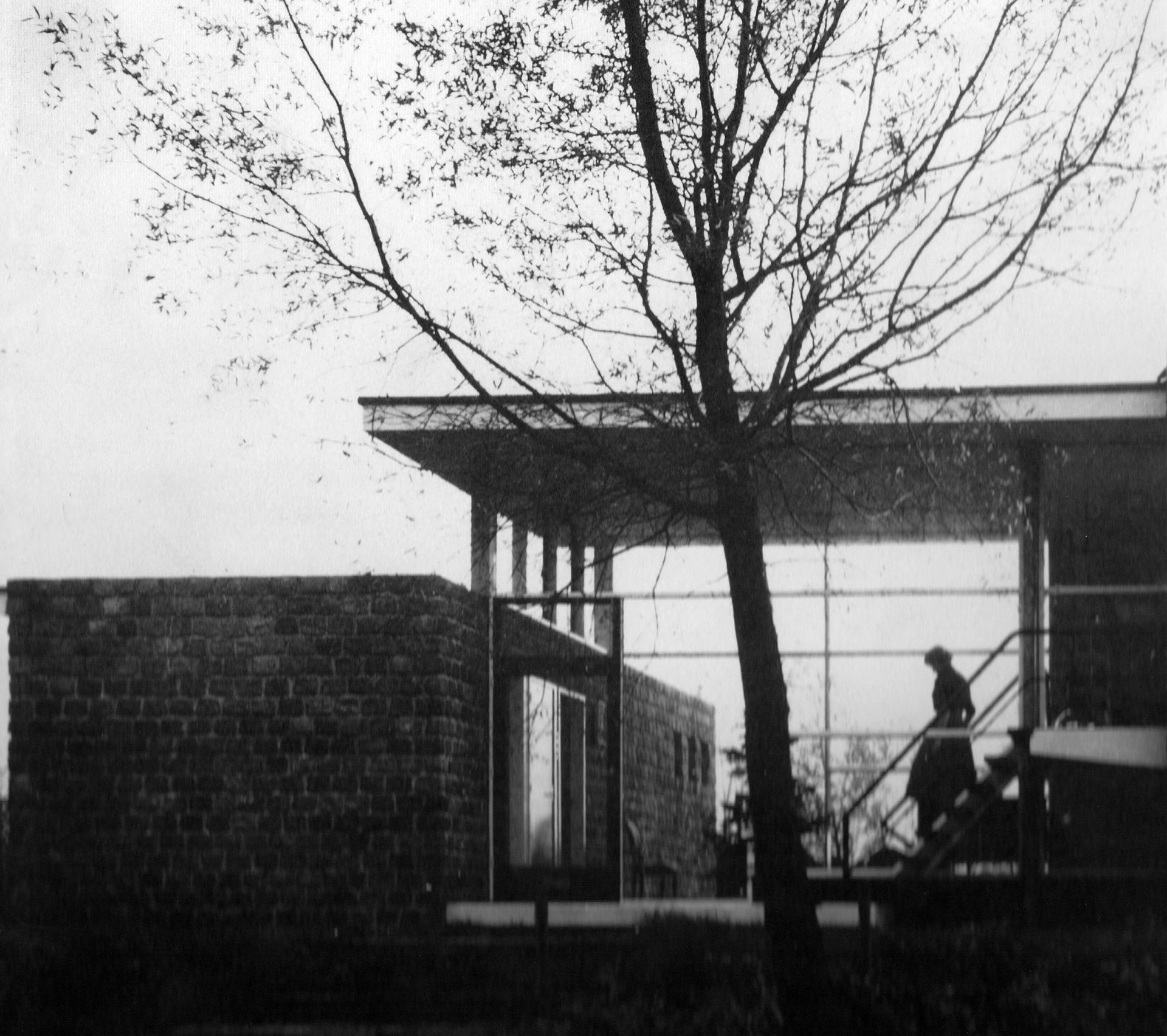 Herman Haan (1914-1996), a typical architect's architect, was admired among colleagues, but hardly known by the general public. In his case it must be noted that he was very well-known in the 1960's outside the profession because of the media attention (television, newspapers, books) he received for his travels and explorations in and around the Sahara and Mali. In Mali he documented the life and artefacts of the Dogon people and he was leader and initiator of an expedition that discovered the remains of the forefathers of the Dogon: the Tellem people. In fact, he had travelled to Africa on a yearly basis (mainly in and around the Sahara) since he was a young boy, and one could say that he lived two full lives; one of an adventurer/ explorer/ archaeologist and another life as an architect in the Netherlands. He was a sort of an architect Indiana Jones.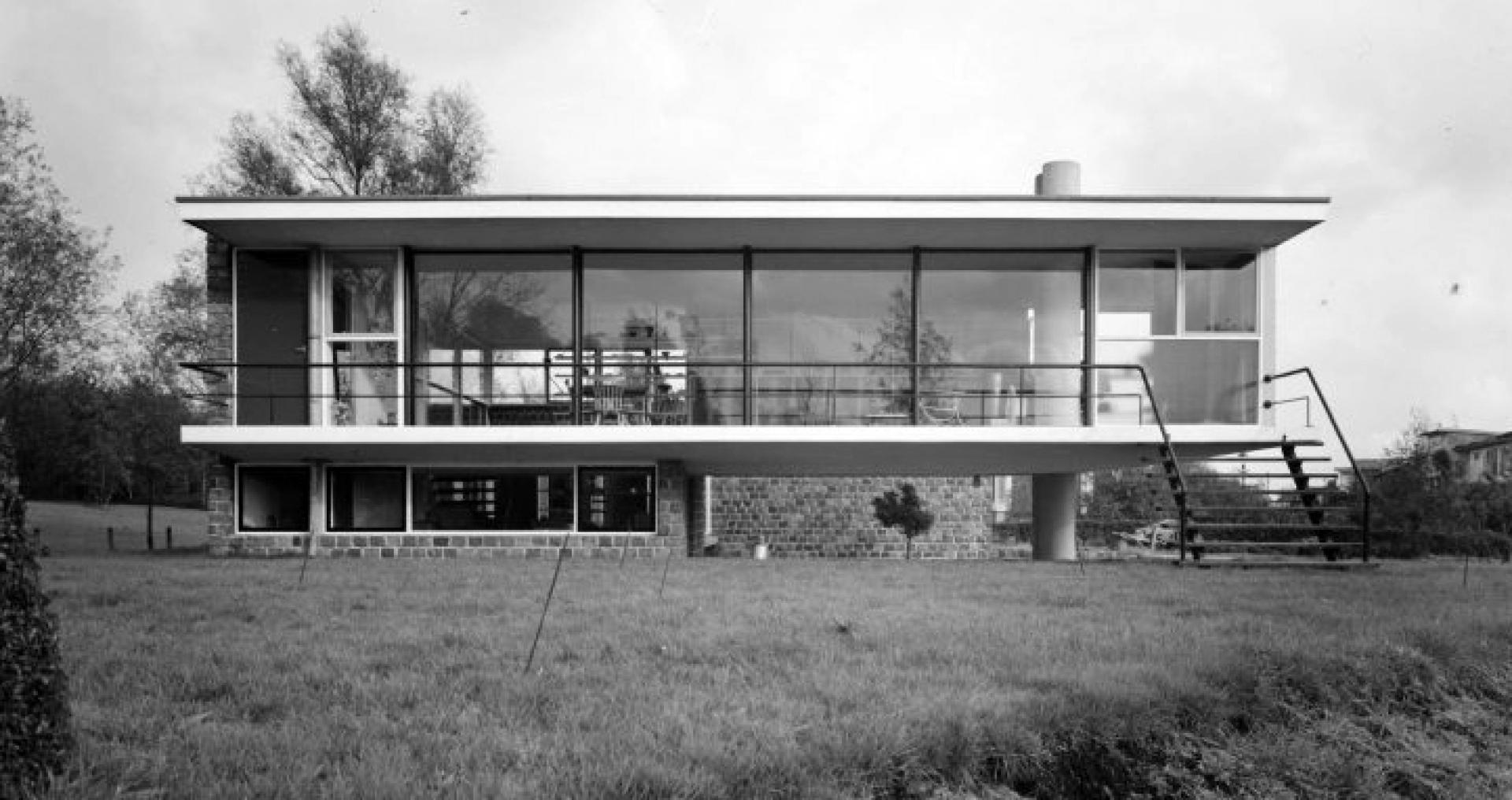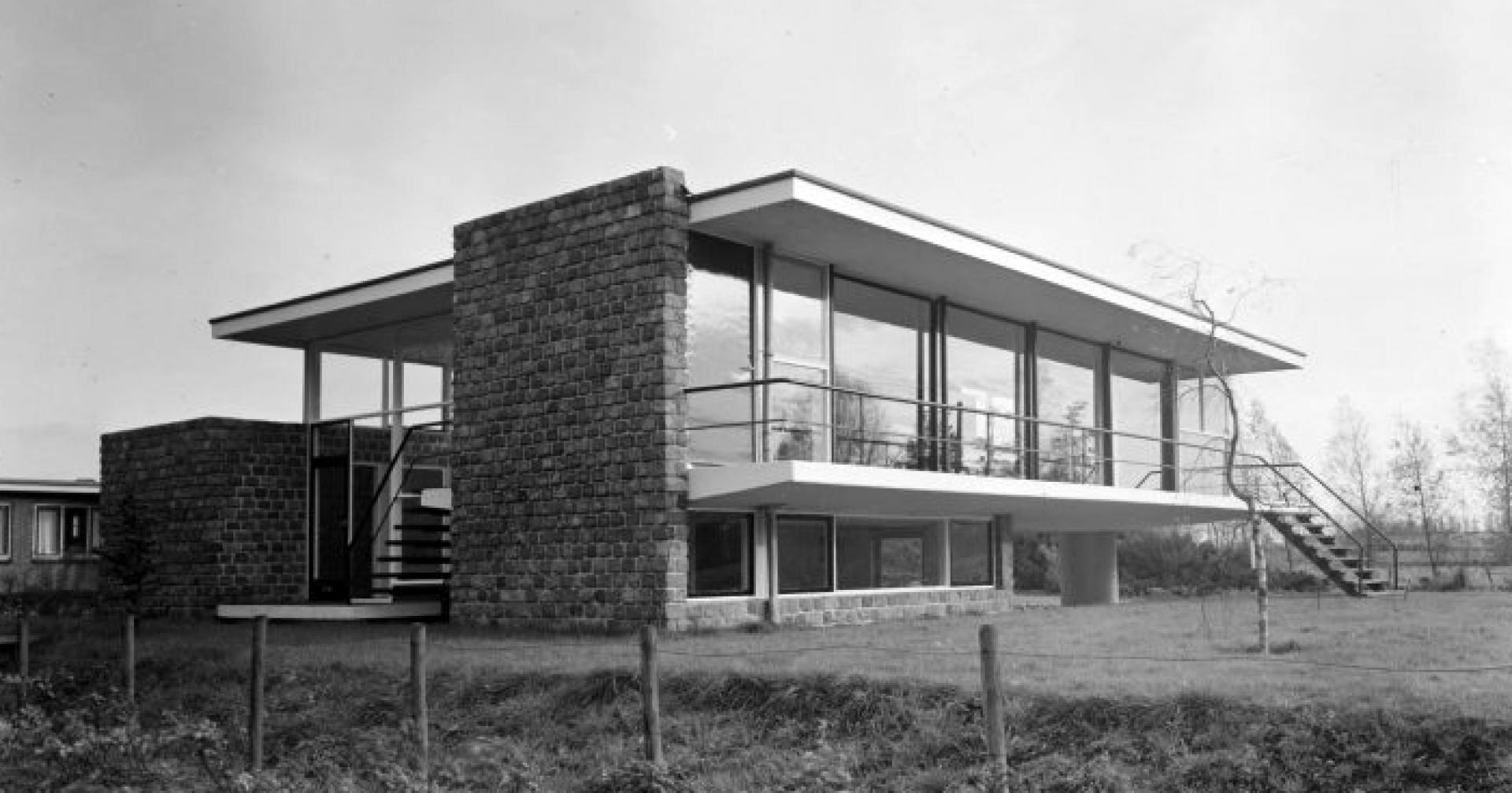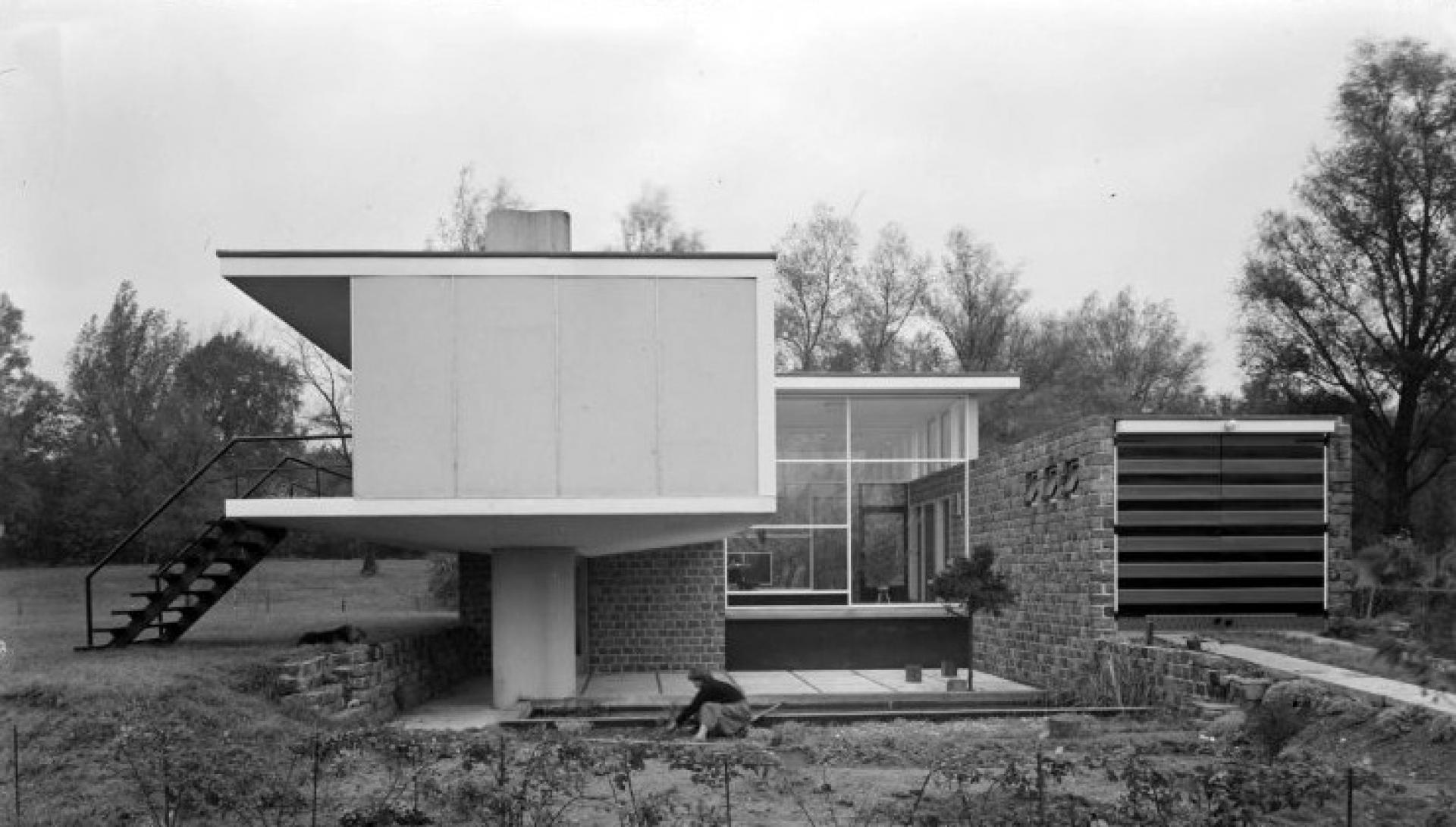 Haan build the radically open house for himself and his wife Hansje on a piece of land at the edge of Rotterdam, where the debris of the demolished city centre during a bombardment in 1940 was collected. It consists of two elongated volumes: an elevated, floating open volume with the living room above and a small architect's studio underneath half of this volume, and a second, closed volume with garage and two small bedrooms. In-between is a double height open space that connects both volumes as an entrance lobby.
The main feature of the living room volume is the set of four glass sliding doors, that can all be opened at the same time, thus literally opening the living room to the outdoors and the view over one of the main entrance roads of the city (and Haan did not believe in the use of curtains either). Another feature is the open kitchen, if not one of the first in architecture, then certainly of one the most radical open kitchens ever. It consists of a simple, small cooking table with a floating kitchen sink that stands in the middle of the living room and is connected to the open fire chimney only. Cooking is a social activity, so Haan had learned in Africa.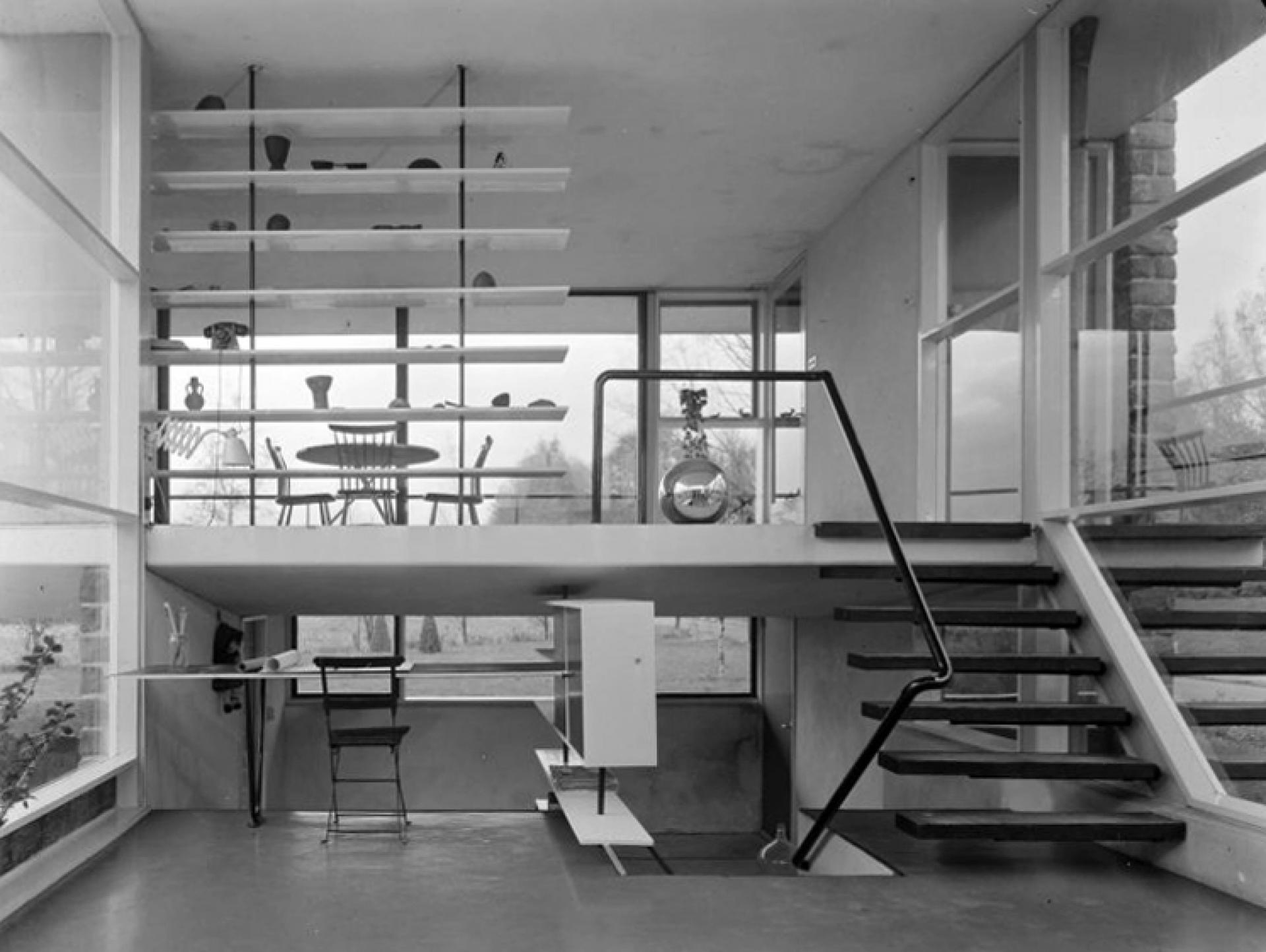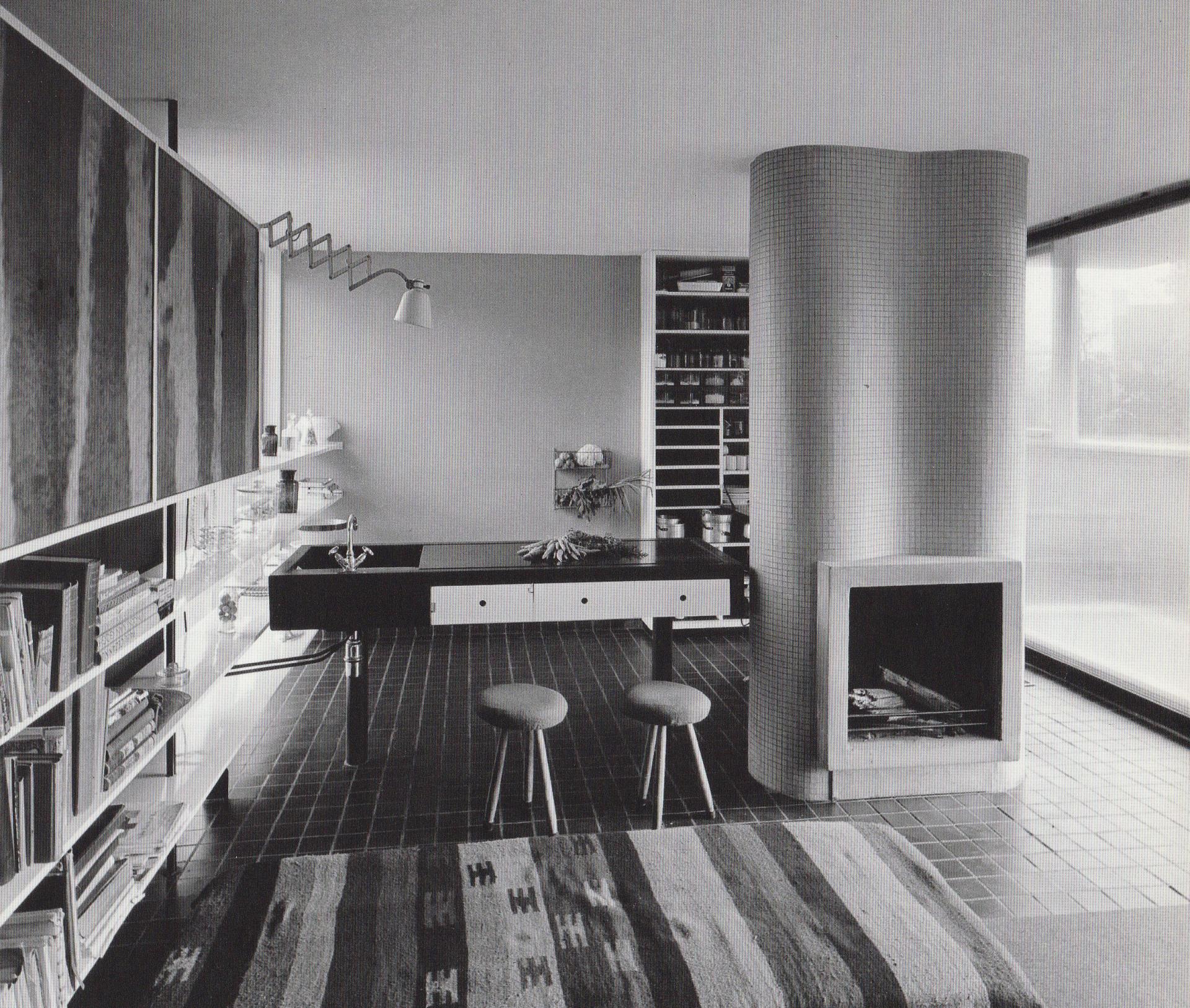 The bricks of the closed bedroom volume used in the interior are re-used pavement bricks from the quays of the Rotterdam harbor. An old poplar tree that stood on the site was cut into veneer and used as a finishing layer of cupboards all around the house. Parts of the stone flooring was salvaged from the rubble heap on which the house is build. The house is still standing, but the radical openness proved to be too much for the current owners. It is today surrounded by a wall of conifers, and parts of the glass facades are closed off.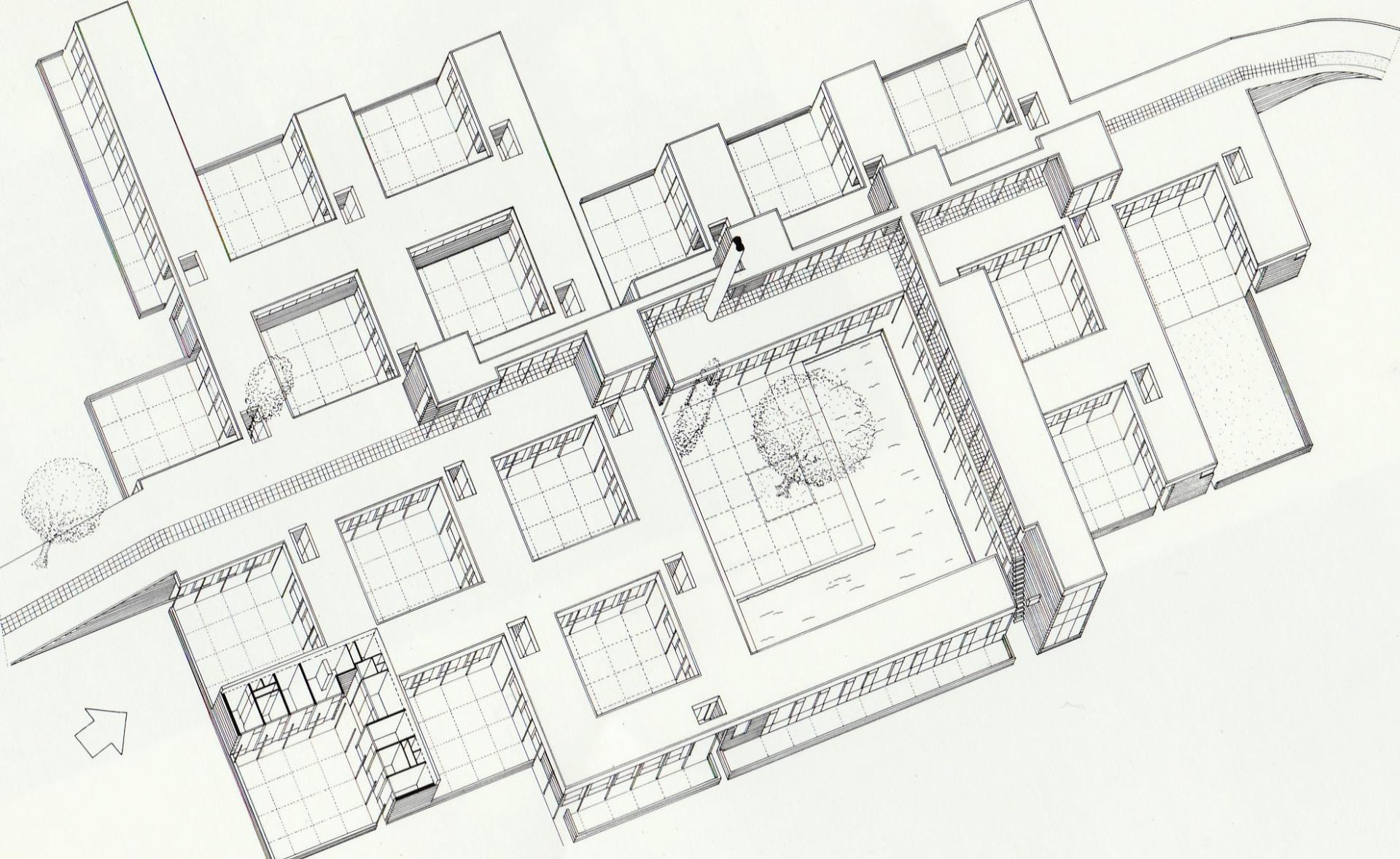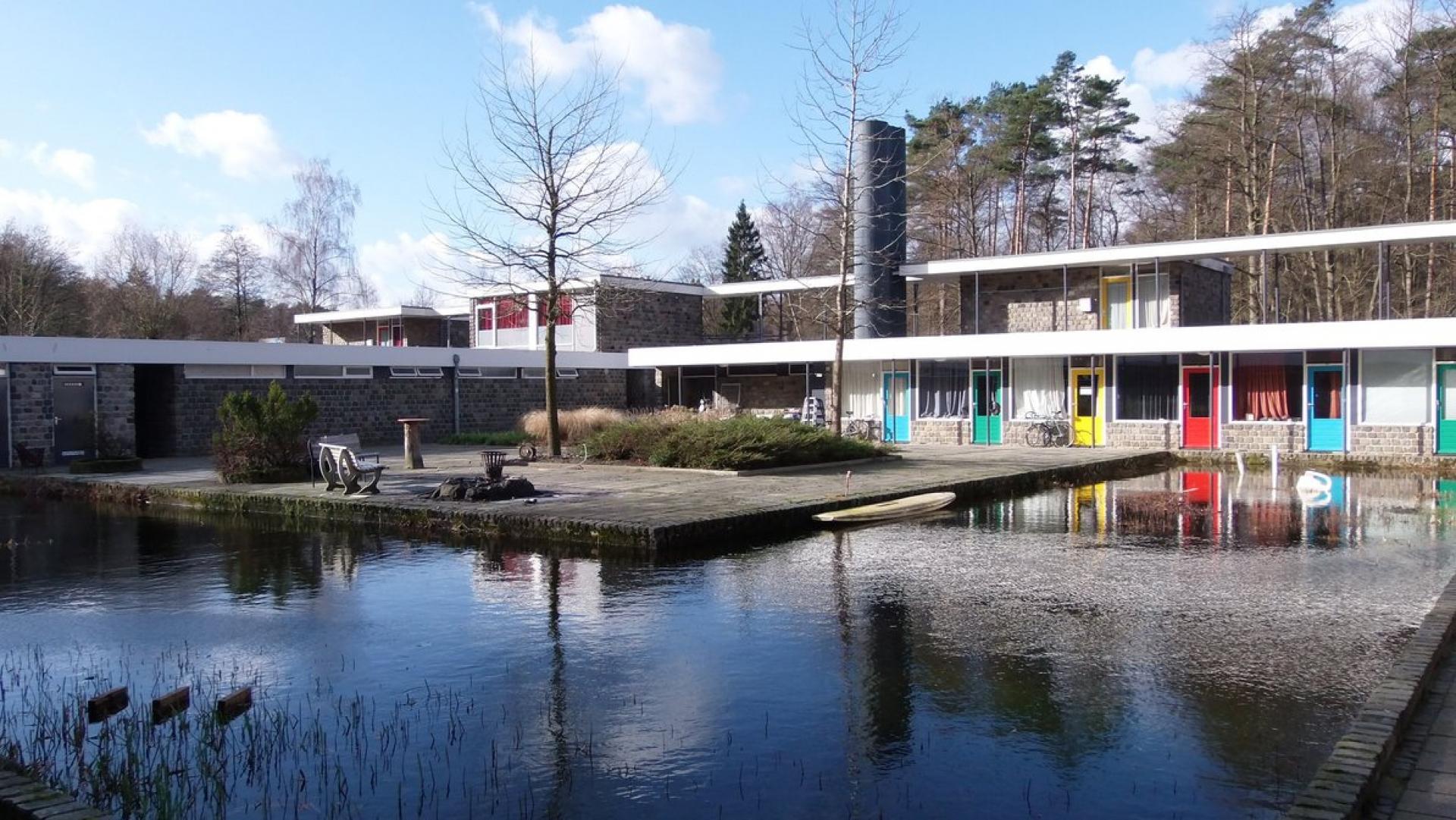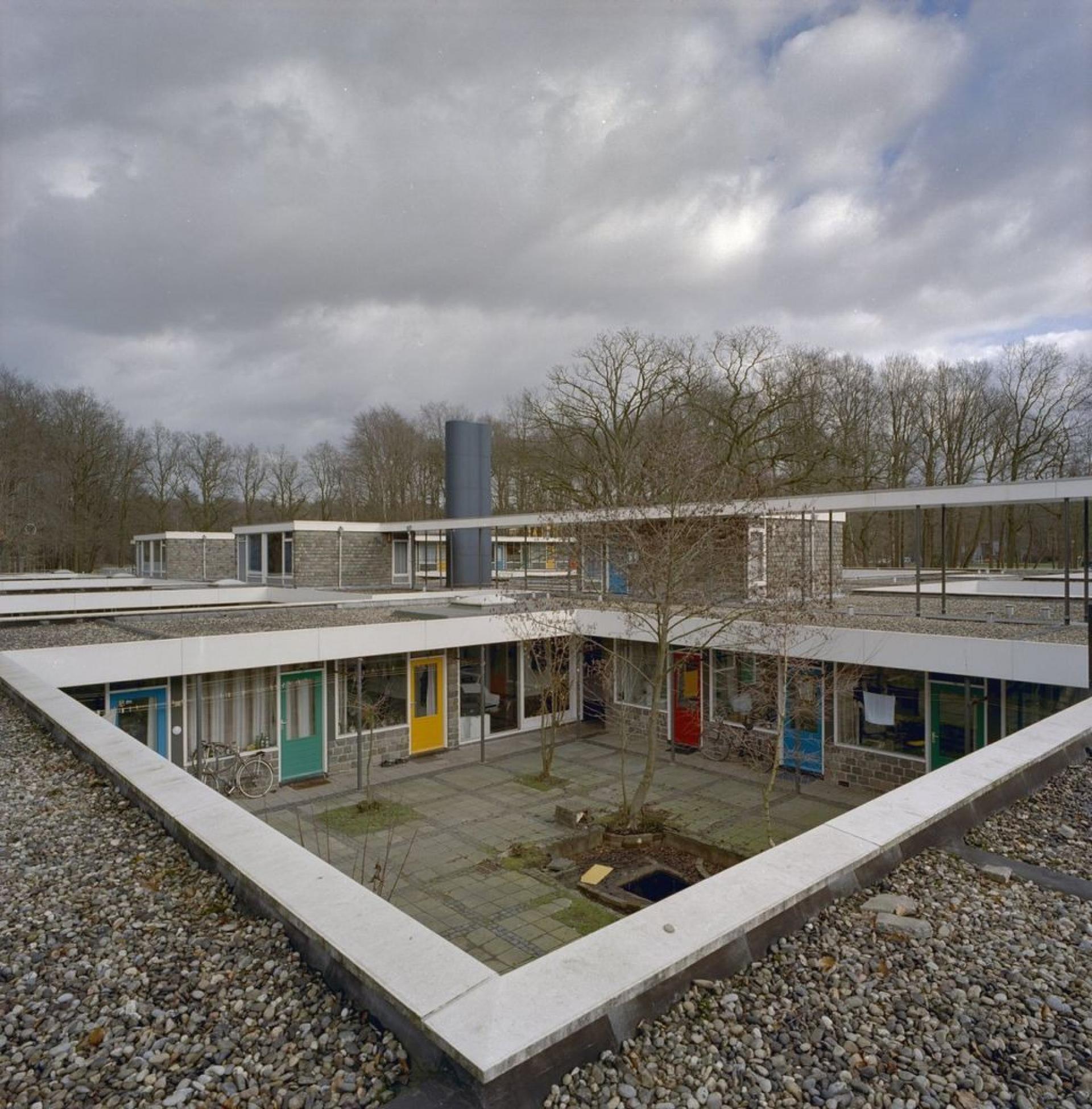 Herman Haan was asked by his mentor Willem Van Tijen (a first generation functionalist modernist) to build a batch of student housing for the campus of a new technical university in Enschede. It is unquestionably his most African project. The concept was based on the Matmata cave dwellings of southern Tunesia, famous for being the home of Luke Skywalker in Star Wars IV. It is also his most structuralist design, a so called mat-building based on a continuous square configuration, that was also one of the Team 10 tropes. The design consists of seventeen square units, joined in a larger configuration. Each unit consists of a patio with student rooms on two sides. Eight students live in such a patio unit (six one-person rooms, one two-person). Access to the rooms is from the patio, so each student room has his own front-door. Access to these patio's themselves is mainly from the roof of the one - storey complex. A foot-path and bicycle road crosses the roof of the complex. The roof itself was one of the first green roofs in the Netherlands, sowed in with grasses. In the middle of the complex a larger central square and pool serves as a meeting place for the student community. The same pavement bricks from the quays of Rotterdam harbor, that he used in his own house and other projects, were used extensively in this one too. The project was recently fully restored and established as a National Monument of post-war architecture.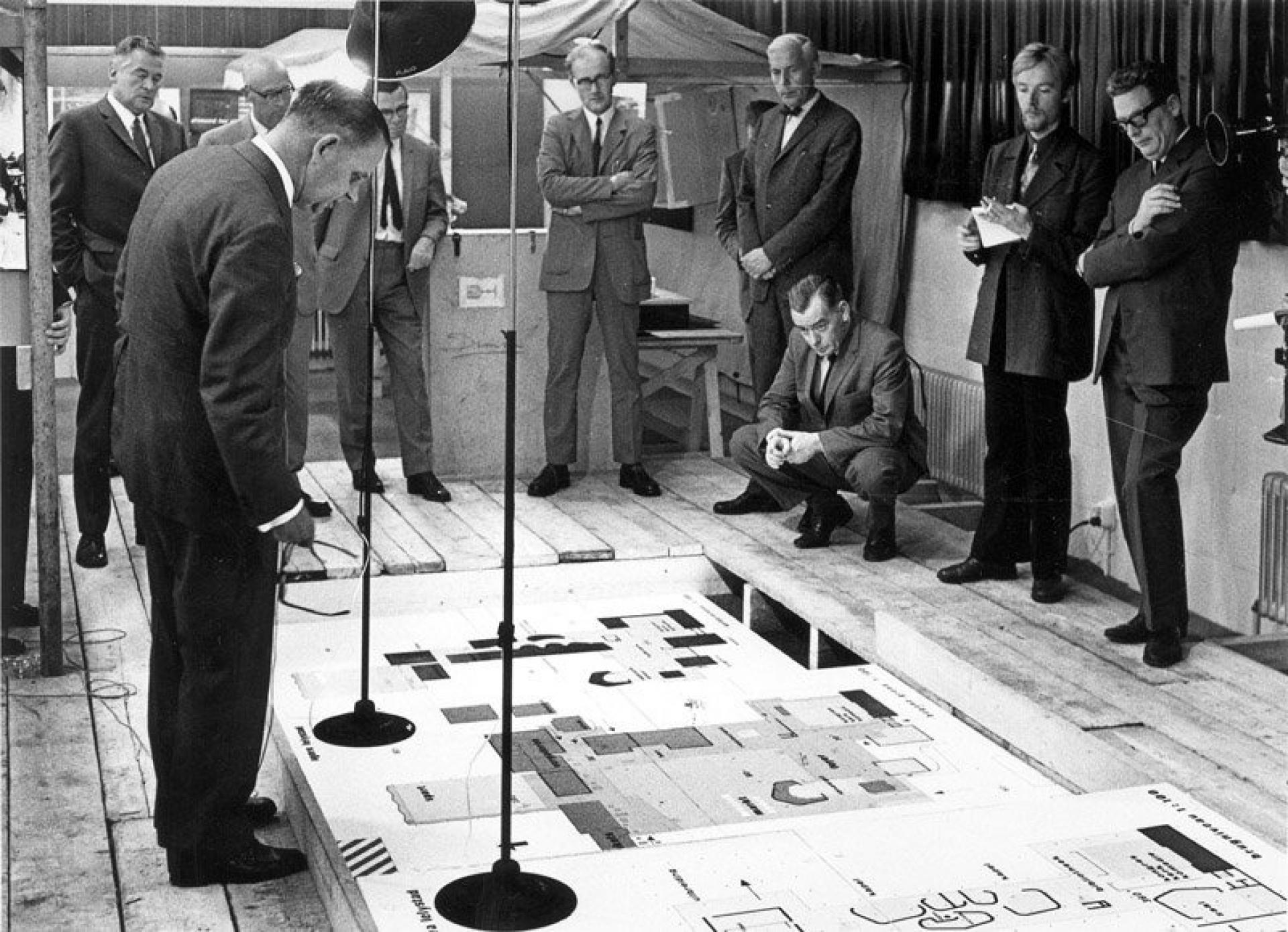 Frank van Klingeren (1919-1999), a Provo in a business suit was, unlike Herman Haan, a real outsider in the Dutch architecture scene of the 1960's and 1970's. Trained as a construction engineer, he was a self-taught architect that kept away from architecture gatherings or cliques. He was more at home among people from avant-garde theatre of the period, than among 'Forum' architects like Van Eyck, Bakema and Hertzberger, although he shared a lot of his ideas with the latter. They even received the Fritz-Schumacher-Preis in 1974 together, Hertzberger for his Centraal Beheer office in Apeldoorn, and Van Klingeren for 't Karregat in Eindhoven. Both buildings celebrating multi-functionality and an openness towards change.
Although Van Klingeren was quite productive as an architect from the late '50's to the mid '70's, his main claim to fame was established with the design of three consecutive multi-cultural community buildings or Agora as he called them; De Meerpaal in Dronten, Agora in Lelystad and 't Karregat in Eindhoven. But his media presence was broader than that. Especially after finishing De Meerpaal, he evolved towards a counterculture societal critic and television personality, while keeping his distance from direct involvement in flower power, hippie or provo movements. He was in that sense a Provo(cateur) in a business suit.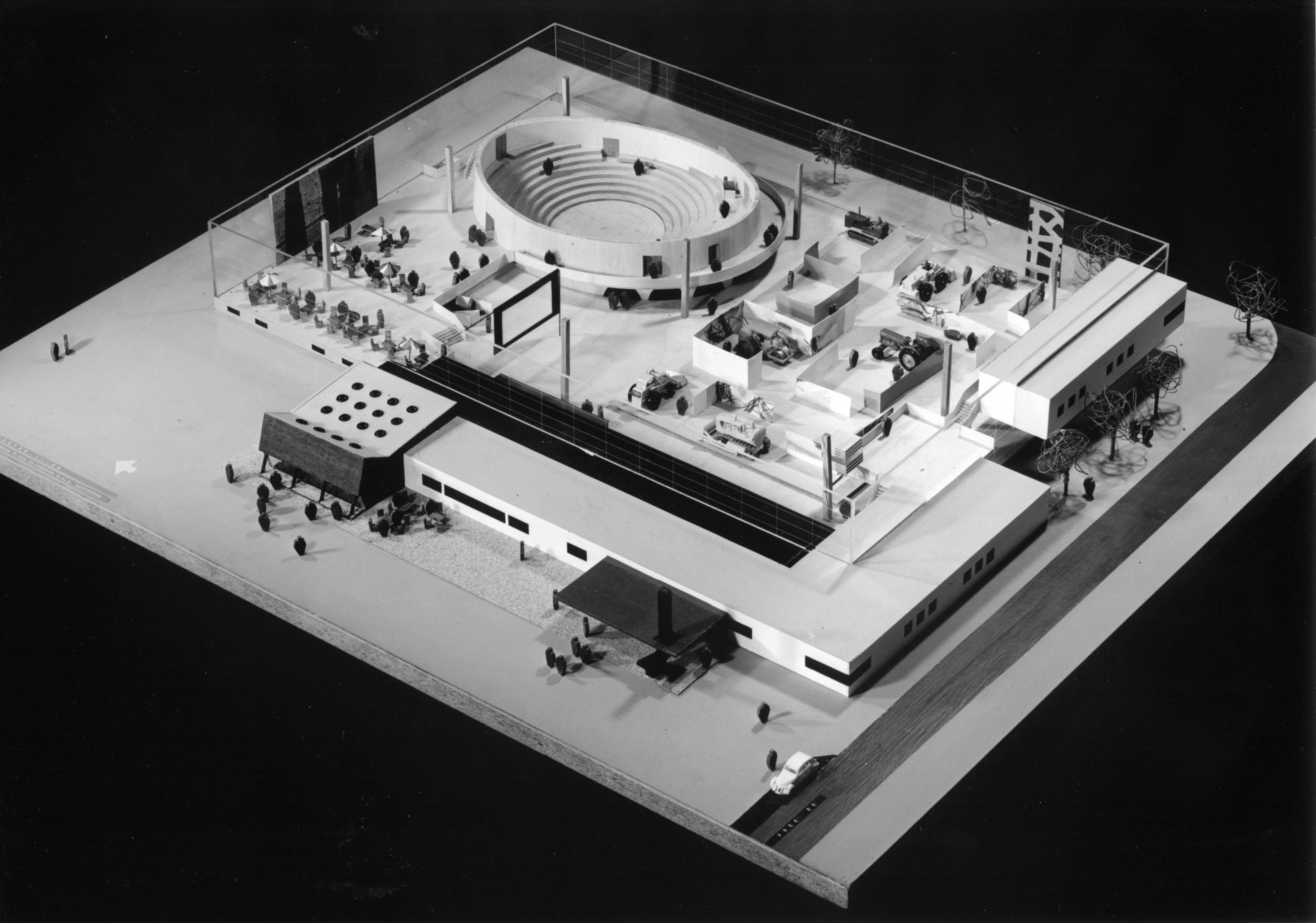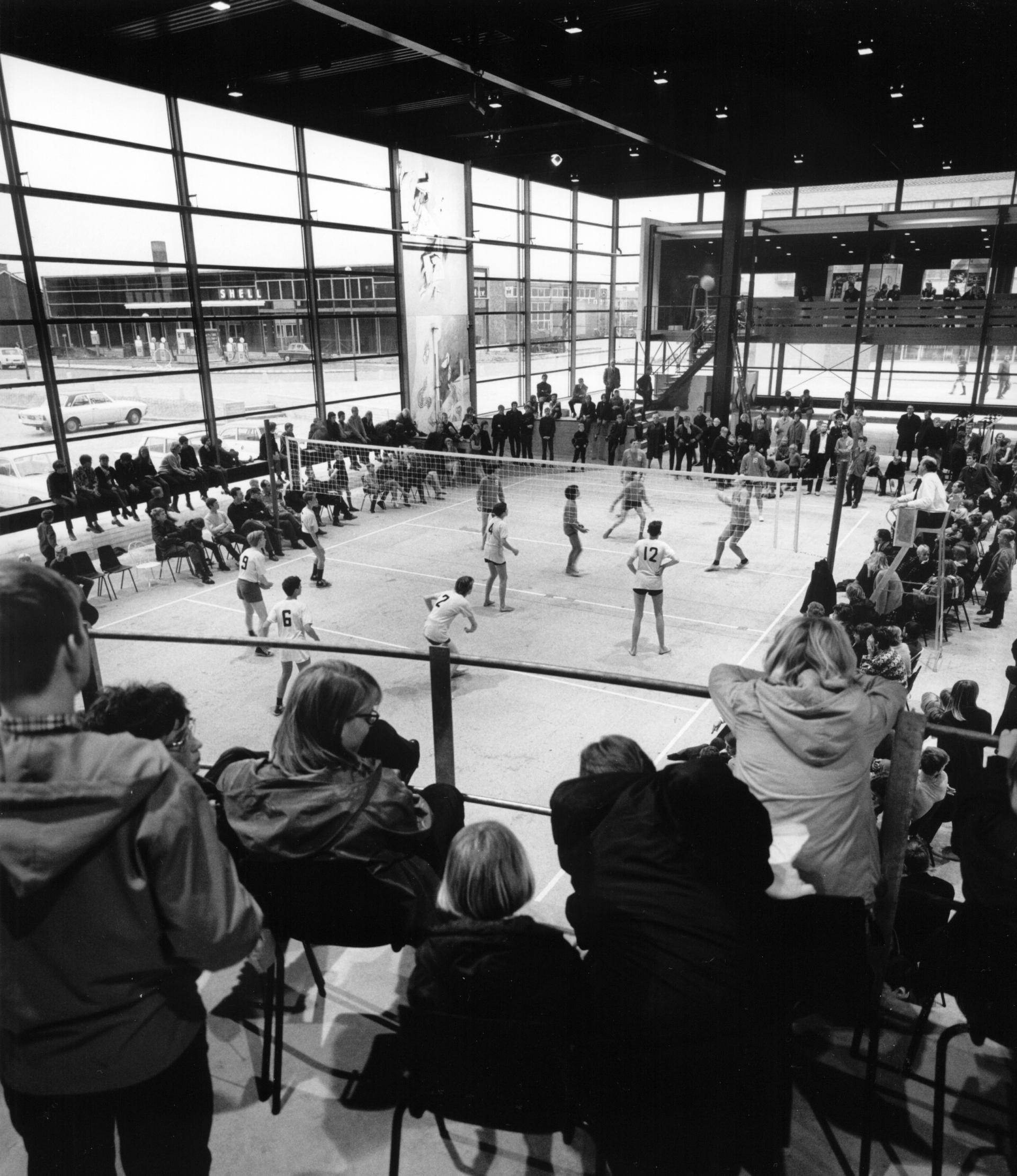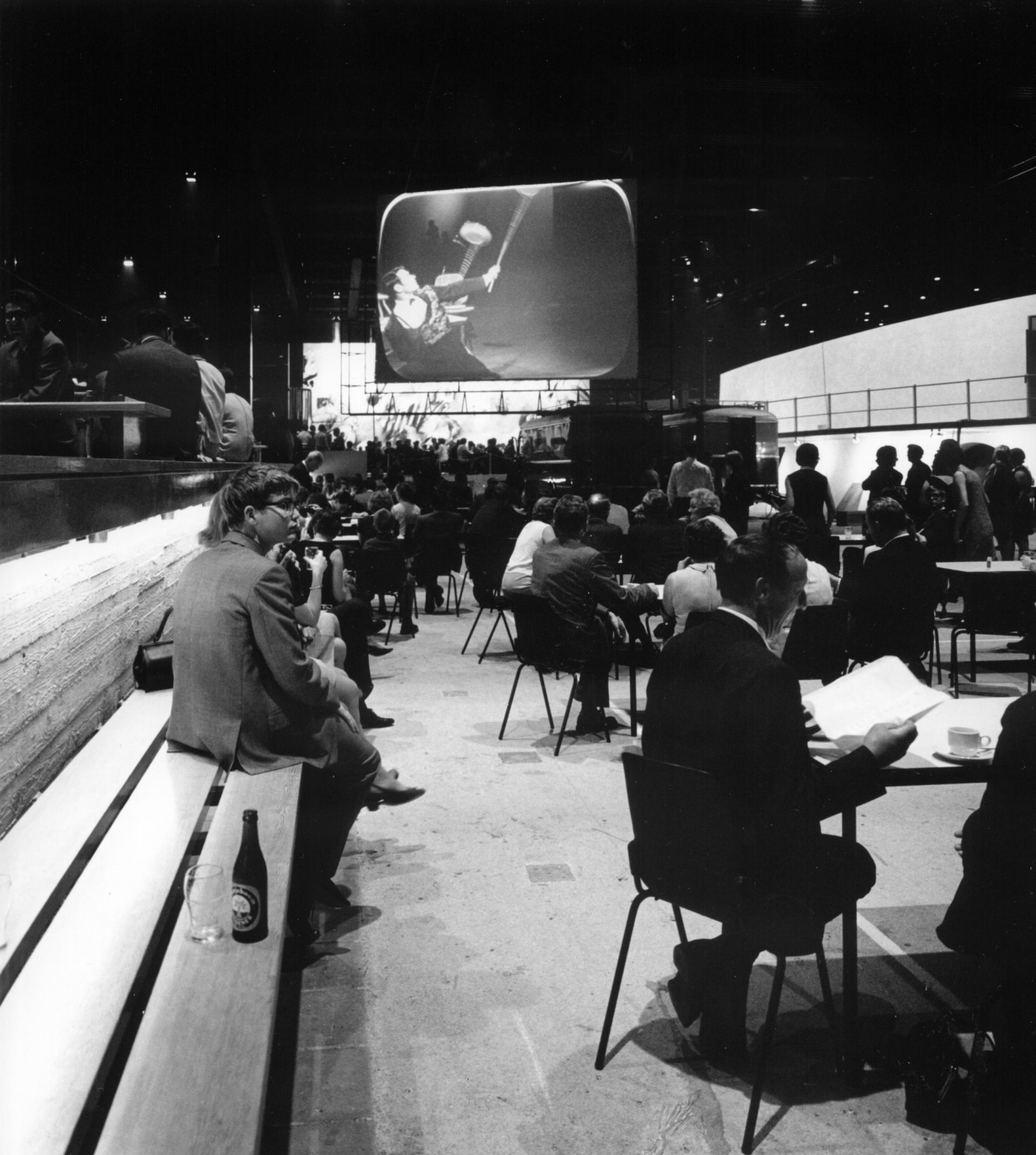 Asked for a simple multipurpose community building with provisions for amateur theatre and music, sports and a small café for new inhabitants of the pioneer-village Dronten that was being built in the new polder Flevoland, Van Klingeren did much more than that, and in a sense also much less. He gave more space, more functionalities and more possibilities, but less stuff (walls, floors) and in a way less architecture. Van Klingeren was inspired by the village squares or agora of the Mediterranean that functioned as meeting places, open-air theaters and playground, while showing a generic, in fact absent, architecture. In this sense his agora can be seen as a sort of architectural urbanism.
De Meerpaal is in fact nothing more than a covered village square, protected from the northern climate by glass walls. It is a large glass-and-steel box measuring 50x70 meters with a couple of smaller brick boxes (some art and exhibition rooms, a tilted box with restaurant/ café, and a small staff office) added along the edges. In the middle of the covered space an oval open-air theatre - soon dubbed 'The Egg' - is the main architectural gesture. There are hardly any walls inside, neither are there many spaces for any specific function. All functions mix, sometimes causing hindrance. According to Van Klingeren, hindrance leads to conversation and mutual understanding. De Meerpaal was used for many different functions; the weekly market, agricultural exhibitions, sports, parties, large scale meetings etcetera. The oval theatre with its central stage (the setting of audience and use could be changed easily, anything was possible except a traditional proscenium set-up), became a place where alternative theatre groups loved to perform.
De Meerpaal was also the main stage for large size, live national television productions and games, until large-scale studios were built in Hilversum. Besides this television attention for Dronten, it was also equipped with a (rotating) film screen on which, besides normal movies, live television could be screened of the so-called Eidophor technique. Thus, the whole village could watch the news or football matches together from the indoor terrace of the café. De Meerpaal has, with some merit, been compared to Cedric Prices (unbuild) Fun Factory of the same time. But while Fun Factory can be called a machine for multi functionality, full of specific intentionality, De Meerpaal is more like a generic square where the intentionality of use and meeting is not outspoken, but nevertheless - maybe more so than in Fun Factory - more open to chance and unpredictable uses.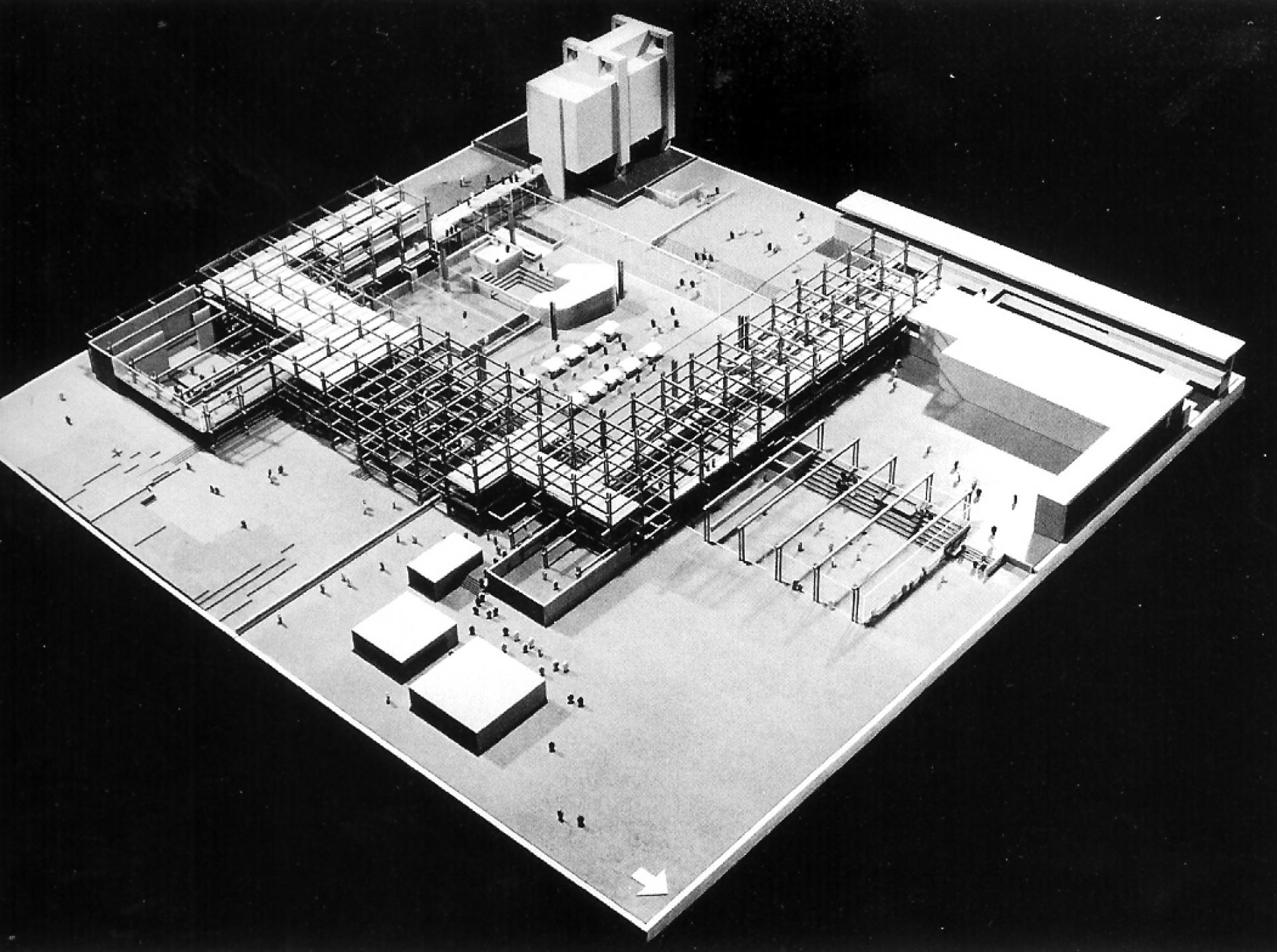 While construction work for De Meerpaal was still going on, Van Klingeren was commissioned to design a similar multifunctional building for Lelystad, the second new town to be built in Flevoland. It was planned to become the largest city and capital of the new polder province. The first design elaborated further on the open concept and mix of functions of De Meerpaal. In this case the scale was larger and Van Klingeren managed to lure in the churches (three different denominations) into the collective. Although each church would have its own space, it was to be open like the open-air theatre and - as Van Klingeren argued - since these spaces would only be used on Sundays, they could double as extra theatre and meeting spaces for the rest of the week.
Meanwhile it was decided that not Lelystad but a newer town Almere to be built closer to Amsterdam would be more important and bigger, and construction of Lelystad was delayed. This meant that the scale and budget of Van Klingeren's Lelystad Agora diminished too. Instead Van Klingeren proposed the opposite; to enlarge the program with shops and housing facilities (hotel, boarding house), but to do this within the limited budget (to do more with less, was one of his favorite slogans). He proposed a U-shaped steel post-and-beam structure of three storeys, to be left open and to be colonized over time by the people and by entrepreneurs. The ground floor would still be like De Meerpaal, only a swimming pool was added. This open ground floor would be connected to the adjoining park so that Van Klingeren started to title the different zones in the lay-out as if they were landscapes: theatre landscape, youth-cave, swimming and undressing landscape. All in an open 'wall-less' setting. While De Meerpaal could be called urbanism (realised with architectural means), this last design for Lelystad would have been a landscape design instead, growing over time. The proposal proved to be too radical for Lelystad and a toned down. Conventional Agora was built in the city centre by one of Van Klingeren former employees.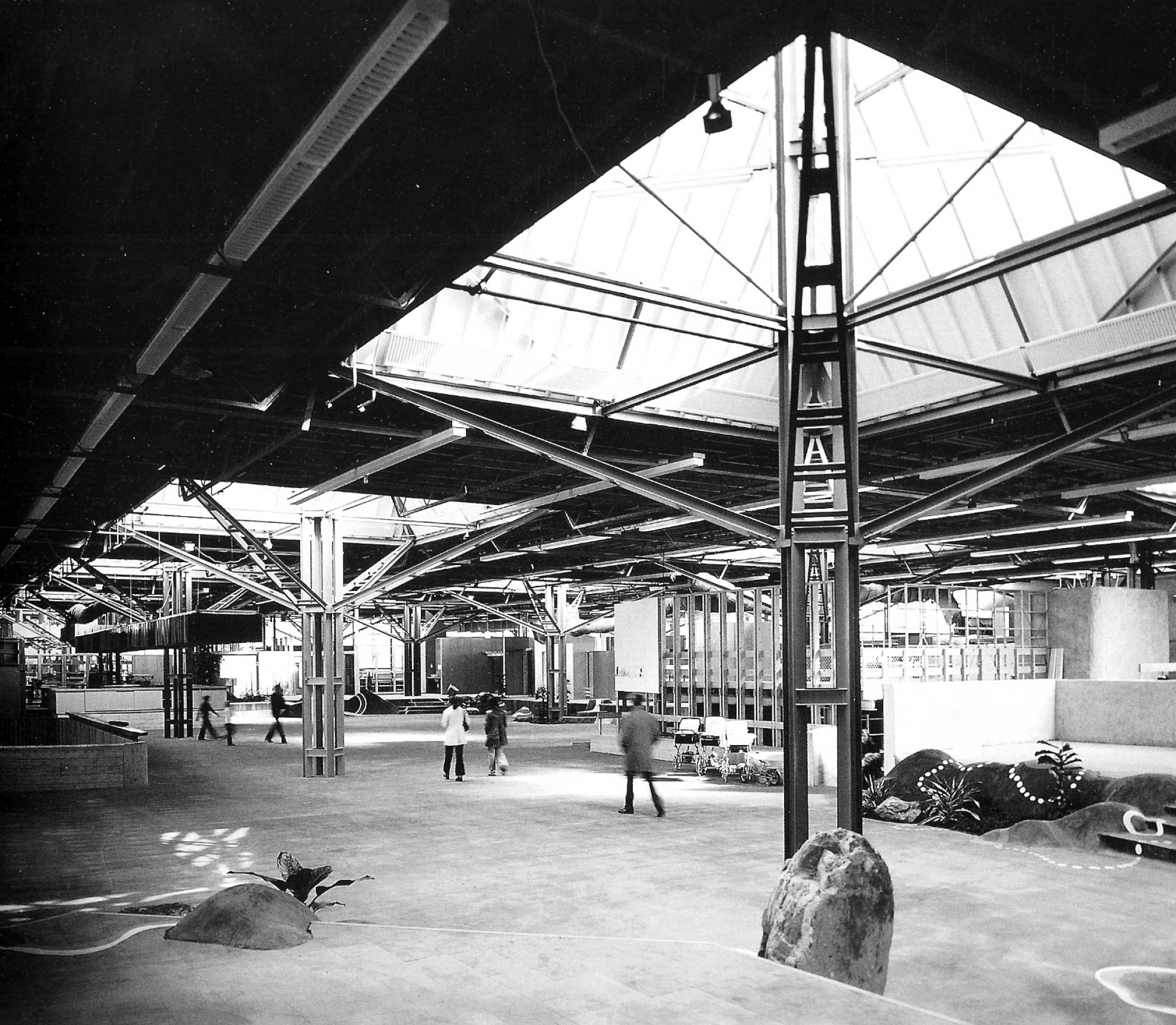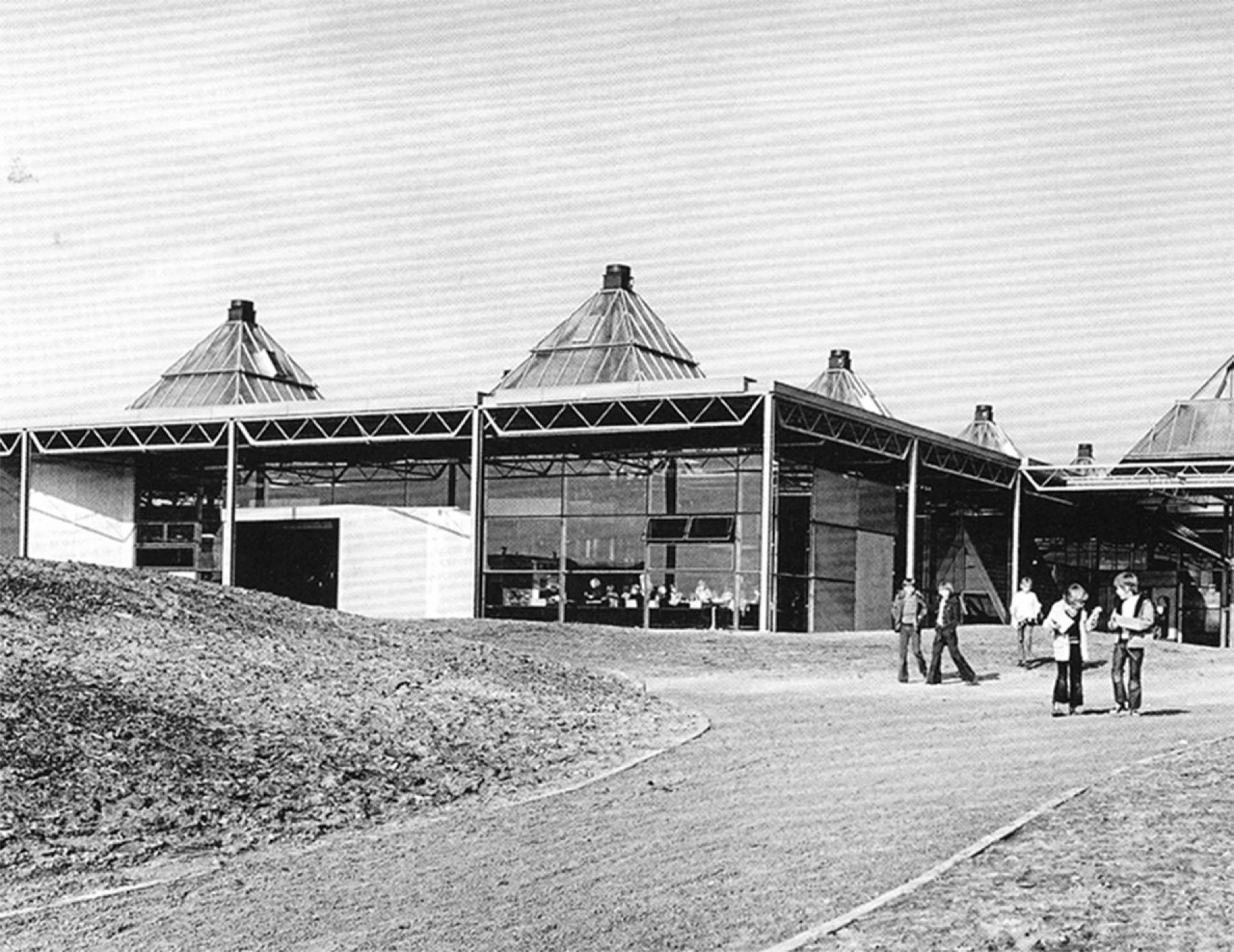 Van Klingerens attention had already shifted towards Eindhoven. There he was given the opportunity to build another multifunctional community building for a new experimental housing project. This time it would include – besides the cultural and sports facilities – a small shopping mall (bakery, greengrocer, a small supermarket) and a health facility with general practice (the café serving as a waiting room) and a pharmacy. But the real experiment was the inclusion of two elementary schools and a nursery school. These too would be built without any internal walls to speak of, one organic whole with the rest of the spaces and facilities, a field of communal activity. Children, according to Van Klingeren, would learn their arithmetic next to the supermarket cash desk, mothers could meet each other at the café bar after bringing their kids to school.
The one storey building (or rather the enclosed and climate controlled landscape) is situated underneath a flat roof with an open steel structure, that is supported by steel umbrellas; pyramid shaped skylights on open steel columns. All services (air-conditioning, electricity, rainwater drainage and ventilation) are positioned in sight within the steel roof structure, and can be accessed (and changed when the floor configuration is changed) from below. The perimeter facade is built-up out of off-the-rack components (mainly from the glass-house industry). In general, there is a certain high-tech feel to the architecture, albeit with the informal sloppiness of a self-built community house. Named 't Karregat (cart-sink after the shopping carts that would gather there) it was opened in 1973 without hardly any change in the original concept. After a couple of years, the schools without walls proved to be too much for the teachers, that went into the experiment without any primary experience whatsoever in new schooling methods. Glass partitions were applied, but besides that the openness was maintained and 't Karregat became an overnight success, also because the community ran the cultural facilities for themselves.
Afterlife
Both De Meerpaal and 't Karregat were highly successful until the 1990's. When De Meerpaal, formerly publicly owned, was privatized in the 1980's the open space was divided into smaller areas, and finally plans were made to demolish it around the year 2000. Protests from the architecture community and the State Architect managed to save the structure, especially the roof and The Egg. But several theatre spaces and a public library (all very much enclosed) were added so that the new Meerpaal can hardly be called open anymore, at least not in the sense that it was open in the 1960's, both architecturally and functionally. More or less the same fate came over 't Karregat. After a successful period of a couple of decades, plans for demolishment were halted, and it is now restored; but a smooth false ceiling has killed the informal sloppiness of the original, partition walls have been added, patios are cut into the roof. Operation succeeded, patient died.
One may wonder whether this open architecture of De Meerpaal and 't Karregat was not so much geared towards it's own time, and so much part of the open society, that it failed to be open towards societal change in the 1990's. It very well may be the case, but then so is the architecture of the renewal. One of the protesting architects against demolishing De Meerpaal, Kas Oosterhuis, proposed to wrap the building up in plastic and to wait until society and technology would have been advanced towards a new phase fitting the original intentions of De Meerpaal. This would actually have been a great solution, and one has the feeling that now, only fifteen years after, the new Meerpaal feels old, and the old Meerpaal would fit much better in our current times, which are media driven, semi-virtual, but also with a longing for the open society of 50 years ago. The plastic could have been wrapped of already.