Engaged Village Architecture
SKROZ attracted attention for the first time with the first prize in the competition for the City Library in Labin. Another interesting projects are the Chickenville Farm and the Eco Farm of Black Slavonian Pigs. We discussed about their typologies and concepts.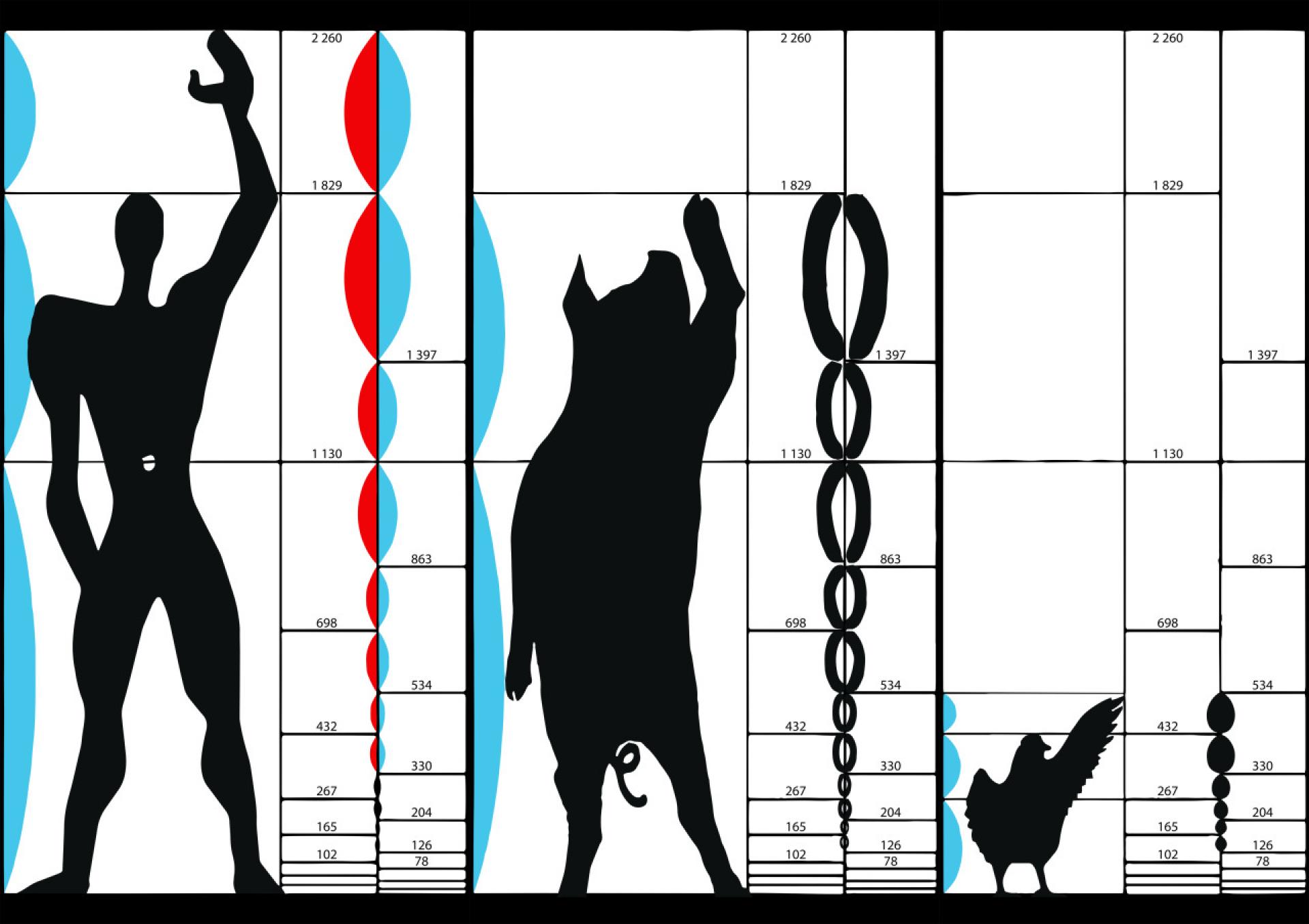 How do you with a time distance look at your first commission, a competition project for the City Library in Labin?
SKROZ: The project for the City Library in Labin was designed by a group of authors. Some of them, Margita Grubiša, Marin Jelčić and Ivana Žalac are the part of today's SKROZ office, the three other involved colleagues were Igor Presečan, Zvonimir Kralj and the designer Damir Gamulin. The whole project documentation as well as construction came very soon after the competition. As we were very young architects we were instantly thrown into real life of architecture and became part of difficult negotiations with building conservators, contractors who had no sensibility for architectural heritage preservation and the investor the City of Labin.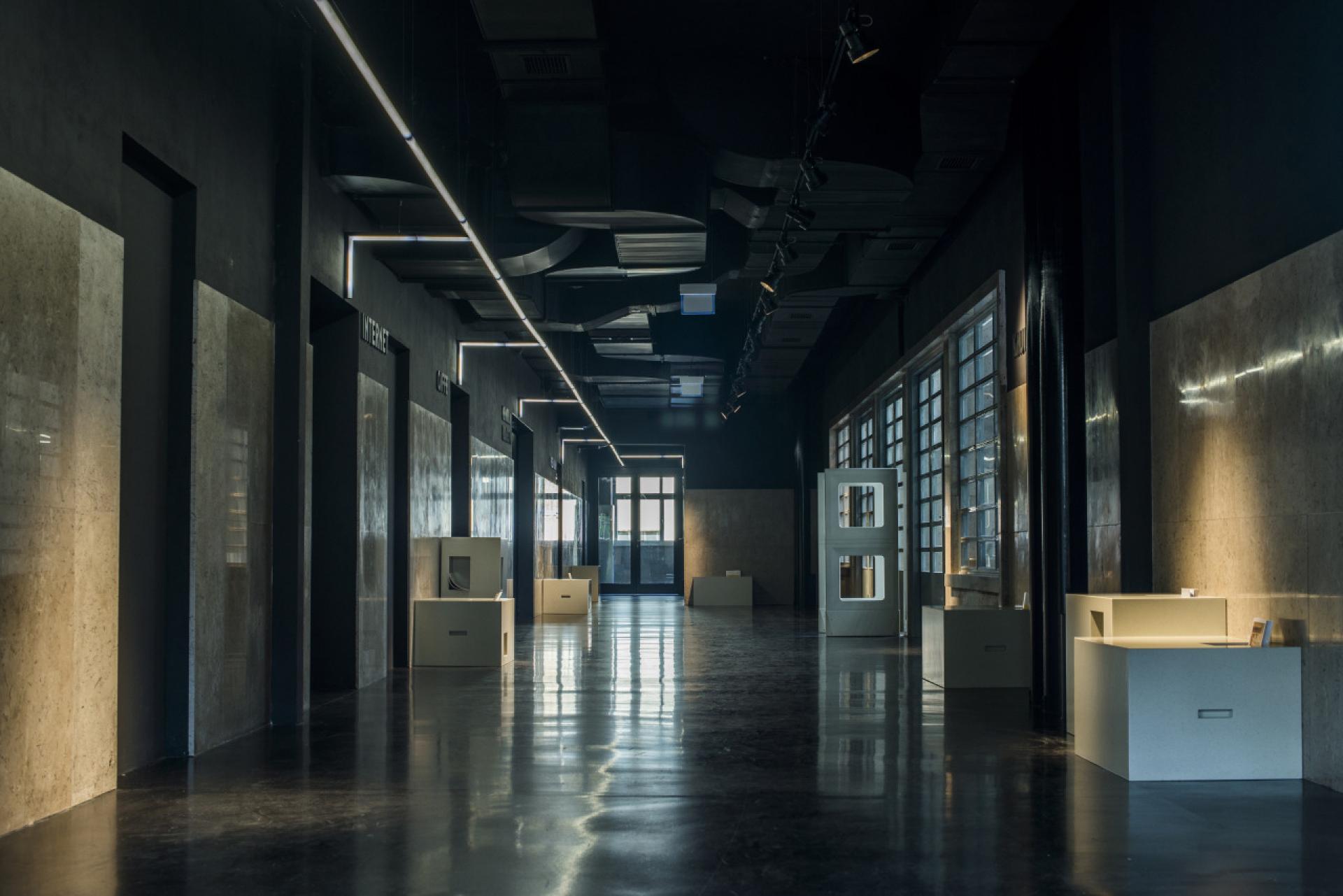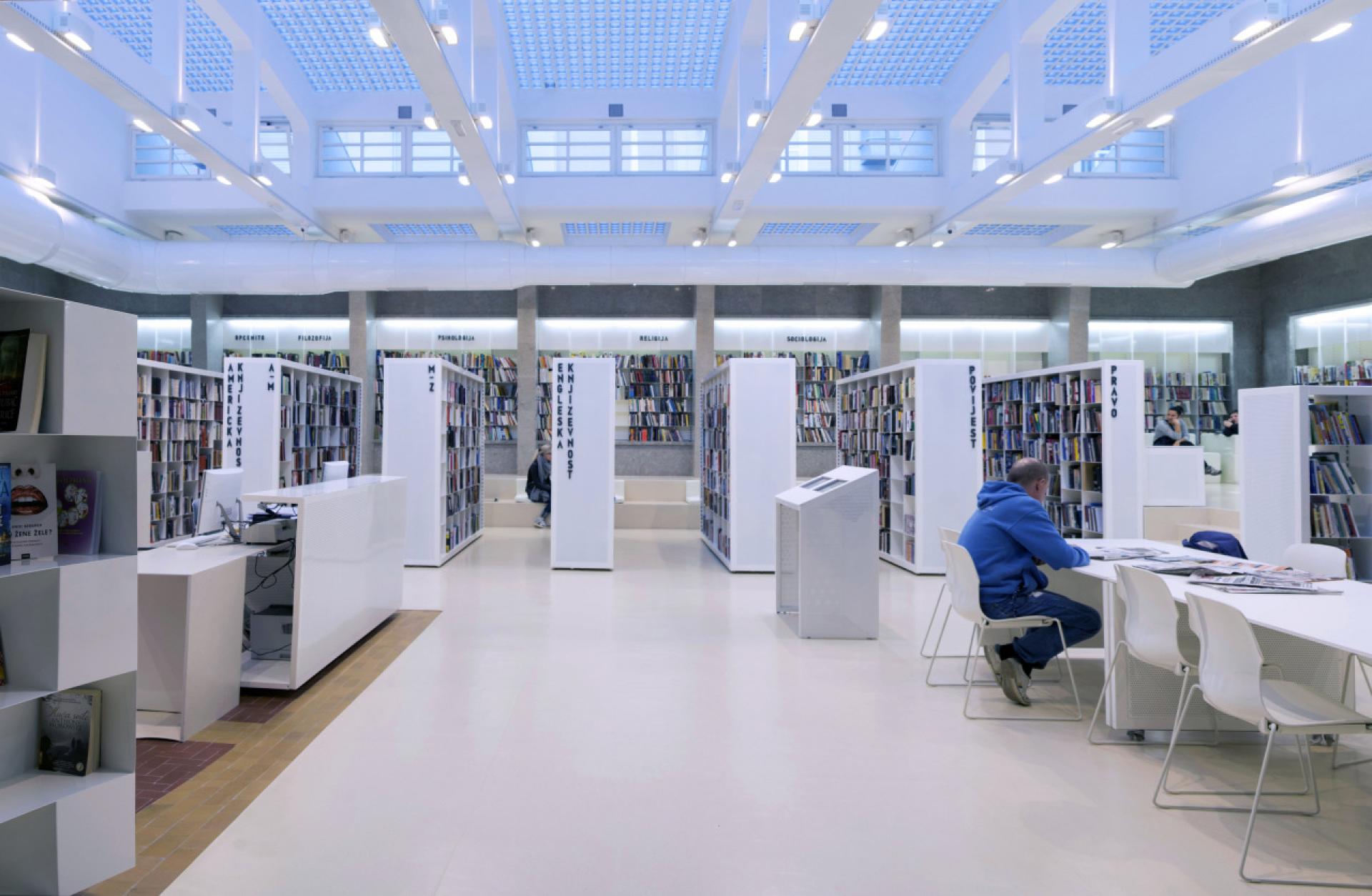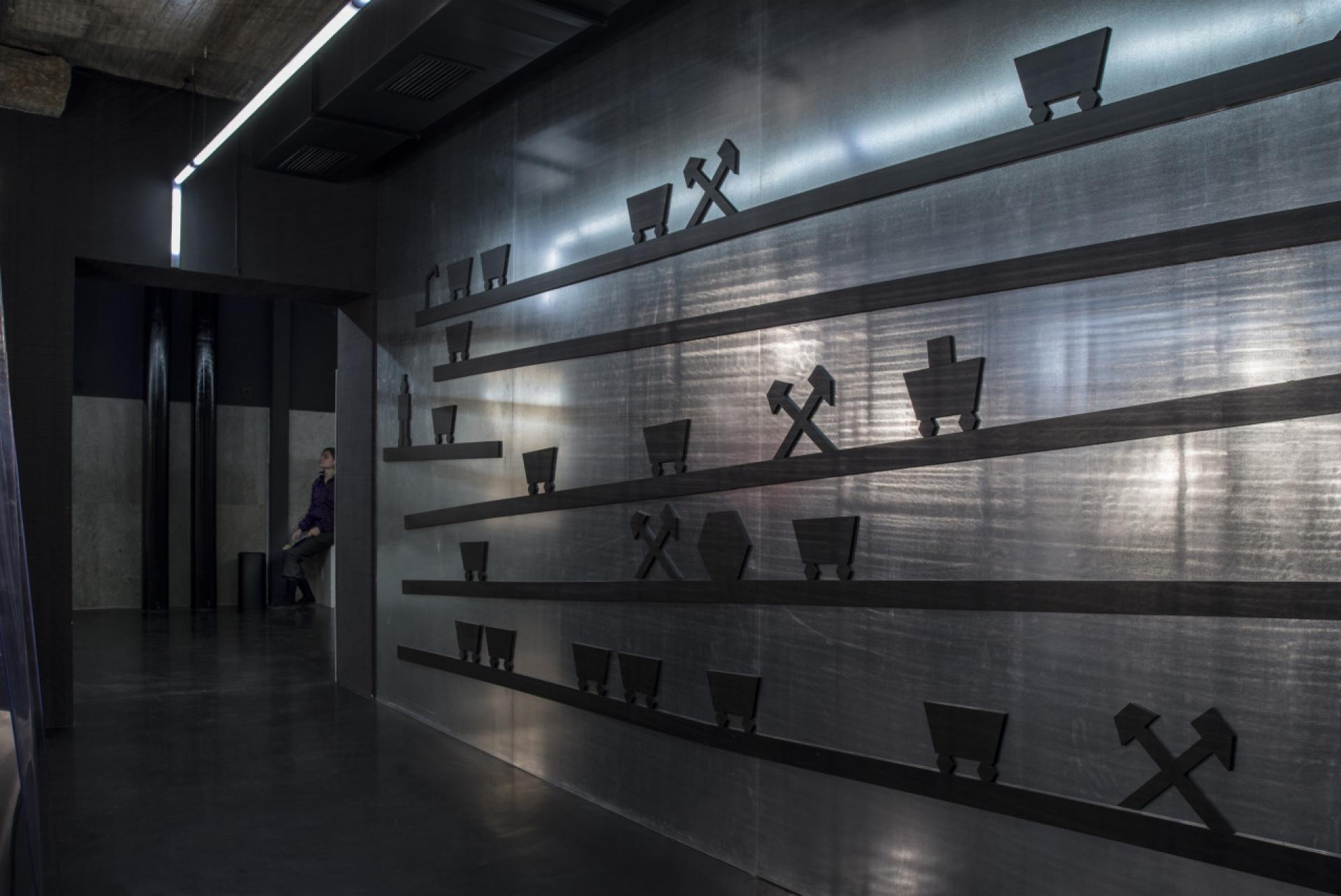 The whole project was under immense public pressure and extremely short deadlines. Today, when we are looking back at that whole situation, considering the years and experience that we had, we are actually very pleased with the achieved results. We have put a lot of energy and effort into this project and happily managed to achieve good results. The whole concept was to emphasise the old atmosphere of the building and to maintain the strong contrast of spaces - from the marble hall that used to be sort of salary hall to the modest bathroom of the miners. We knew the project succeeded once we received touching feedback from the miners who once worked there.
How does the client influence the social context of the architecture?
SKROZ: As architects we have a huge responsibility towards society so we definitely try to tackle social components in any project we do. In our opinion, most of the projects could be socially engaged, no matter the content and the type of the client. For example, tourism projects, which are very common private projects in Croatia, could give back to community adding the value by using the benefits of surrounding cultural area, using local stories and local resources and by introducing the benefits of the surroundings (including local producers) to the future customer. In such way tourism not solely exploits the location, but acts as a mediator to upgrade the life quality within the community.
Unfortunately, this kind of scenarios are rather rare, and usually the guests/ users of these spaces dictate the direction of the development. However, there are some shiny examples of socially engaged private projects/investors. One of such projects is for sure Chickenville, which came out of plain wish of the investor to educate the kids in the rural area about chickens, so in the project we managed to merge tourism, education and production-farming. In addition, that same investor built a hall for everything, which in the end became not only private space but also space for community activities.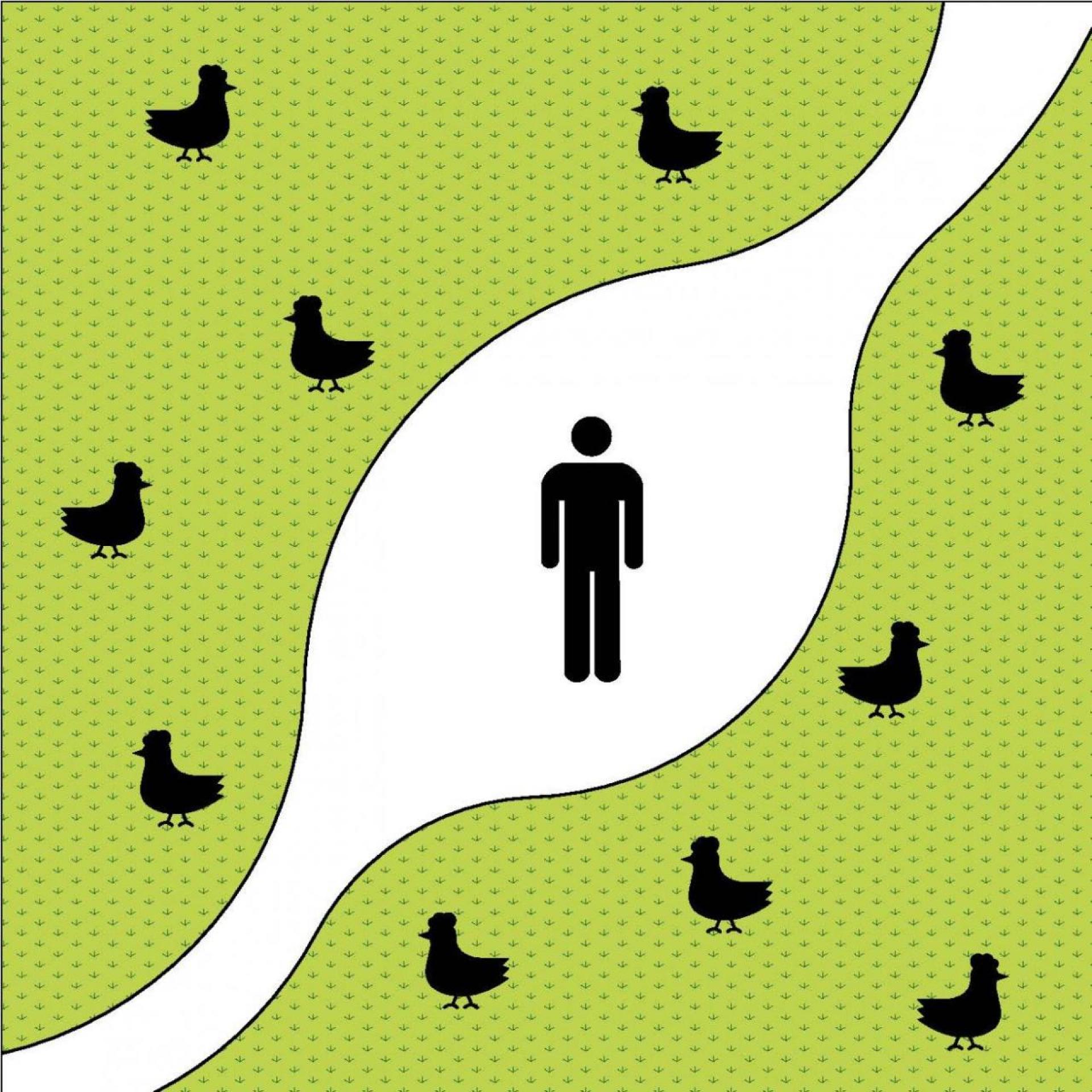 Of course, in the case of the public investor such as the city, bigger emphasis is put on the social quality of the project and it is easier to achieve it by providing spaces specifically intended for the community (eg. City stairs). In this case it is very important to include the citizens into decision making process in order to achieve greater social impact and overall satisfaction.
Does socially engaged architecture need a wealthy investor?
SKROZ: Socially engaged architecture does not necessarily need a wealthy investor, but the one that is prepared to look at things from a different perspective and add an extra value to the project.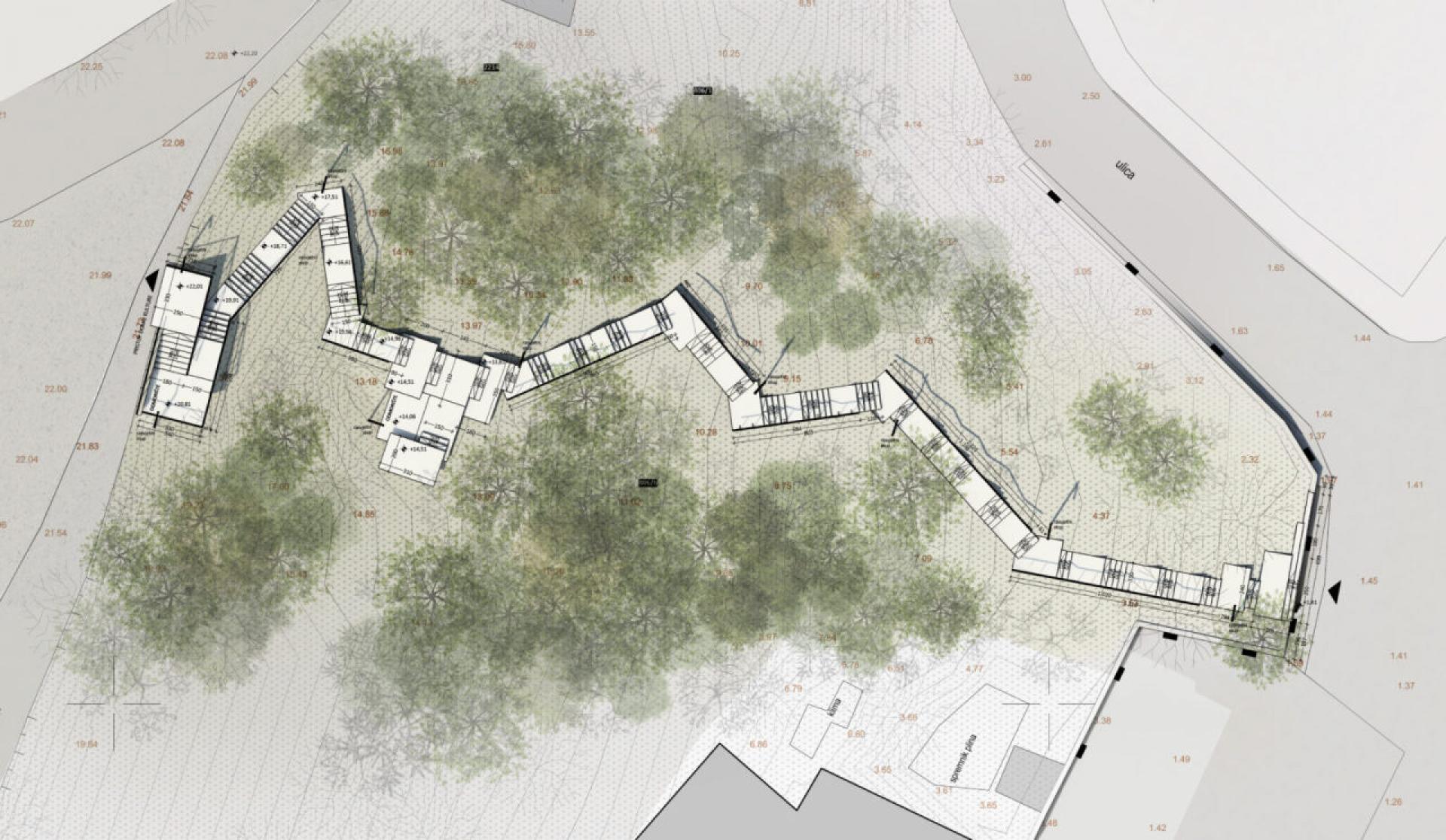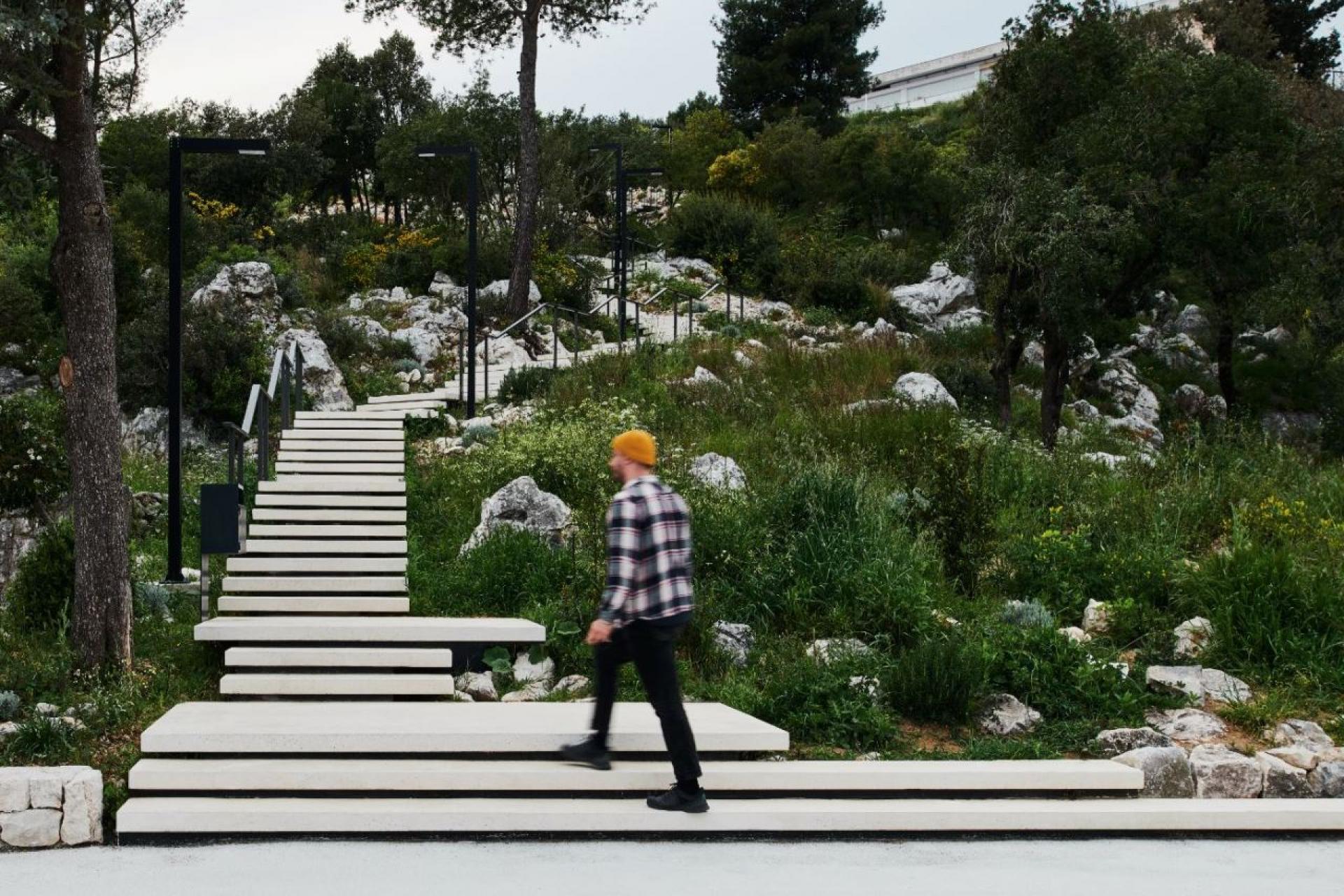 There are individuals who are intentionally or unintentionally willing to rise the entire community with their spirit and enthusiasm. Usually, this kind of people do not consider only personal interests and are well aware of benefits of prosperity of the entire community.
We have learned this on the example of our dear friend and investor with whom we have been cooperating for many years. Cooperation started in 2004 with the construction of a small kindergarten, followed with an open-air park - that he was happy to make accessible to the public for local performances and shows, then a small hotel - where we materialised intangible heritage - a chicken coop intended for the education of children and our latest project, a multifunctional hall next to the park where children exercise and have rolling school but it is also intended for private festivities. In short, during 15 years period, together with us he managed to create a complex that resembles and serves as a small community centre.
How do you form a team of collaborators when designing a project?
SKROZ: Team of collaborators depend upon the type of project that we work on and we certainly try to keep team interdisciplinary. Designers, artists as well as landscape architects are very common collaborators in almost all of our projects. Diversity in team is very important as we believe that different point of view is necessary and can upgrade the project especially in specific typologies.
Chickenville - why, how, who?
SKROZ: Over the course of years we had a very successful collaboration with our client Željko Franja were we managed to achieve trust and confidence in our design. As it all happens by chance, he talked one day with his nephews and realised a fact that in spite of living in rural area kids are not familiar with eggs and chickens and where they come from.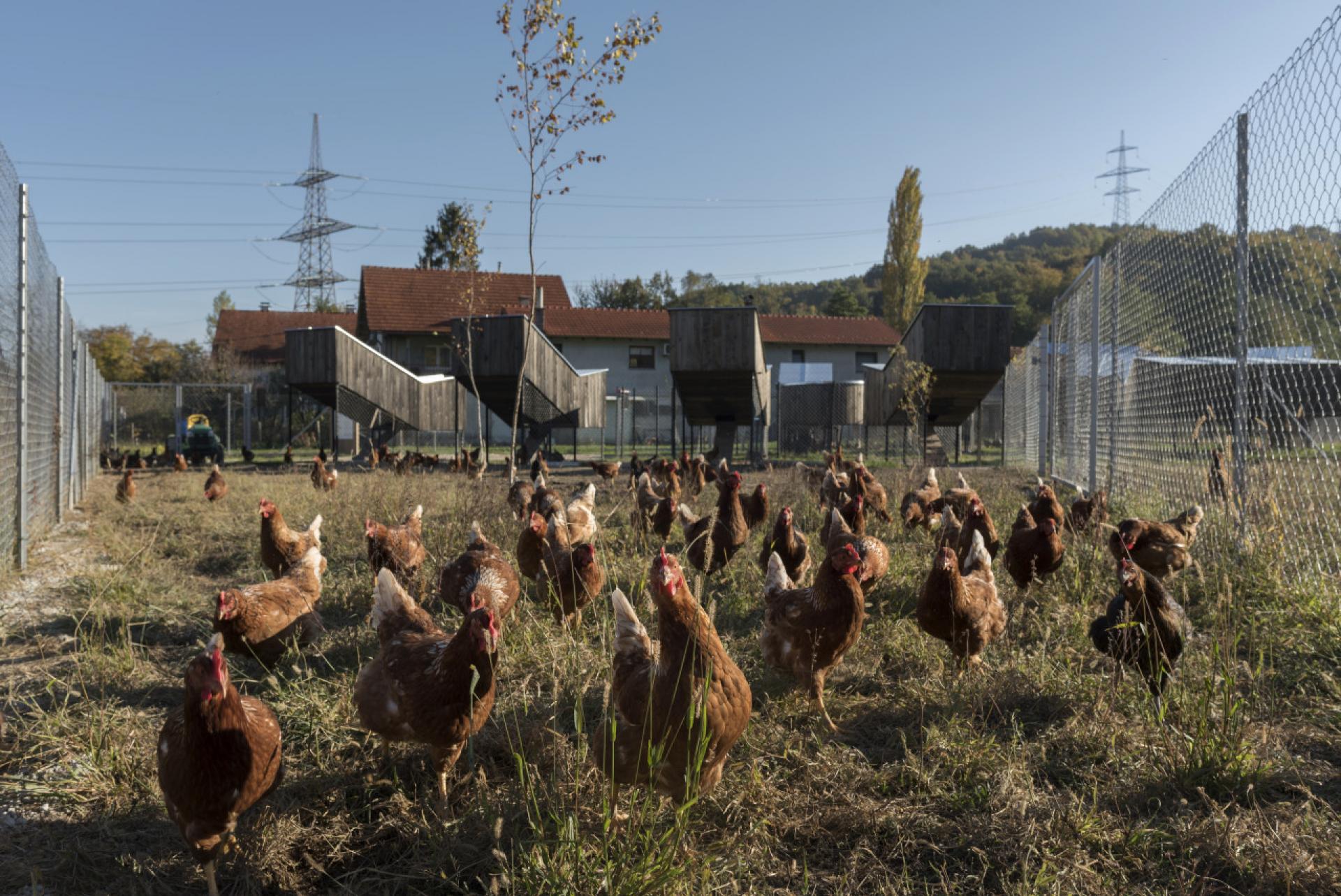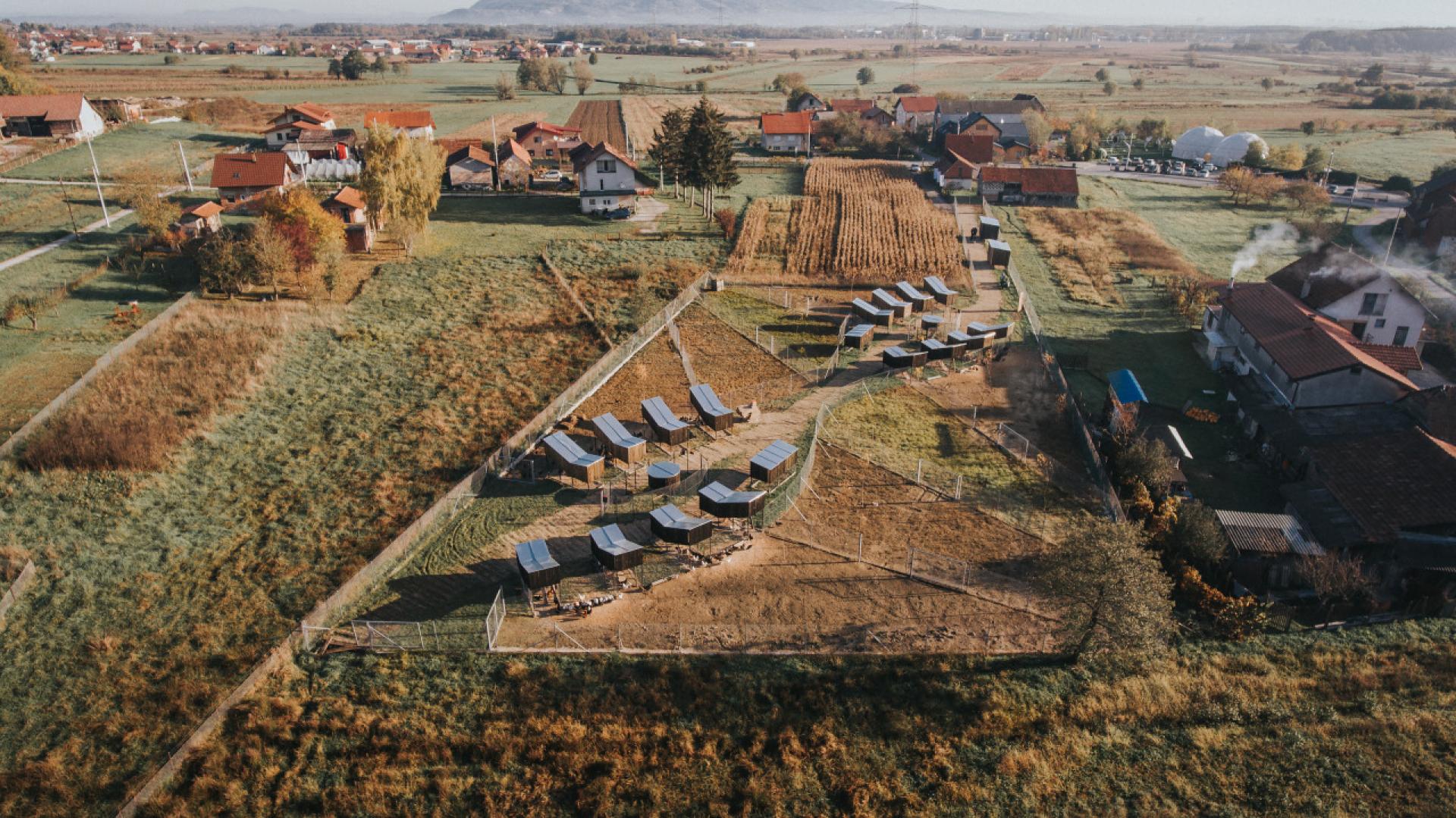 Therefore, Željko decided to build an organic egg farm where kids from the kindergarten and schools could come and learn about the processes involved in egg production. There were lot of challenges in this project combining two ambivalent functions such as children education and farming, accomplishing the highest standards of eco-farming with limited budget, designing attractive complex that would bring visitors to the small village. The most important task of all was to achieve maximum respect for function, which we achieved through building the units that follow the strict parameters and regulations on eco-friendly poultry farming, providing chickens with proper accommodation and optimise the farmers' work.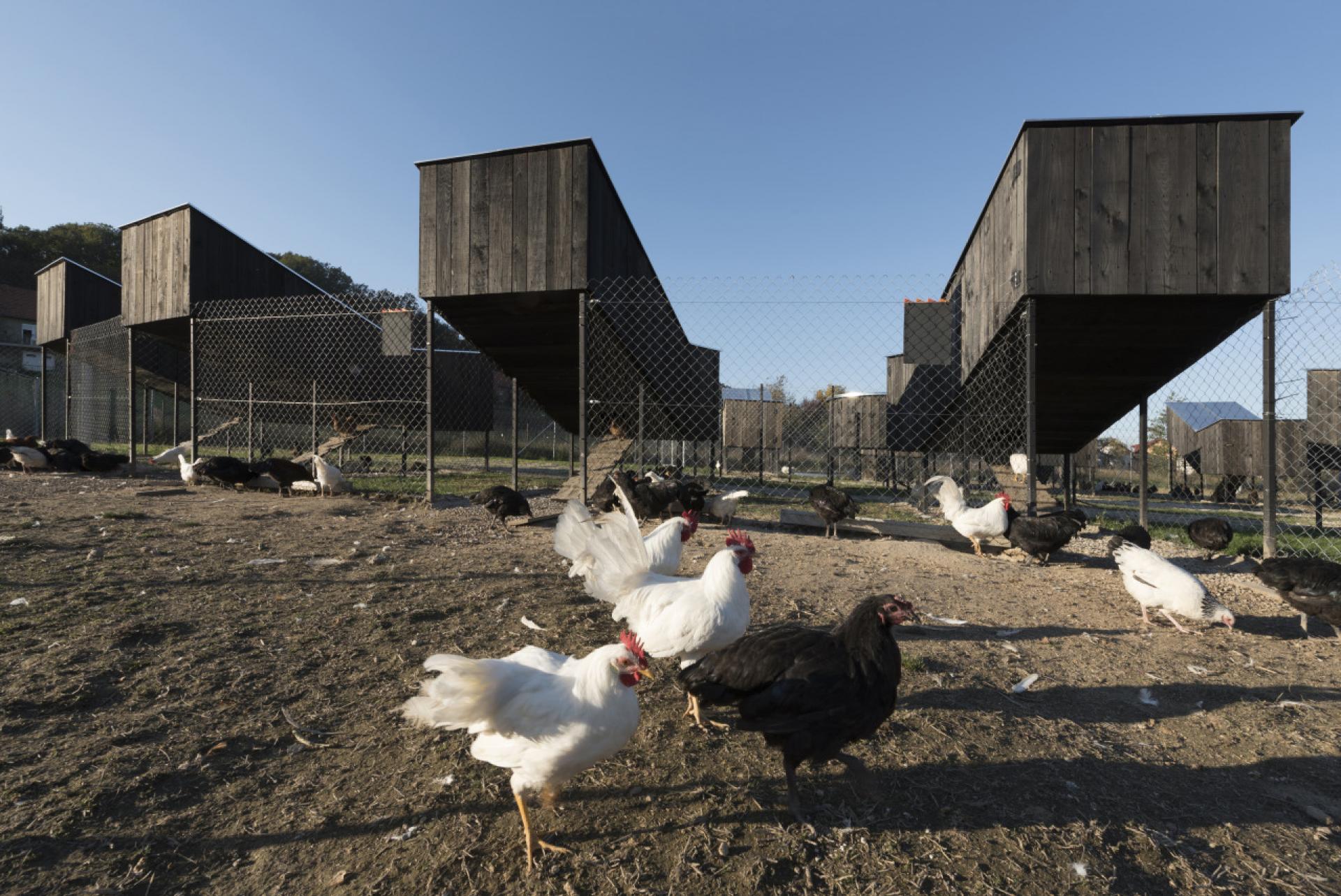 How to design for animals?
SKROZ: Designing settlements for animals does not differ a lot from designing housing for human user. Animals have their own needs, hierarchy and structure that have to be respected, so everything could function without too much stress for animals. It is a great challenge to master a new topic that one is not familiar with. In general, the farm must function as a perfect machine tailored to the needs of animals, but also ensure easy breeding and maintenance and have good ventilation and lighting. We are trying to satisfy all these parameters through architecture and design without introducing expensive technology.
How to look at the architecture in the contemporary village?
SKROZ: In general, context is very much important for us in our design. For understanding the village and its architecture we are learning from the past, later then applying that knowledge to become an inspiration for a twist in contemporary architecture rather than just a plain replica of rural architecture. In addition, our interventions, set in rural environment are smaller in scale so they can be almost merged within the current rural context.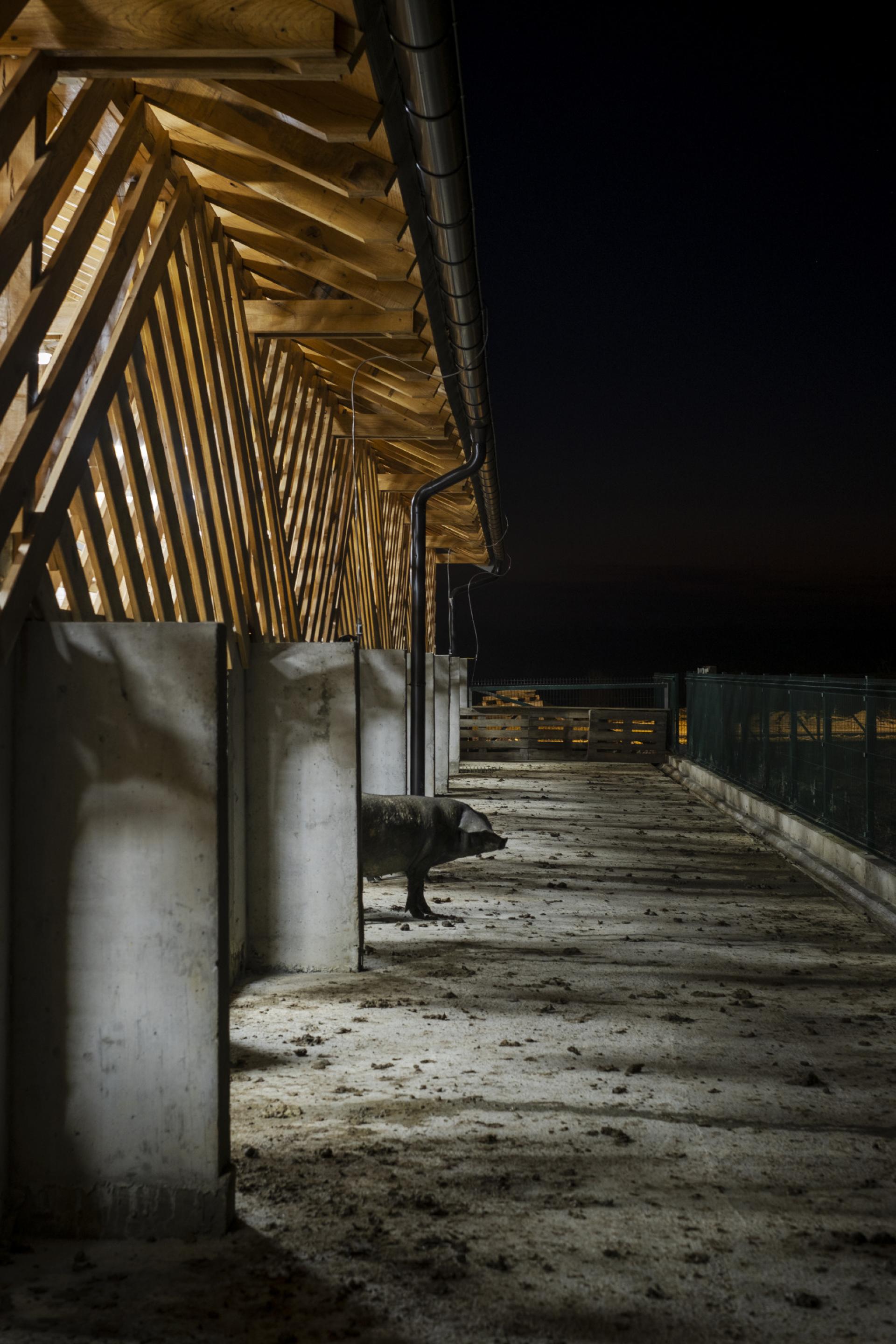 Eco Farm of Black Slavonian Pigs - why, how, who?
SKROZ: Sin ravnice, our future to be clients, were searching for a suitable architect to design their Eco Farm of Black Slavonian Pigs. After they saw our Chickenville project they contacted us and as our client would say the rest is history!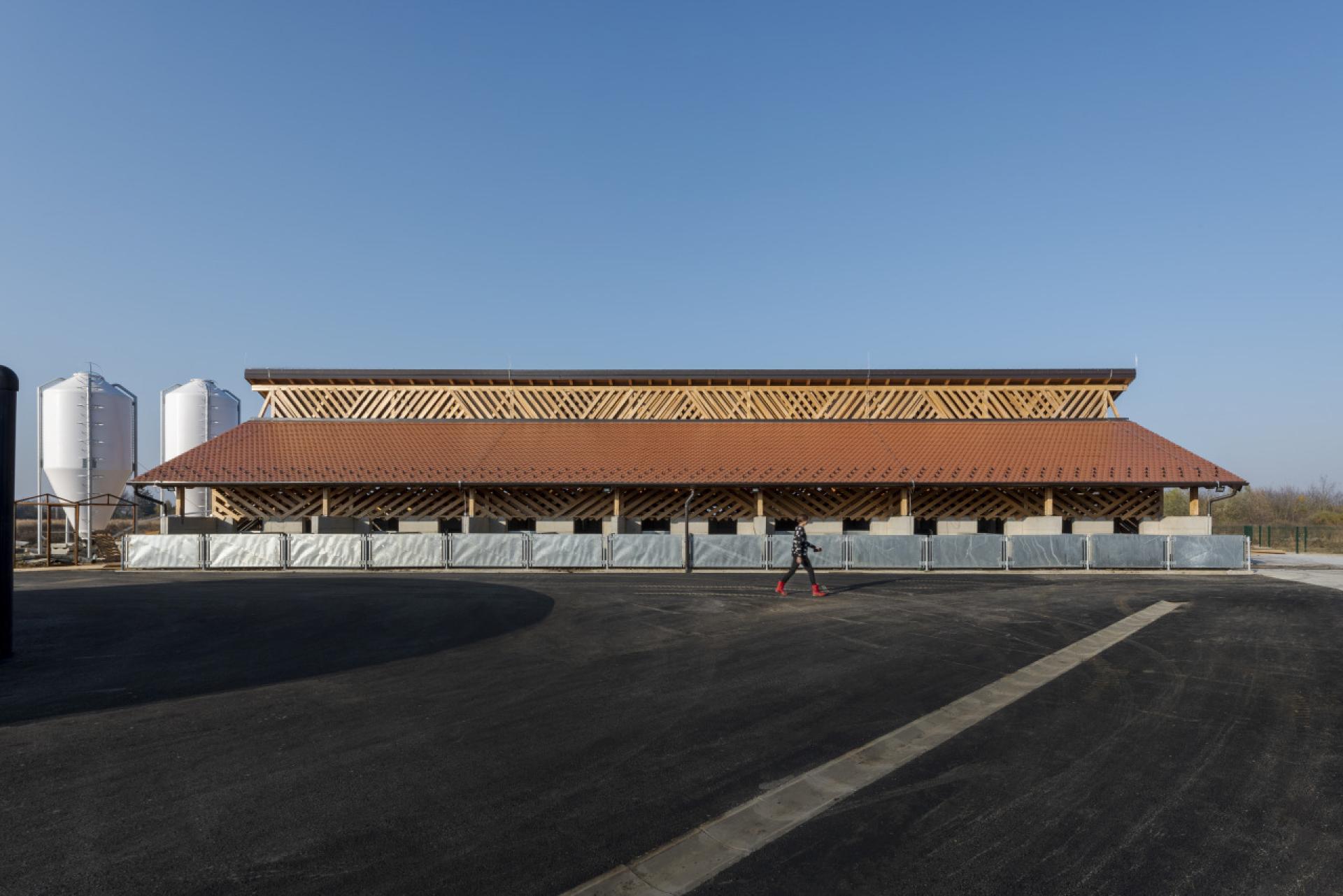 At that time, their farm has been existed for several years during which they have bred these interesting autochthonous Croatian pigs completely in the open, since they are resistant species that do not need any shelter. Yet as the market needs grew, so did the farm. The client has soon realised that they need some form of controlled breeding. The initial project brief required accommodation for 400 pigs. For us this was the first encounter with the pig farm project and we saw it both as a huge and fun challenge.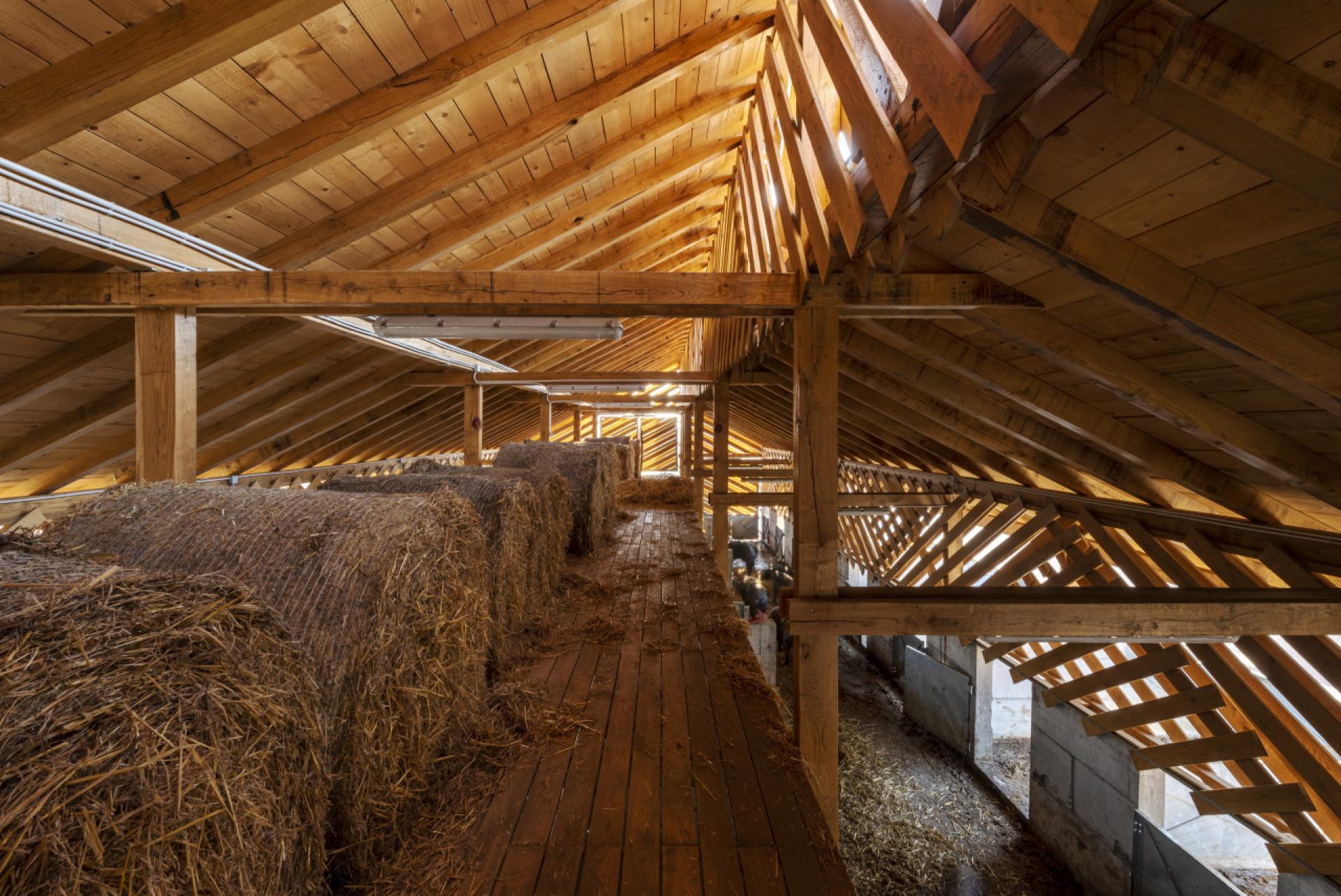 The priority was to arrange a functional facility and to allow easy breeding, but also a comfortable life for animals. Together with the investor we have managed to optimize the organization of our farm in relation to standard farm projects. Additionally, our intention was to create a building merged with the traditional architecture of the Slavonian region, and to create architecture that naturally inhabits endless Slavonian fields and carries a spirit of traditional Slavonian outbuilding.