Montenegro Unfinished: Treasures in Disguise
The most productive and significant period of Montenegrin architectural discourse is certainly urban redevelopment after WWII. As presented in The Pavilion of Montenegro at la Biennale di Venezia – XIV International Architecture Exhibition, this presentation will show very significant architectural works built in different moments and locations during this time period.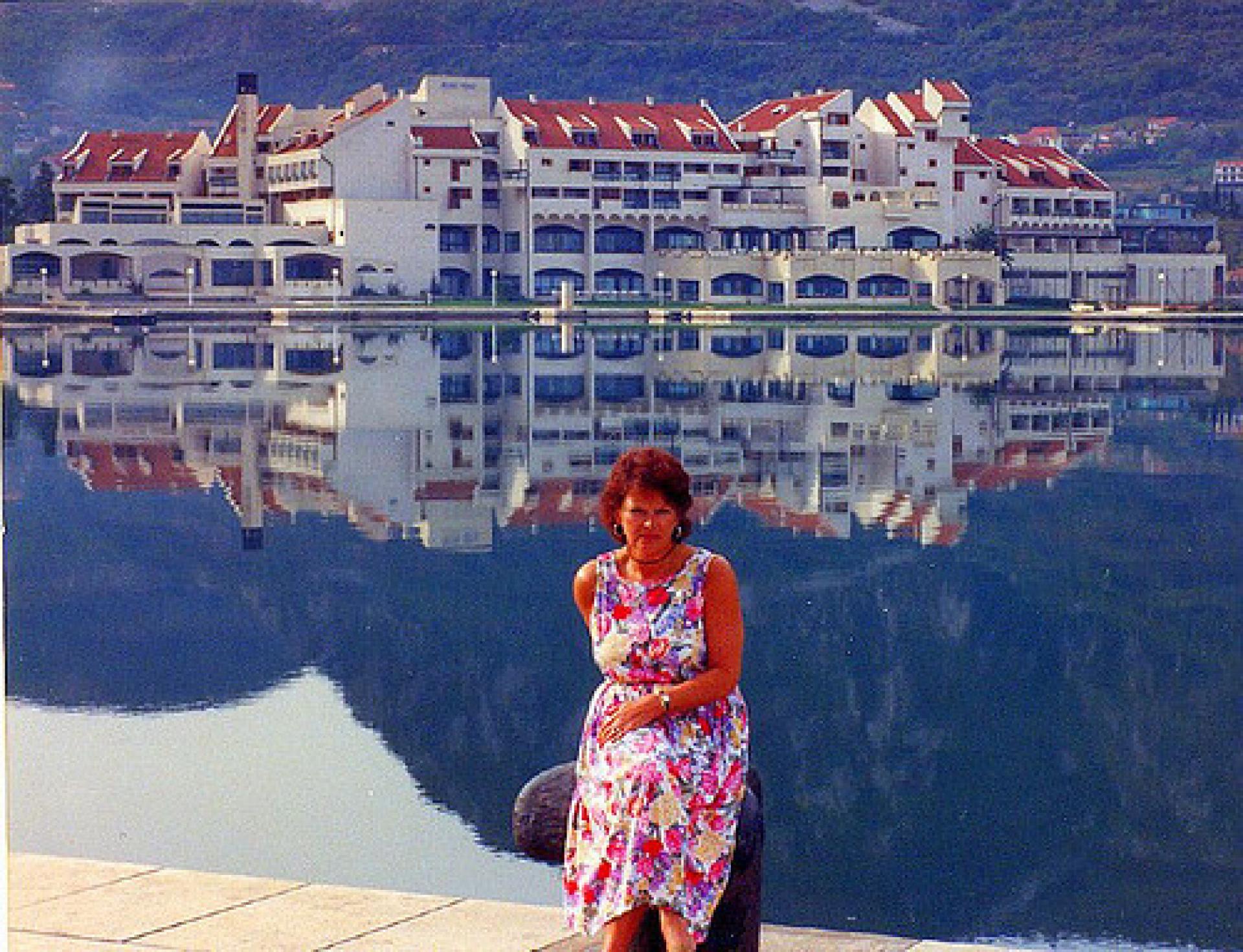 Four authentic architectural realizations from the period of late socialism represent the framework of the Montenegrin exhibition at la Biennale di Venezia – XIV International Architecture Exhibition. On one hand, the presented works are extremely important in the context of the overall analysis and evaluation of the achievements of architectural creativity on the territory of Montenegro in the era of socialism – and on the other, they are very significant from the aspect of the need to launch real systemic initiatives to protect, reconstruct and rehabilitate the valuable architectural heritage from the above stated period.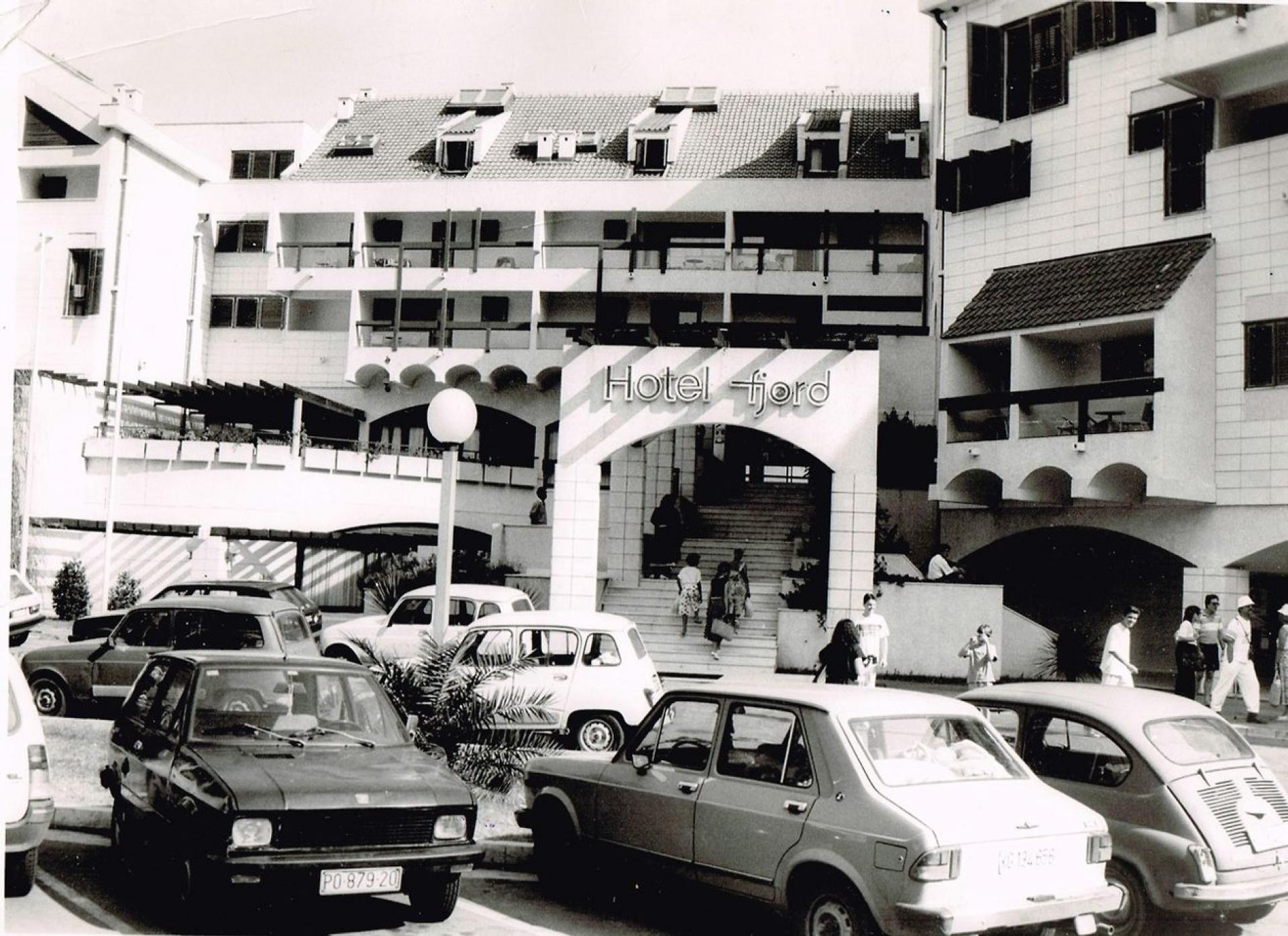 Thus, we have four architectural structures that belong to the modern architecture corpus on the territory of Montenegro from the period of developed socialism – which is certainly the most productive and the most interesting period of the entire Montenegrin architectural discourse.
At this moment, all four structures are in a very bad condition. Only one of them is in everyday use – the Memorial Centre of the First Session of the State Antifascist Council for the National Liberation of Montenegro and Boka Bay, located in Kolašin – today only a small part of the structure is used and not for the purposes for which it was originally built. The former Kayak Club Galeb in Podgorica is nowadays used by Morača Kayaking Club, not on a daily basis but from time to time, depending on the calendar of club activities – which means that this structure is closed for most of the year. Work on the Revolution Home in Nikšić has been suspended in the 1980s and left unfinished. At the moment the construction process stoped, the building was in an advanced phase, and one could even then observe the grandiose silhouette almost in its entireness. Today, the Revolution Home is nothing more than a ghostly construction site right in the centre of the second-largest town in Montenegro. Hotel Fjord in Kotor has been operating at full capacity for 17 years within the Fjord Tourism and Hospitality Company – until 2003, when it went into receivership. Two years later, the hotel was sold to an investor who intended to demolish it and build a new hotel in its place. However, the investor did not fulfil his promise, so the hotel continues to deteriorate and soon it will become a ruin.
If we are aware that the roots of the renewal of Montenegrin statehood, democratically obtained at the referendum held on 21 May 2006 reach as far back as the period of the national liberation war, when, at the Second Session of the Antifascist Council of National Liberation of Yugoslavia held in Jajce, the decision was made to constitute Tito's new Yugoslavia as a federation of six equal republics, among which the Republic of Montenegro – and that the period of consolidation of the new Montenegrin society based on socialist ideology, immediately after the end of the Second World War, was marked among other things by an absolute and highly uncritical absorption of the universal modernist paradigm – on which Rem Koolhaas, curator of la Biennale di Venezia – XIV International Architecture Exhibition insists – the question that naturally imposes itself is the following: why did the authors of the Montenegrin exhibition not turn to the heroic period – the so-called period of construction and reconstruction of the war-ravaged country – when the modernist paradigm was offered as aesthetically the most efficacious parallel to new social and political tendencies – and to Titograd, today's Podgorica, the war-destroyed town that was the perfect testing ground for post-war architectural experiments, which established new urban, architectural, styles and ideological relations, and was almost entirely freed from the burden of architectural heritage?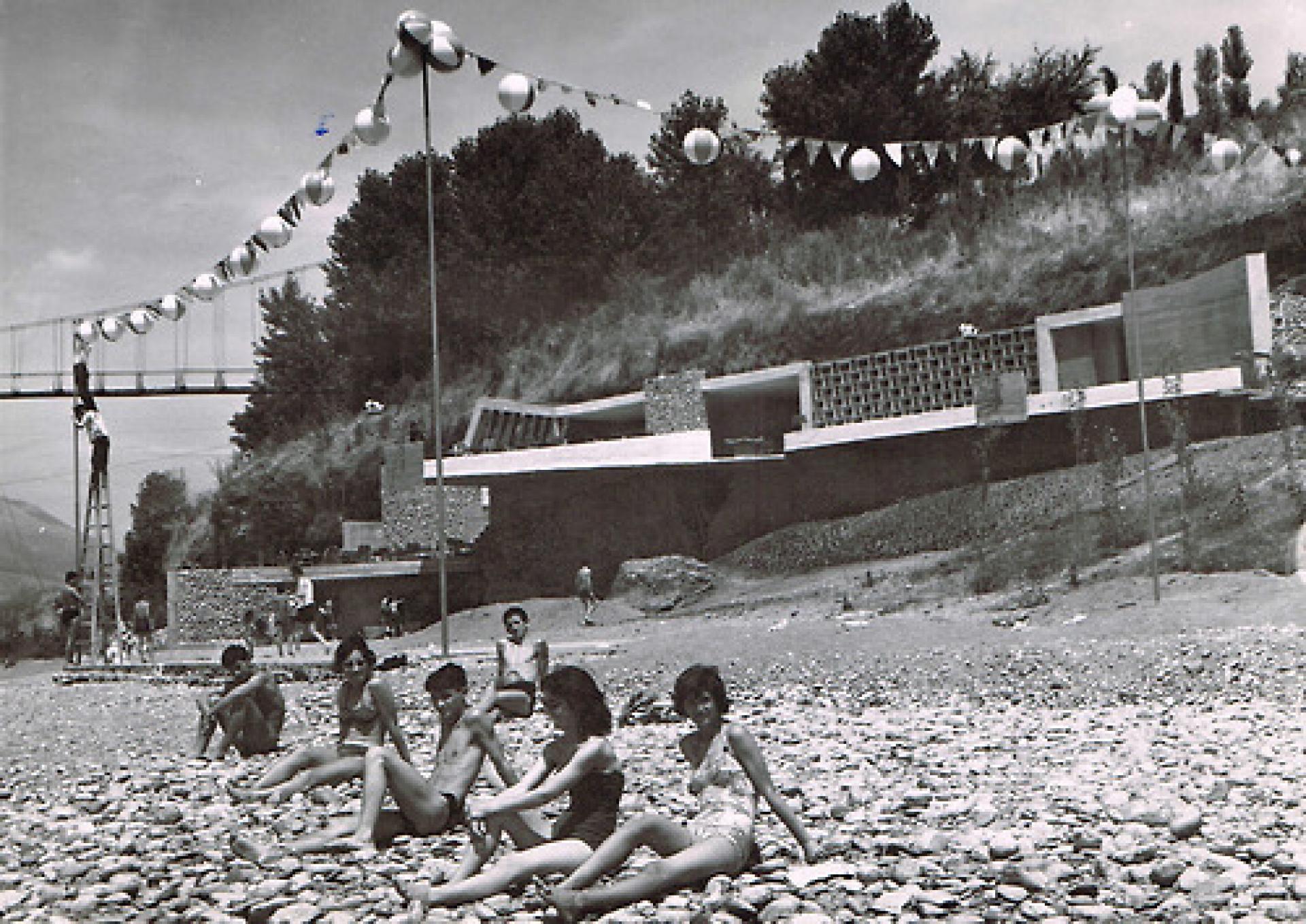 In Montenegro there exists modernist architecture par excellence,the quality of which is indisputable, and whose functionality and sustainability are confirmed by the fact that even today this architecture serves its purpose just as it did at the time it was created. Why not present this architecture? Why exhibit ruins in Venice, although very impressive ones, but nonetheless ruins?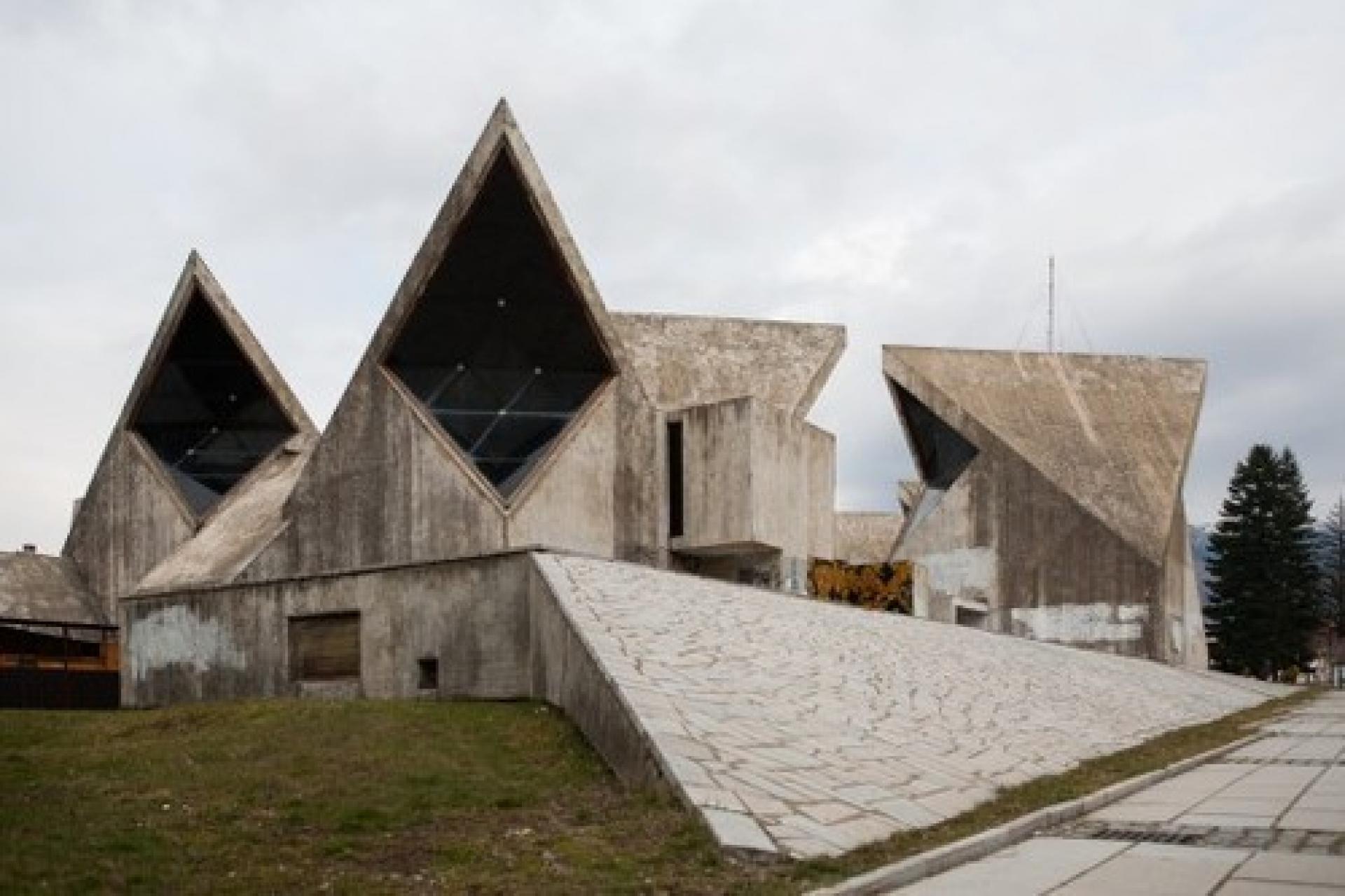 In fact, the concept of the Montenegrin exhibition is very simple. Instead of attempting to present representative modernist architecture on the territory of Montenegro – which would be inevitably reduced to a banal "showbiz" attempt to impress the most demanding public in the world – because, whether we like it or not, we have to admit that our modernist architecture has never been adequately and fully valued, either from a scientific or an expert point of view, neither could we follow a clear and consistent thread that would indicate the evolving process of the absorption of modernity in Montenegro – therefore the team of authors behind the Montenegrin exhibition, taking into consideration indisputable facts, has decided to play for much higher stakes – to confront the public in Venice, and also the international public, with a serious and carefully outlined universal question: are we capable of analysing the complexity of problems imposed by the imperative to preserve representative modernist architecture heritage – such problems are indeed almost identical anywhere in the world, regardless of contextual differences – and are we capable of and ready to address such problems in a positive way? Briefly, are we capable of preserving the pure architectural beauty – this is what the team of authors refers to when speaks about the hidden treasure in the title of the exhibition – and make it possible for future generations of architecture lovers to enjoy it and use this very beauty as the basis for building their own system of values?
As far as the Montenegrin public is concerned, the question is very fair: we have four important architectural works from the period of late socialism – which are at the same time four architectural and urban-planning problems that directly affect four Montenegrin towns – Podgorica, Kolašin, Kotor and Nikšić: can we find, based on thorough analysis, sustainable solutions to these problems?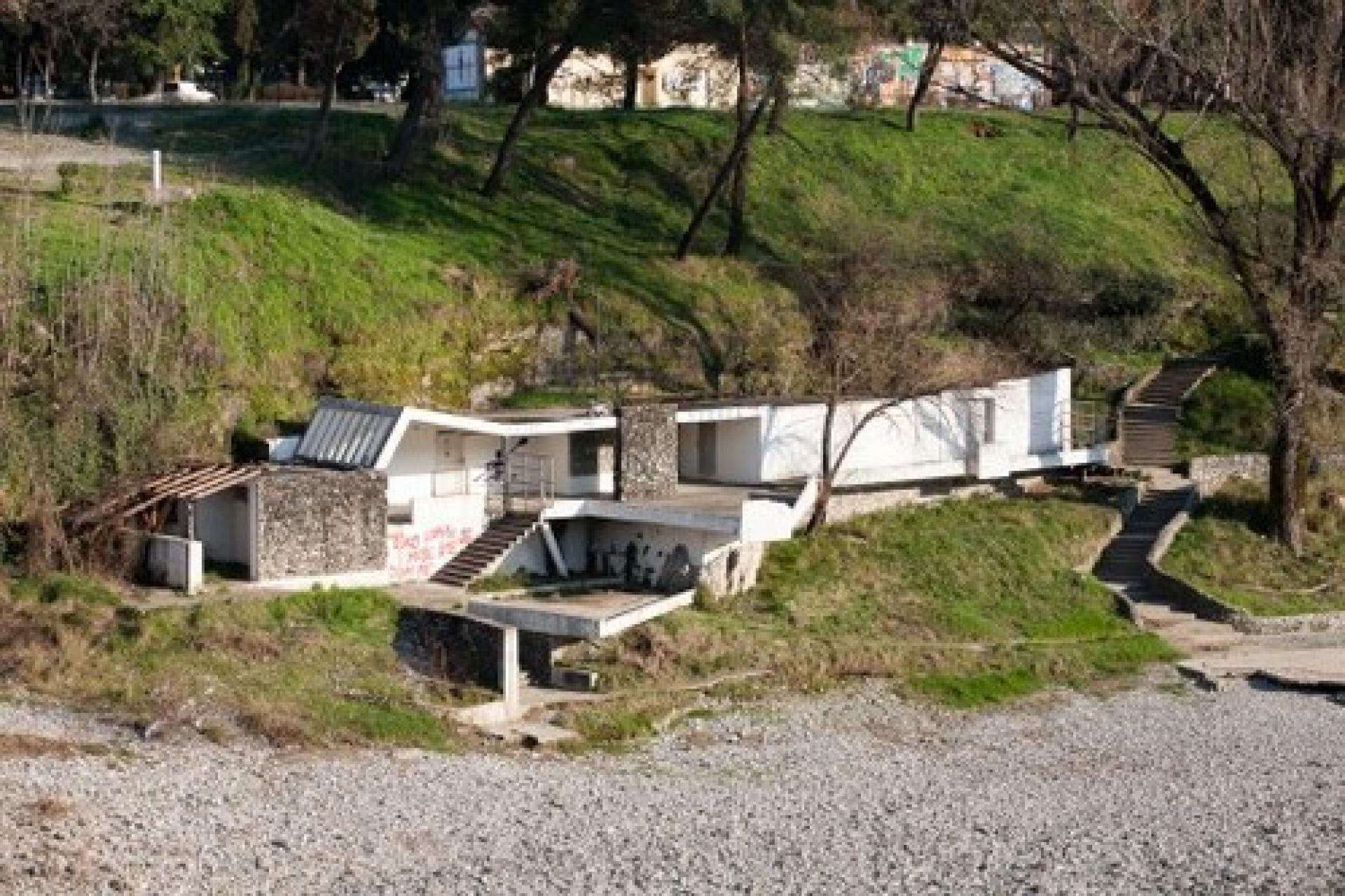 The Montenegrin exhibition does not provide visions or possible solutions to described problems, it does not even pretend to give the most basic suggestions – it only points out to the need to raise awareness about the necessity to protect, reconstruct and rehabilitate the valuable architectural heritage from the period of modernism. La Biennale di Venezia – XIV International Architecture Exhibition, represents at the same time a unique opportunity to confront experiences and examine the approaches used in other countries to resolve the same problems.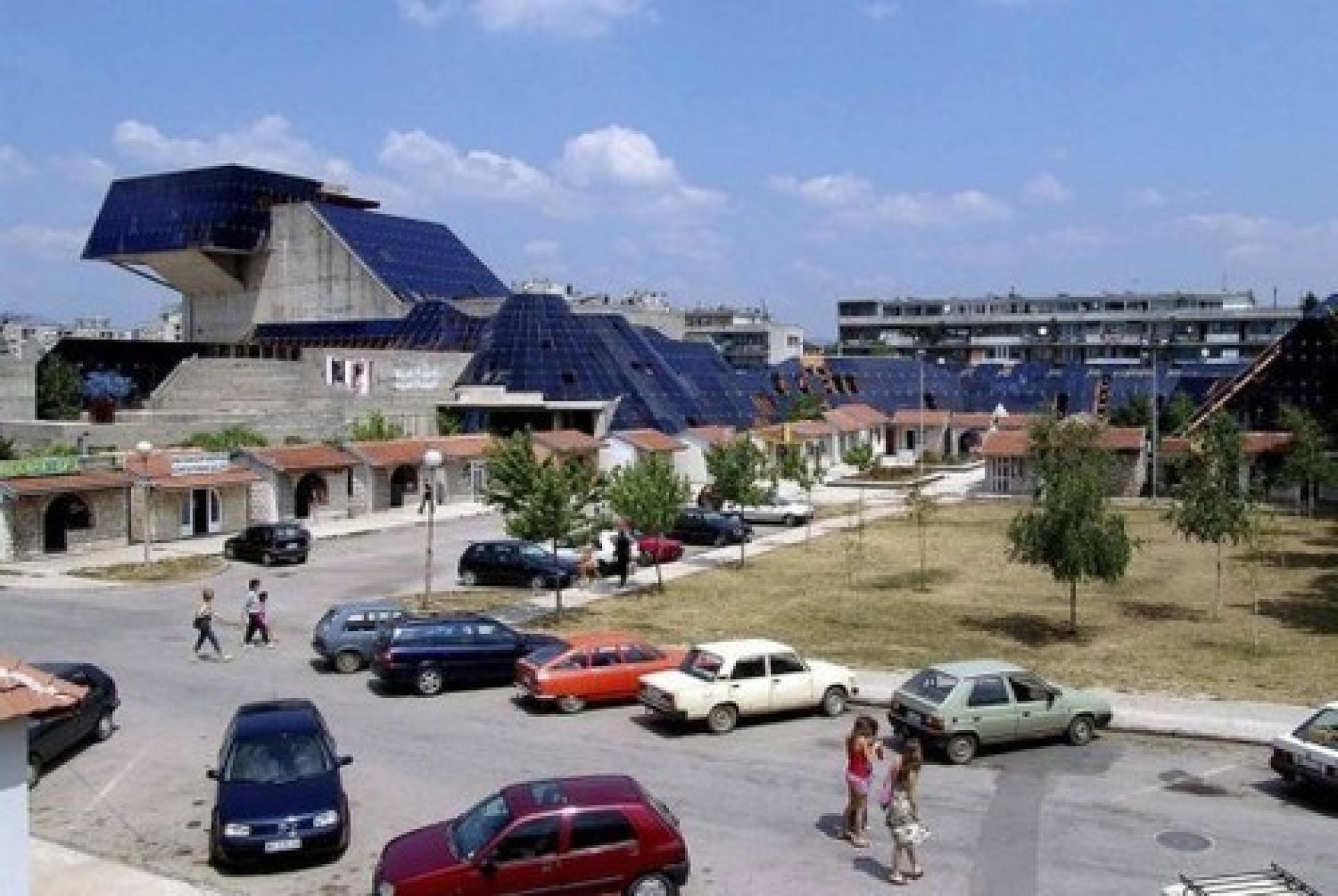 The team of authors is surely aware of the fact that things went downhill from the moment when the orthodox modernist paradigm started to fade out – and when individual expression in architecture established itself (this trend continues to evolve to the present date) – so that the Montenegrin exhibition can be interpreted also as an invitation to examine, once again, in a new light, the roots of the current crisis.
The Montenegrin exhibition should not be interpreted as a negative criticism at the expense of a society that was incapable of raising itself to the level of the imperative imposed by four state-of-art architectural structures that were passed down to it – which resulted in their decline – on the contrary, it should be understood as positive criticism, as an invitation to find a solution for their full rehabilitation.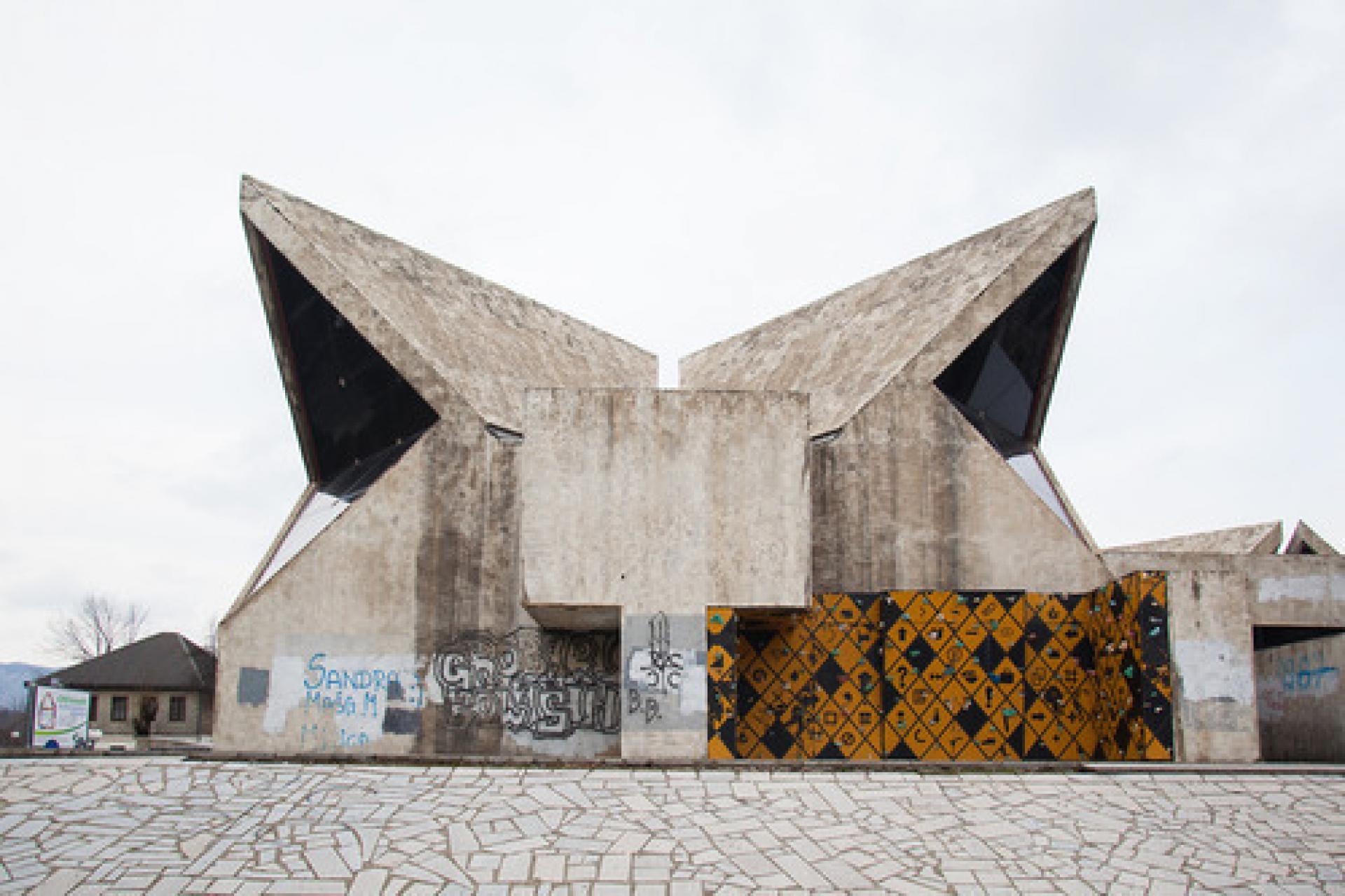 Does this sound like a utopia? – maybe, but it does not exclude the obligation passed down to us by previous generations of architects who have worked on the territory of Montenegro – an obligation that should be also interpreted as a unique challenge.
— by Borislav Vukićević
Curators: Boštjan Vuga (SADAR+VUGA), Dijana Vučinić (DVARP), Simon Hartmann (HHF Architects), Ilka & Andreas Ruby (Ruby Press), and Nebojša Adžić.
Montenegro Unfinished will be on Friday 3rd October,17.00 at Technical Faculty Podgorica with Dijana Vučinić (1981), Nebojša Adžić (1975), Veljko Radulović (1976), Nikola Novaković (1978), Rifat Alihodžić (1956), Svetislav Gavrilo Popović (1955), Sonja Radović Jelovac (Studio Synthesis) (1973) and moderated by Boštjan Bugarič (Architectuul).
Nebojša Adžić (1975) graduated from Faculty of Architecture in Belgrade (1999). From 2003-2008th worked as an assistant during a process of development of the Faculty of Architecture in Podgorica. With a project of his own family house represented Montenegro for the Mies van der Roche Award in 2011. He is a current president of the Union of Architects of Montenegro and founder of the First Montenegrin Salon of architecture. He is one of the first architects in Montenegro, who promoted the application of the principles of sustainable, ecological and energy efficient design through practical work. Currently involved in a project of urban renewal of his home town Niksic. Nebojsa is also the editor of "Architecture" magazine and has several published books
Dijana Vučinić (1981) is a practicing architect and has recently started an interdisciplinary architectural and design practice DVARP with projects that range from urban design to residential buildings and theater stage design. Her work is based on a research on the urban condition in the developing touristic areas on Montenegrin coast and mountains.She is also the founder of Kotor APSS Architectural Prison Summer School in Kotor, Montenegro. Kotor APSS has been investigating mechanisms that could redefine the relationship between architecture and the city in Montenegrin coastal cities and improve the urban context by redefining an approach to urban planning and design. APSS is intended as a platform for further research and development of urban structure in these cities. For her work she has received several awards. Vučinić is also one of the commissioners for Montenegro Pavilion at La Biennale di Venezia 2014. She writes for several periodicals and scholarly publications in Montenegro. She is a cofounder and member of an Urbanism and Architecture Association of Montenegro.
Veljko Radulović PhD (1976) studied at University in Belgrade - Faculty of Architecture. ty of Belgrade - Faculty of Architecture. He is a founder and partner in Studio GRAD, architectural and urban practice in Montenegro, Podgorcia and a professor at Faculty of Architecture - University of Montengro. He is also a member of UNESCO Committee of Montenegro, A10 correspodent network and Comittee for development of Herceg-Novi.
Nikola Novaković (1978) studied at the University of Architecture in Novi Sad. During the period 2004 – 2006, he worked on designing and constructing residential and commercial facilities and interiors in Serbia. In 2006, he founded the company ''Enforma' Ltd in Kotor, where he still works. Besides recognitions at competitions, he is the winner of the CEMEX award for best facility in 2012 in Montenegro and of third place, at the world level, in Mexico, in the category of sustainable contraction. In 2013, with the studio 'Enforma', he won the award "5 Stars" at the International Property award in London, for the best complex. That same year, Nikola won the Yearly award for architecture by the Chamber of Engineers of Montenegro.
Rifat Alihodžić PhD (1956) graduated from Faculty of Architecture in Sarajevo and Belgrade University. For his master's thesis, he won the first prize 'Miodrag Macura'. He got a PhD at Faculty of Engineering, Architecture department in Novi Sad. He established his office 'Arhing-inzenjering' (1990) in Bijelo Polje and Podgorica. He is a docent at Faculty of Architecture in Podgorica. In 2011, he was a visiting professor at Faculty of Architecture in Belgrade. He won the award 'Borba' for the best architectural work in architecture in 1990. He represented Montenegro at the Venice Biennale of Architecture in 2010 and represented Montenegro for European architectural award Mies van der Rohe 2010 in Barcelona. He was a commissioner of a Montenegrin exhibit at XIII Venice Biennale of Architecture in 2012. His candidacy for the prestigious Aga Khan award was accepted in 2010, in Geneva, for the facility of Gasalhana Chapel in Bijelo Polje.
Sonja Radović Jelovac MSc in Arch (1973)PhD Candidate in Environmental Design, Founder and CEO of Studio Synthesis architecture and design in Podgorica. Winner of Phd Schoolarship at "La Sapineza" University of Rome at PDTA Departmant for Environmental Design. Master Studies graduated on Faculty of Architecture Ludovico Quaroni, at "La Sapineza" University of Rome on desk for "Planning, design and requalification of urban spaces of developing countries". Winner of first prize for Urbanism at IX Saloon of Architecture in Belgrade with masters papers titled "Environmental and Urban Requalification of Moraca River Shores". She presented her research work in form or presentations and publications at various national and international conferences, cooperates with number of international research centers and groups in the field of urban design, ecological urbanism and environmental design.
Svetislav Gavrilov Popović PhD (1955) studied at Faculty of Architecture, University of Belgrade. He is a honorary member of the Presidency of the Serbian Association of Town Planners, member of Engineering Association of Montenegro, president of the Council for Urban Municipality Danilovgard, corresponding member "JNA" Yugoslav engineering academy, Belgrade, member of the DAB / Belgrade Association of Architects and SAS Association of Architects of Serbia and many other.