FOMA 23: German Post-War Modern
As a result of the devastating destructions of the Second World War architects in postwar Germany were faced not only with the rebuilding of cities but also with the opportunity to break with the past and follow new paths.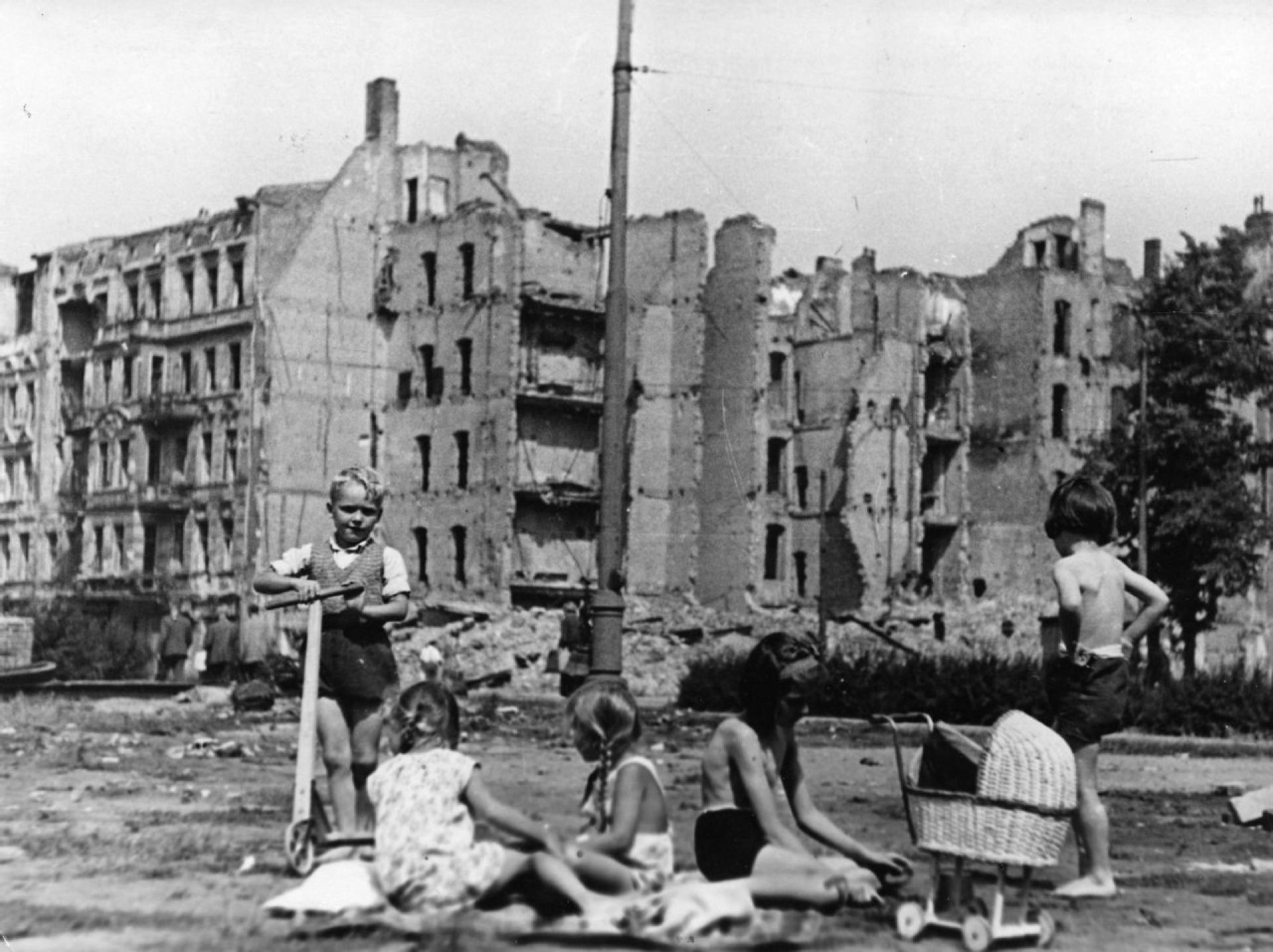 The following five buildings represent Forgotten Masterpieces of German postwar architecture that deserve a closer examination.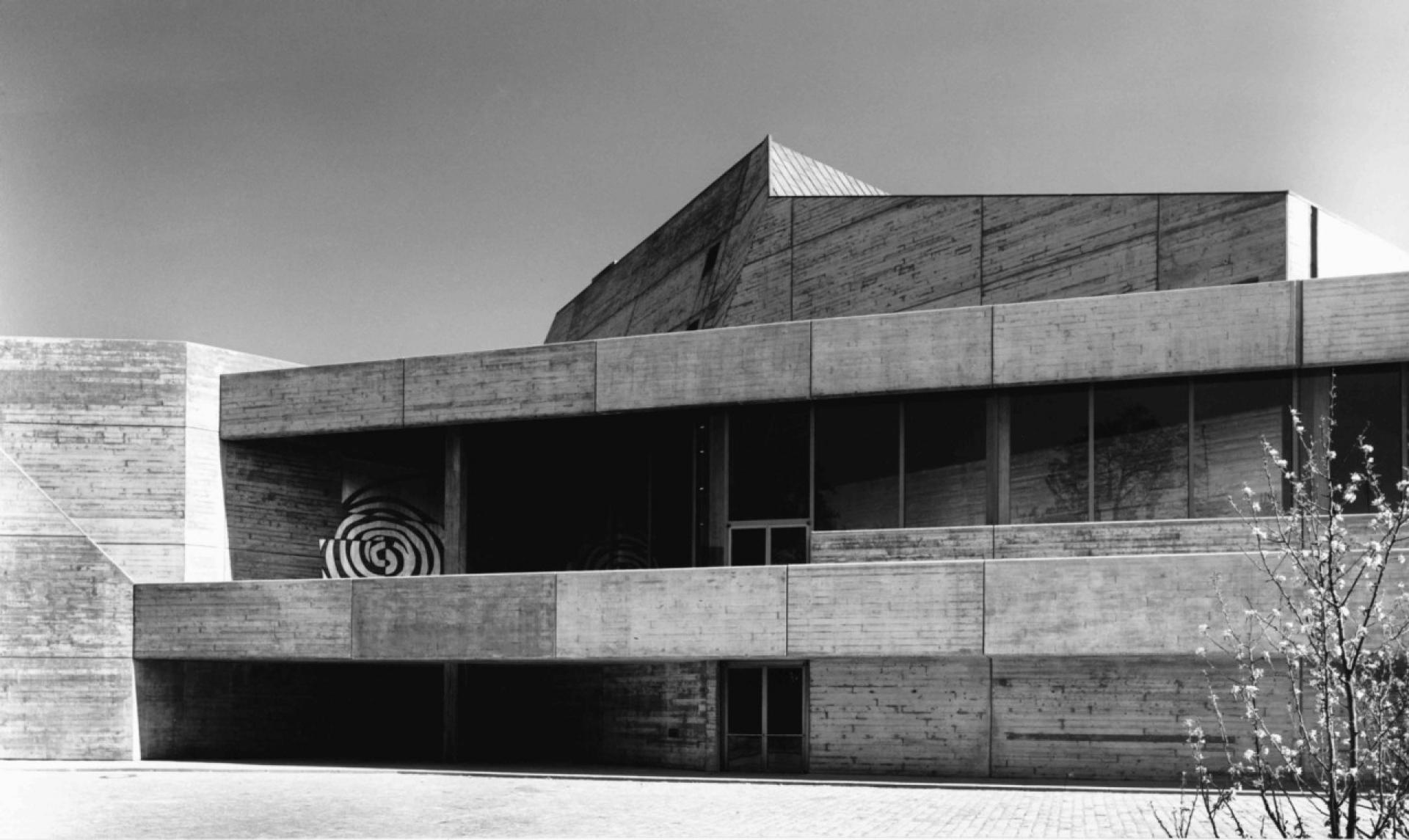 The first building is the Municipal Theater in Ingolstadt by Hardt-Waltherr Hämer and his wife Marie-Brigitte Hämer. Hämer is best known for his Berlin works, where he eloquently proposed a cautious renewal of the city and its quarters.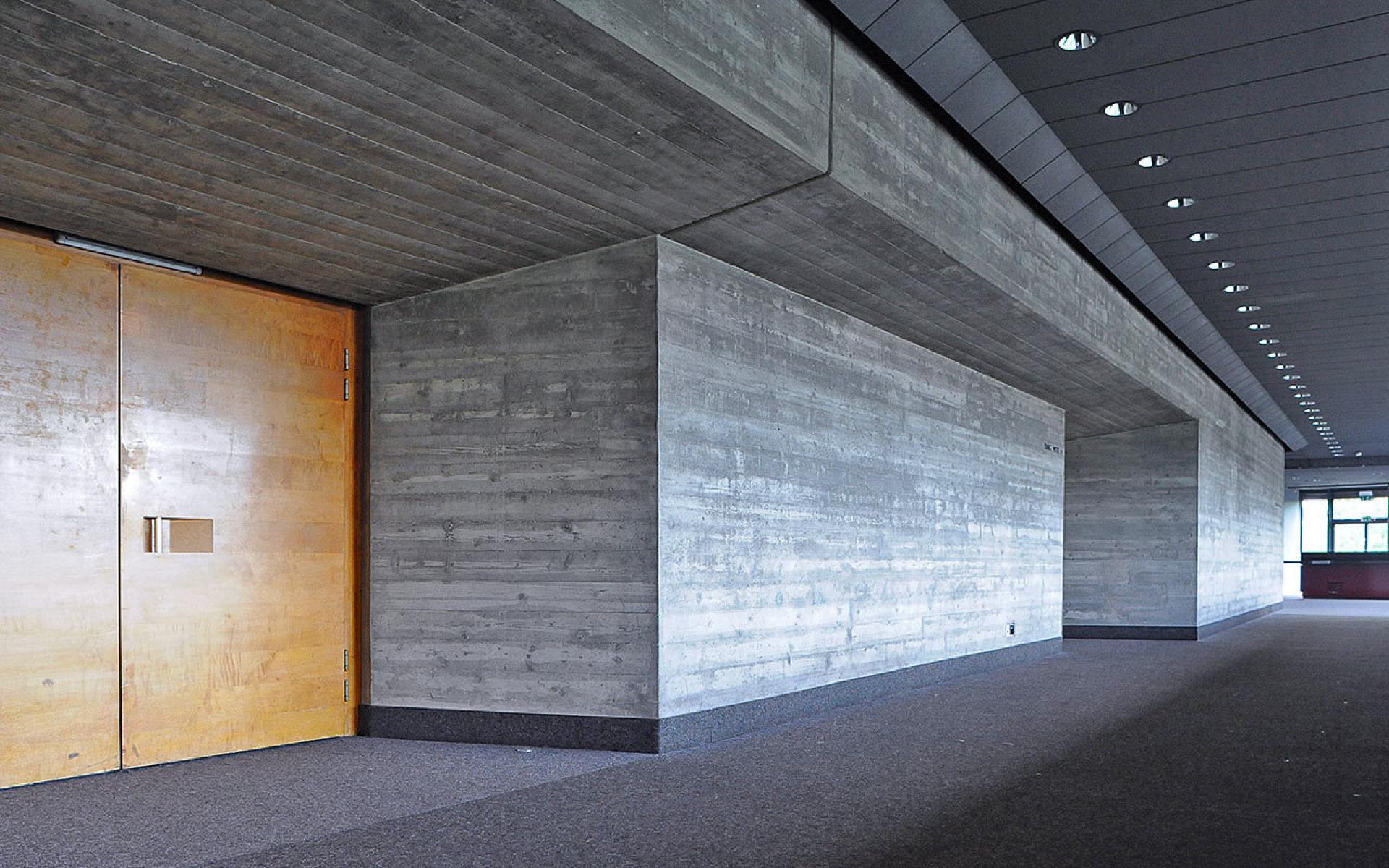 The theater, designed and built between 1960 and 1966, is undoubtedly a prime example of German Brutalism that takes a bold modern stand within the city center of Ingolstadt: with its board-marked concrete surfaces and complex, interlocking interiors makes for interesting spatial experiences that are faintly reminiscent of Hans Scharoun's Berlin Philharmony.
As the followers of my Tumblr might have recognized I have a major knack for postwar church architecture in Germany and beyond. One of the most interesting examples of postwar modern church architecture in Germany is St. Paulus in Neuss in the lower Rhine region, a congenial collaboration between architects Fritz and Christian Schaller and engineer Stefan Poloyni.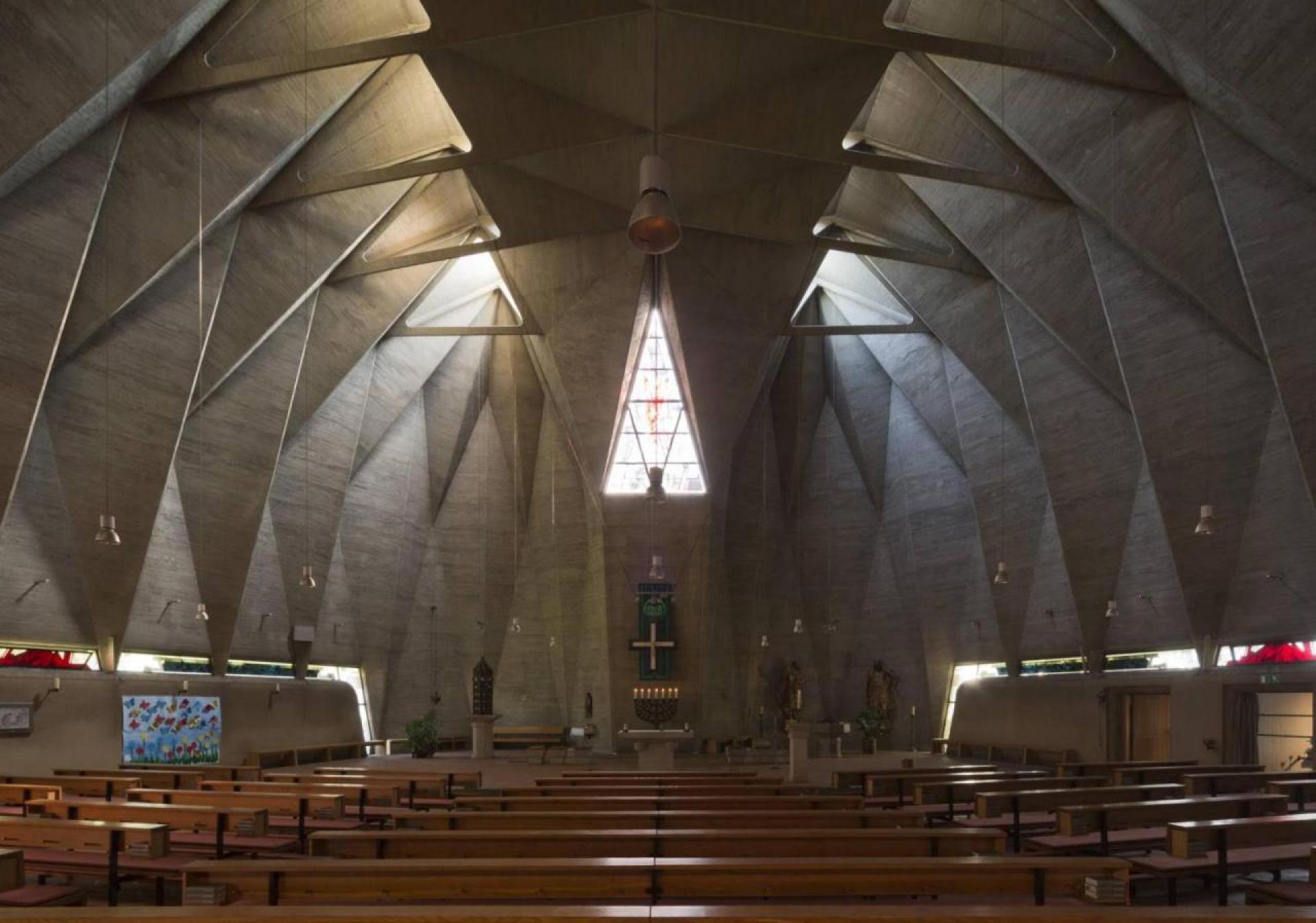 On a hexagonal plan they created an awe-awaking space that is crowned by a spherical, folded and diamond-shaped vault. The church quintessentially represents the inventiveness of architects faced with the task of designing contemporary religious architecture: a spectacular, technologically innovative space that relies on the interplay of light and shadow to create a contemplative yet solemn atmosphere.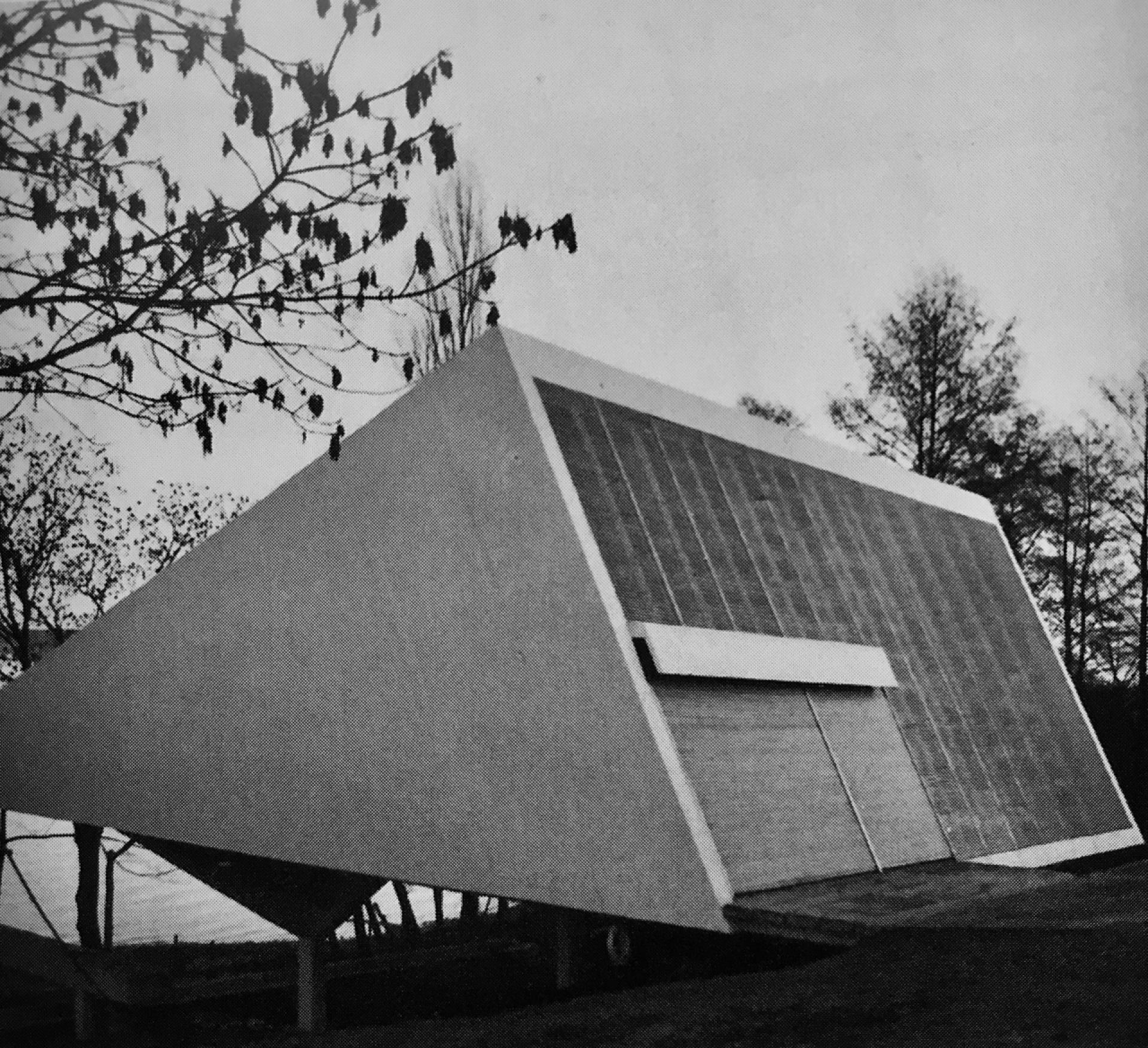 The summer house Moroshito, which Paul Stohrer designed for himself at Lake Constance, is a very unusual example of German postwar modernism and as such a favorite of mine. In its wedge-shaped design Stohrer processed influences from Oscar Niemeyer, a reference rarely present in German postwar architecture, and also gave expression to his colorful personality, which not only included a life-long passion for painting, but also for flamboyant sports cars.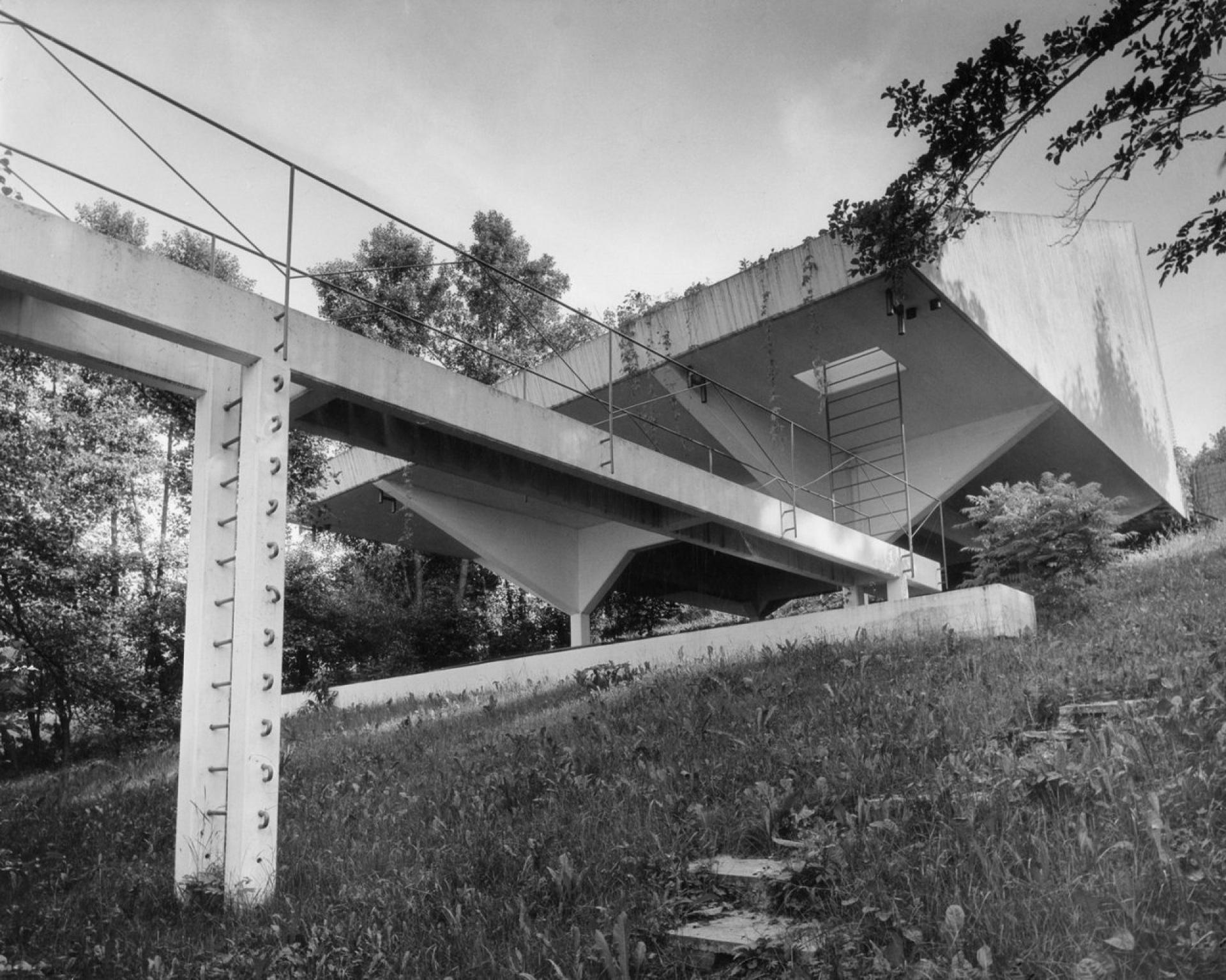 Free from a client's restriction Stohrer realized a house that was tailor made to his needs and gave him the freedom to play with shapes, materials and plans.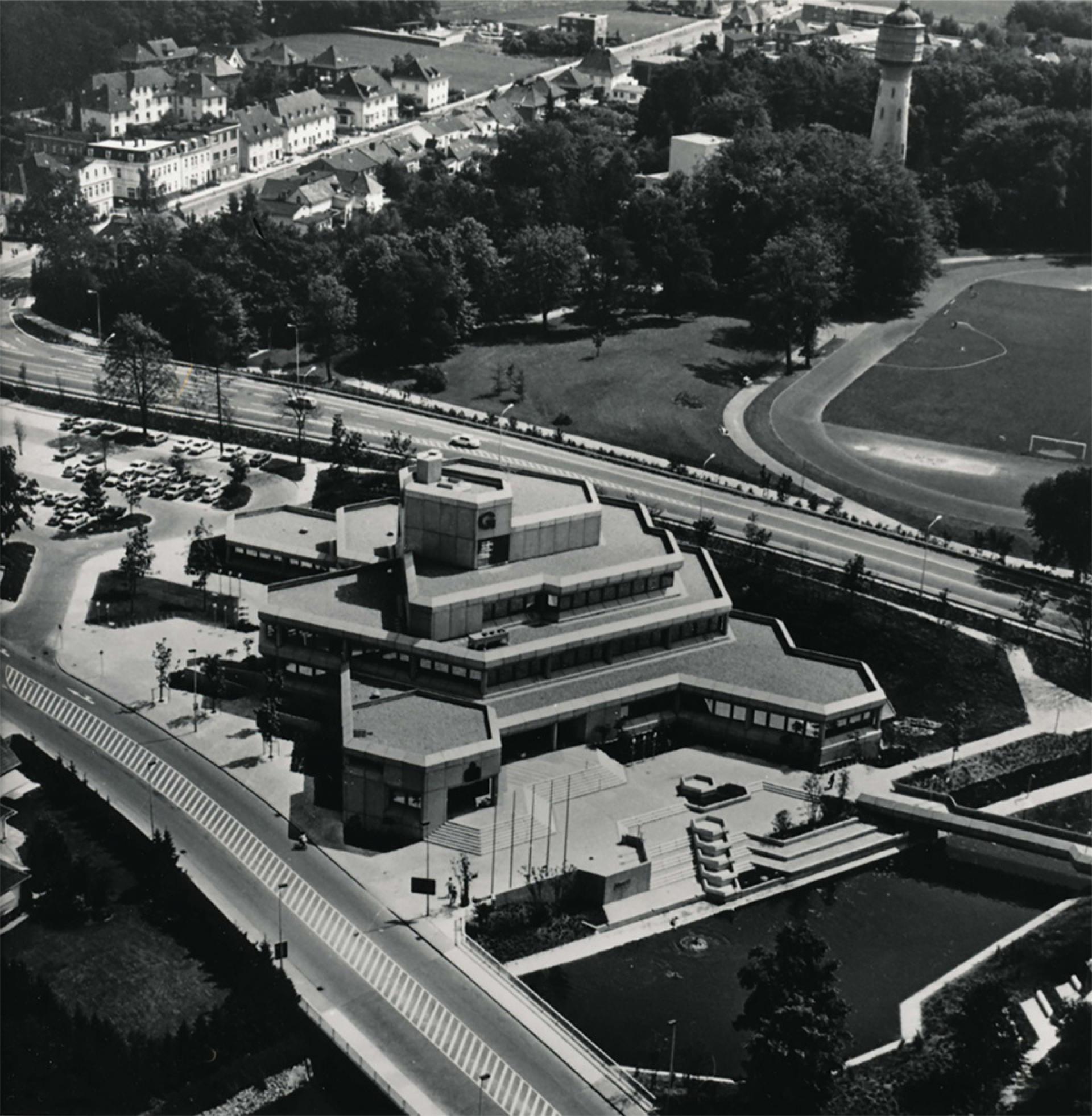 Harald Deilmann's design for the Town Hall Gronau, a city on the German-Dutch border, represents a multi-functional approach to town halls in Germany in the 1960s and 1970s.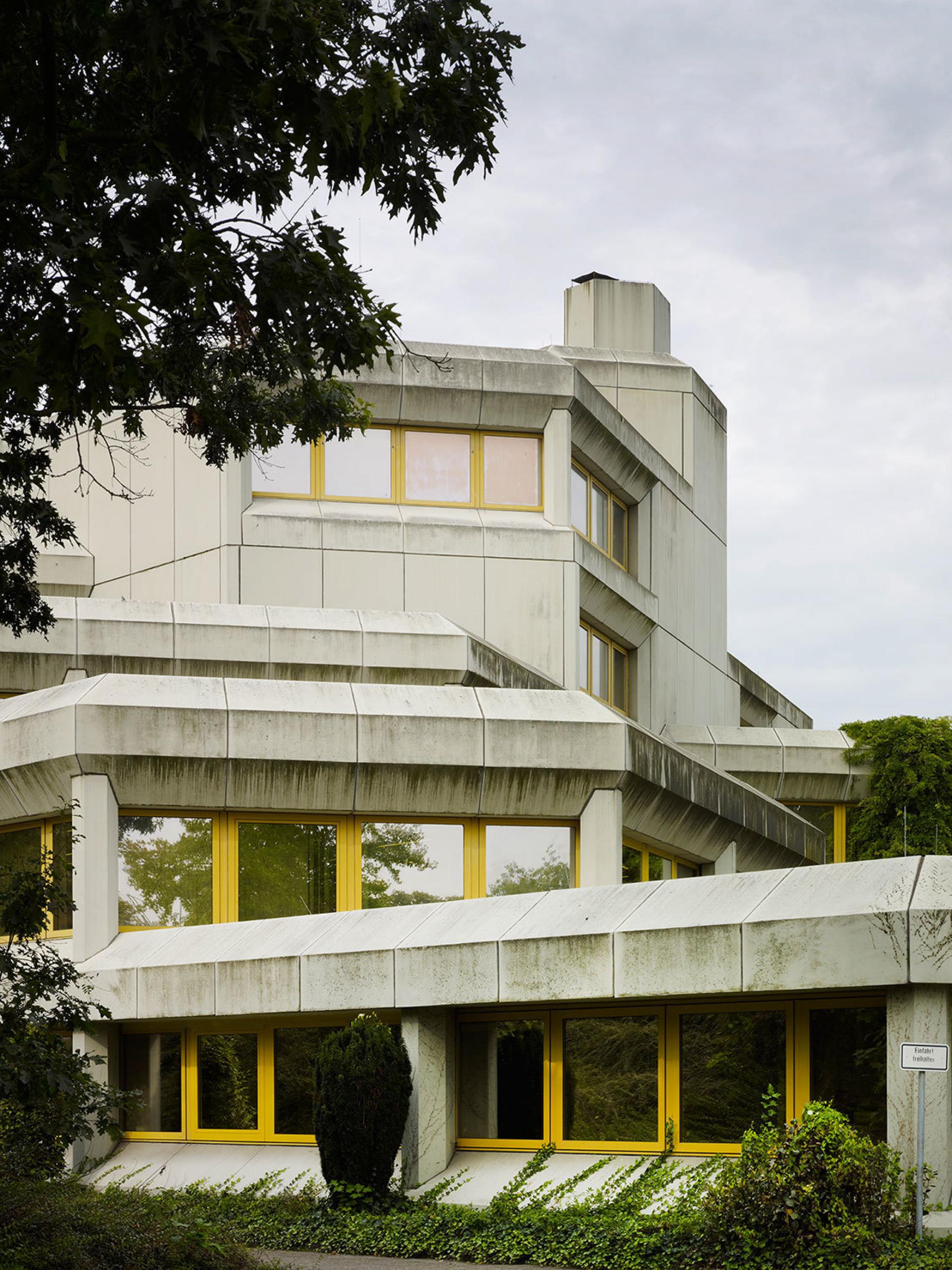 The scaled design houses a multitude of rooms, office, meeting places and with its raw concrete facade gives expression to the increased artistic freedom architects sought in these years. The building ranks among the most interesting yet overlooked examples of brutalism town hall architecture in Germany after WWII.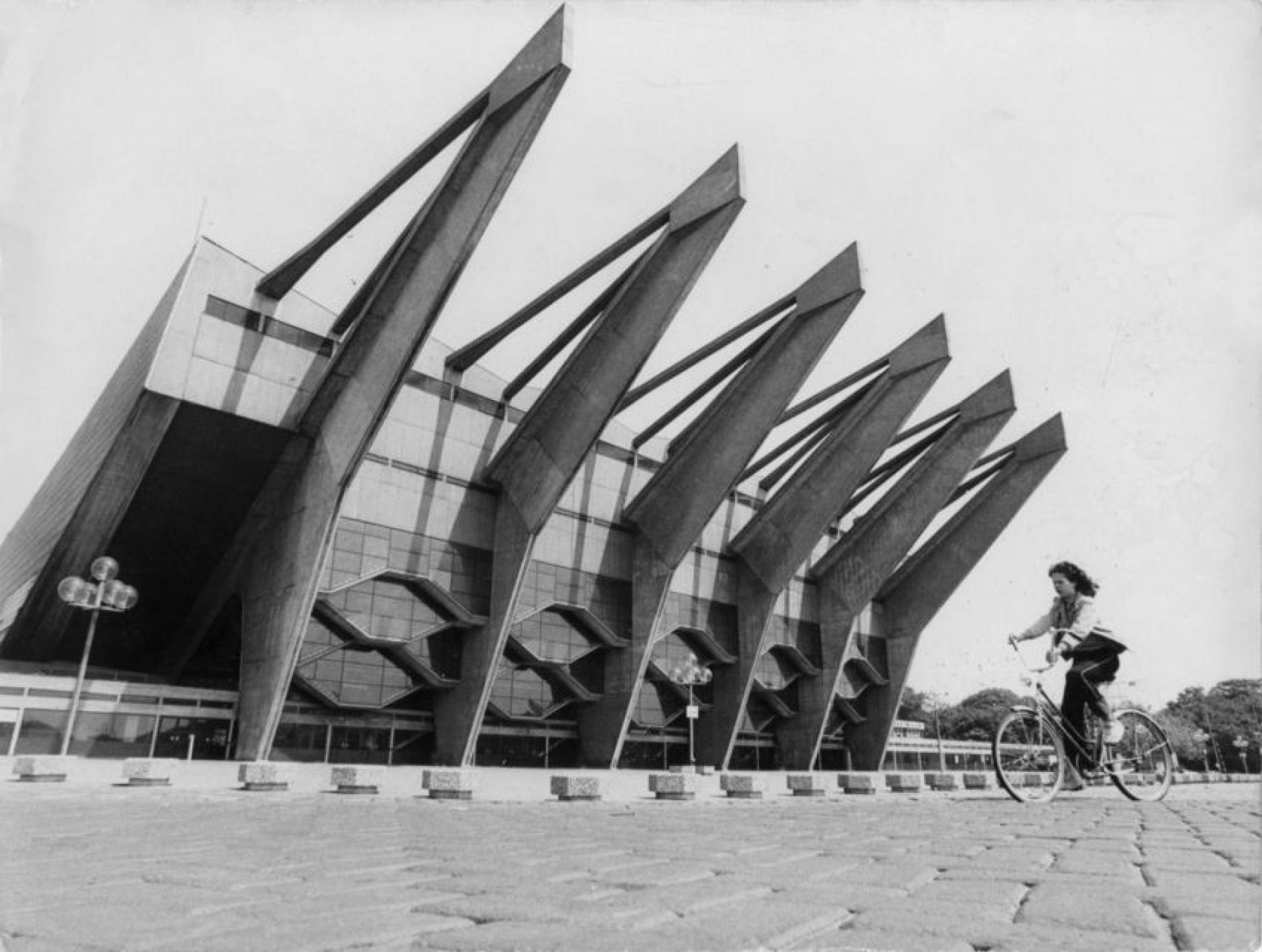 Last example of the architectural self-confidence of cities in postwar Germany is the Stadthalle in Bremen by Roland Rainer, built between 1961 and 1964. Rainer's idea was to form a structural unity of a roof and stands, an idea that resulted in a suspension roof spanning more than 100 meters.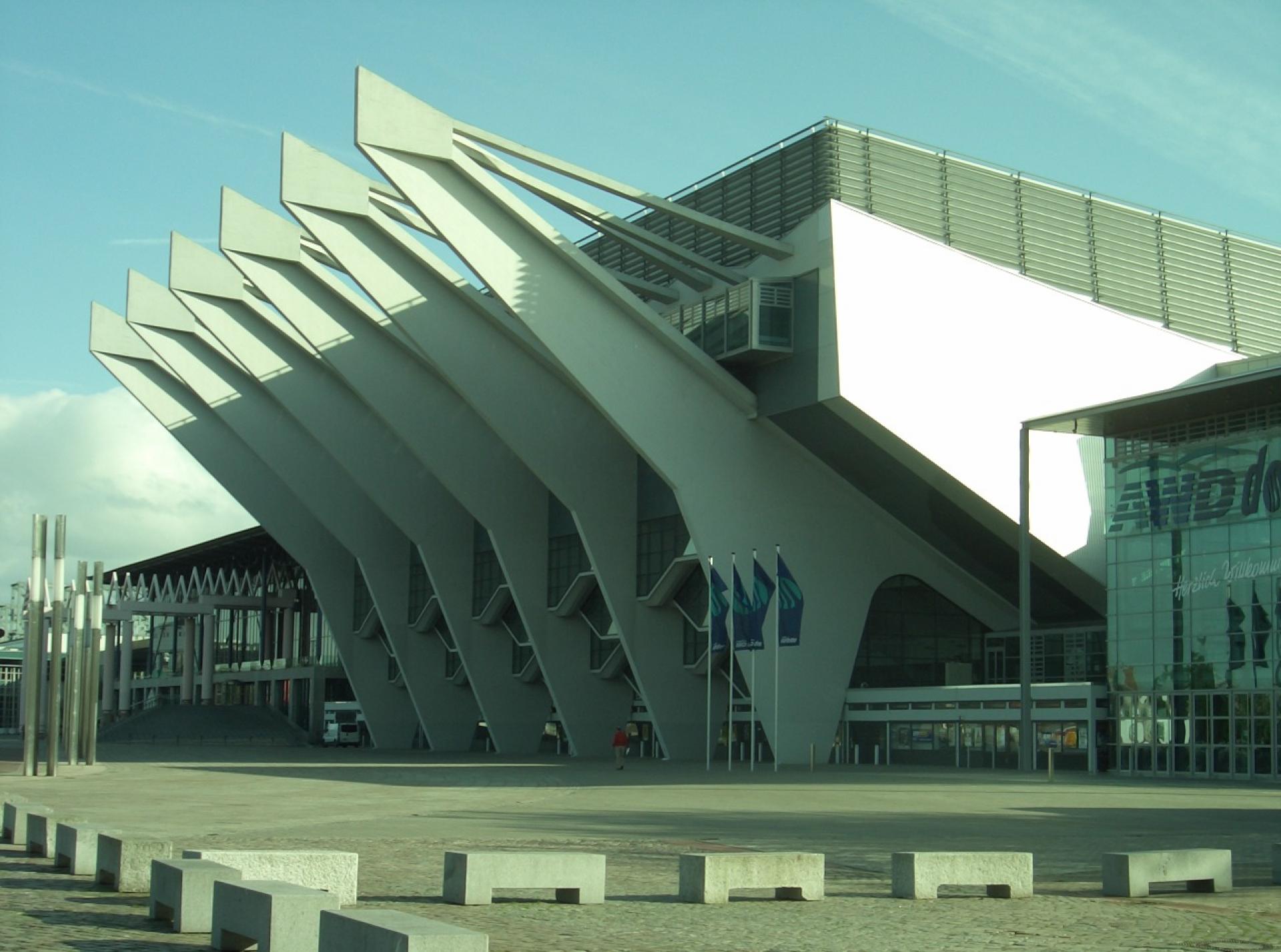 Due to the resulting expressive construction the Stadthalle soon became one of the city's landmarks and together with the Stadthalle in Vienna and the one in Ludwigshafen forms a trilogy of Rainer's successful civil engineering works.