Engagement Beyond Projects
STEALTH.Unlimited is the practice of Ana Džokić and Marc Neelen. Although initially trained as architects for over 15 years their work equally based in the domains of contemporary art and culture. Through intensive collaboration with individuals, organizations and institutions, they connect urban research, spatial interventions and activism.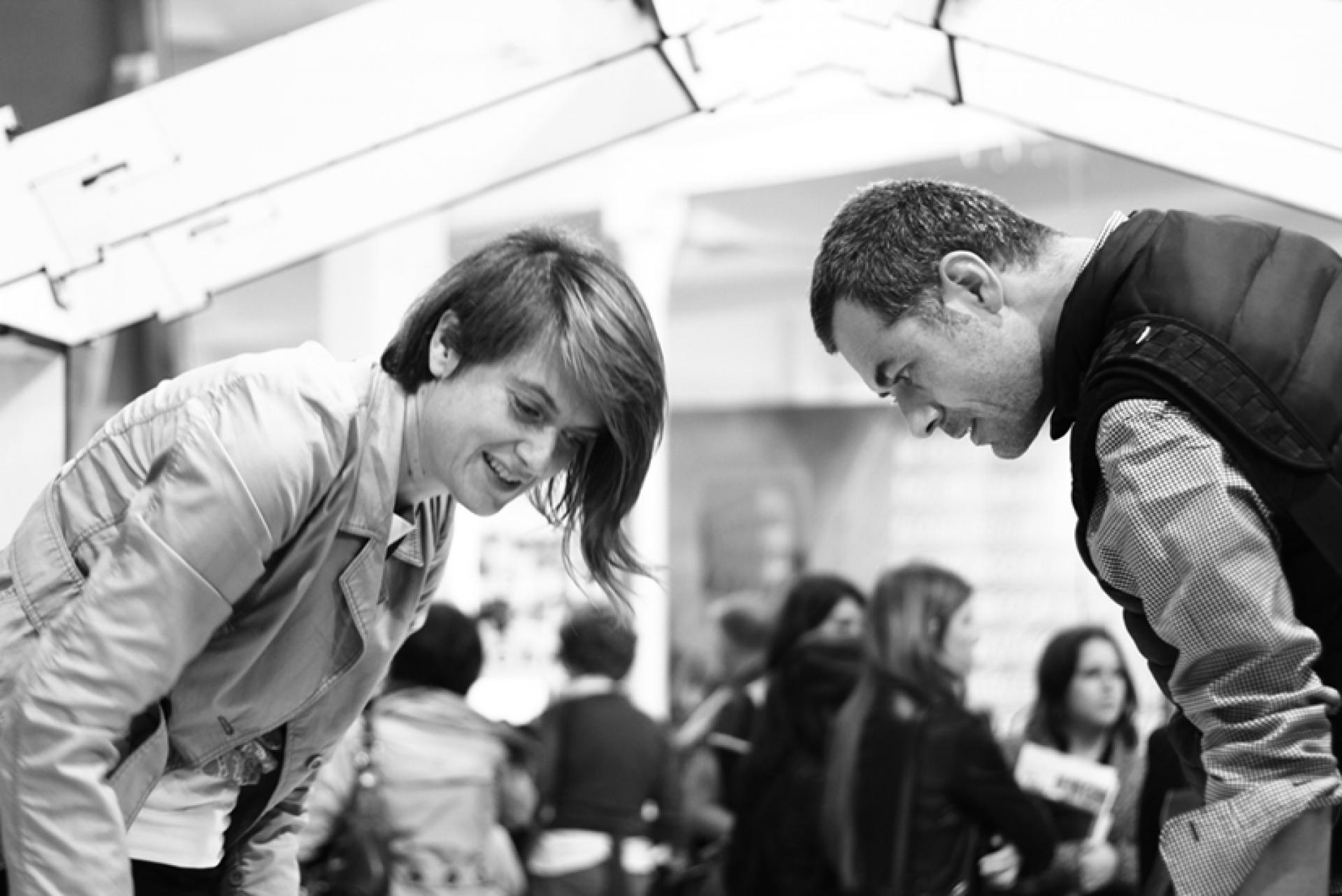 STEALTH's curatorial interventions (e.g. at biennials in Venice, Tirana or Bordeaux) have been a base for projects that mobilize thinking on shared future(s) in producing the city. Their spatial interventions pioneer do-it-ourselves approaches (involving low energy strategies and cyclical economies) to the urban environment.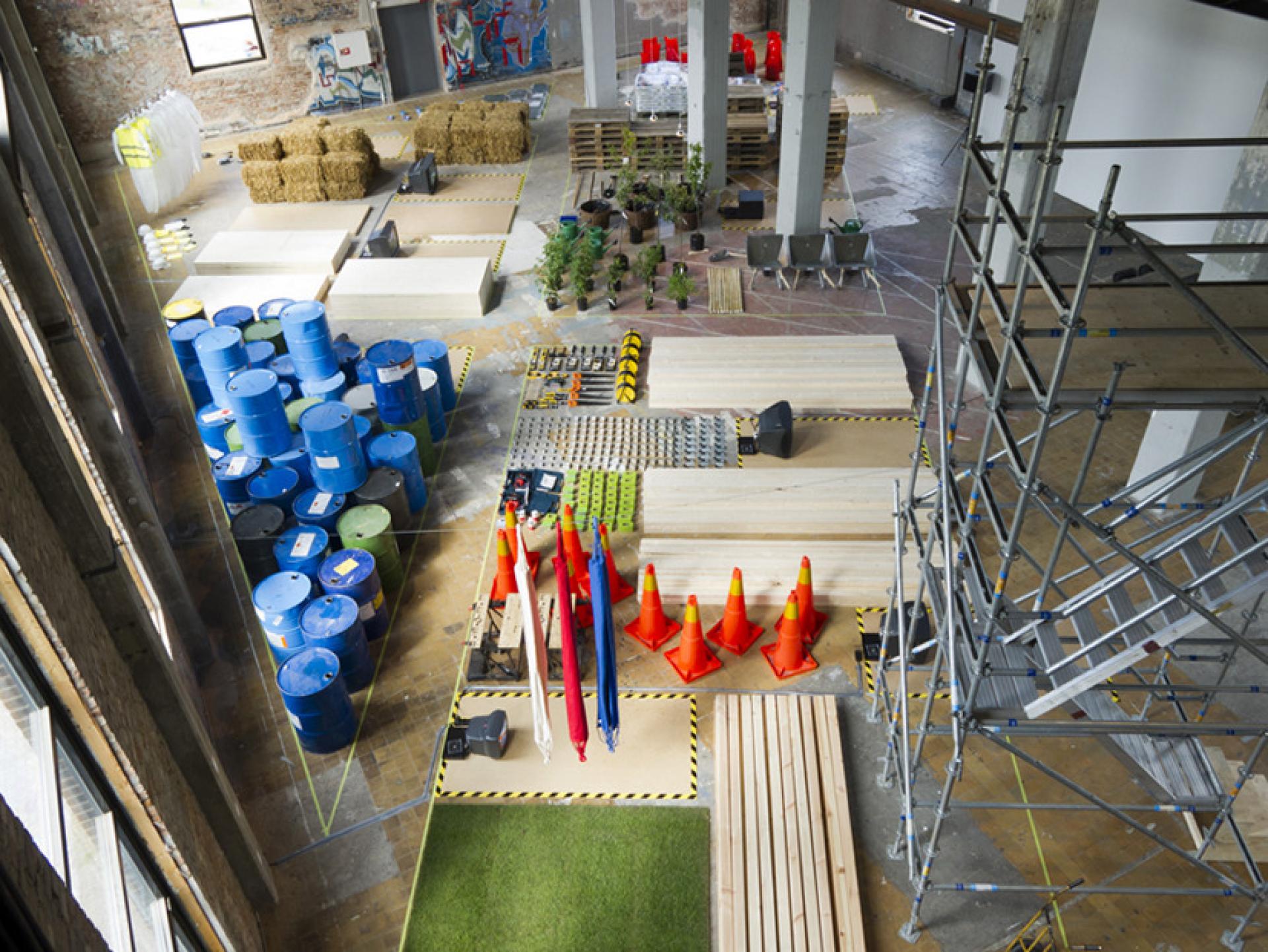 STEALTH started by investigating the non-regulated urban development of Belgrade in the end of the 1990s. From 2009 until 2013 they have been running four editions of the Cities Log research in the region of former Yugoslavia and Albania, that reveal common issues related to privatization and commodification of space. In 2010 STEALTH co-initiated the platform Who Builds the City (Ko gradi grad) in Belgrade, including the long-term housing project Smarter Building.
In 2013, they co-initiated the association City in the Making (Stad in de Maak) in Rotterdam, to through a ten-year long process tackle the "toxic assets" of stranded Dutch welfare housing. City in the Making won the Job Dura Award 2016. On this occasion, we spoke with Ana and Marc about architecture, the city and continuity.
BB: You are co-initiators of Smarter Building in Belgrade and City in the Making in Rotterdam. In both you deconstruct existing norms and models underlying the unattainable apartment, purchased on the market. And both have a rather ambitious, long term horizon. Last November City in the Making got the Job Dura Award, can you tell about this initiative? What makes you happy working on it?
Ana Džokić: What makes us happy to work on it? What is really interesting with City in the Making in Rotterdam, is that it is tangible unfolding in a physical space, and that at the same time addressing a large societal issue. It gives us satisfaction that you can see things changing, but also that it started to get recognition for its wider mission. When we first entered into the two buildings, out of eight that association is running now, they were in a pretty desperate state. Hardly imaginable that in a society like the Netherlands people were renting these apartments. Dilapidated, ceilings coming down, balconies nearly falling off, no bathrooms – exhausted, you could say. What you can see now, three years later, is that these buildings changed a lot and got a new spirit. This has given us energy to imagine tackling the housing issues at a larger scale.
Marc Neelen: In 2014, City in the Making started by taking over those two buildings for a period of ten years, by signing a contract with one of the former public housing developers – housing corporation Havensteder, owning about 45.000 social apartments in Rotterdam. In 2009 they bought the set of buildings, soon to discover that since the start of the crisis, and as a result of risky investments of some other housing corporations, their entire ecosystem was on verge of collapse. So, they don't have the money to demolish and rebuild these properties, as they originally planned. Rather they have to save all their resources to keep the rest of their still healthy stock going. Havensteder suddenly realize they've got two "toxic" buildings and they don't know what to do with them, for about ten years.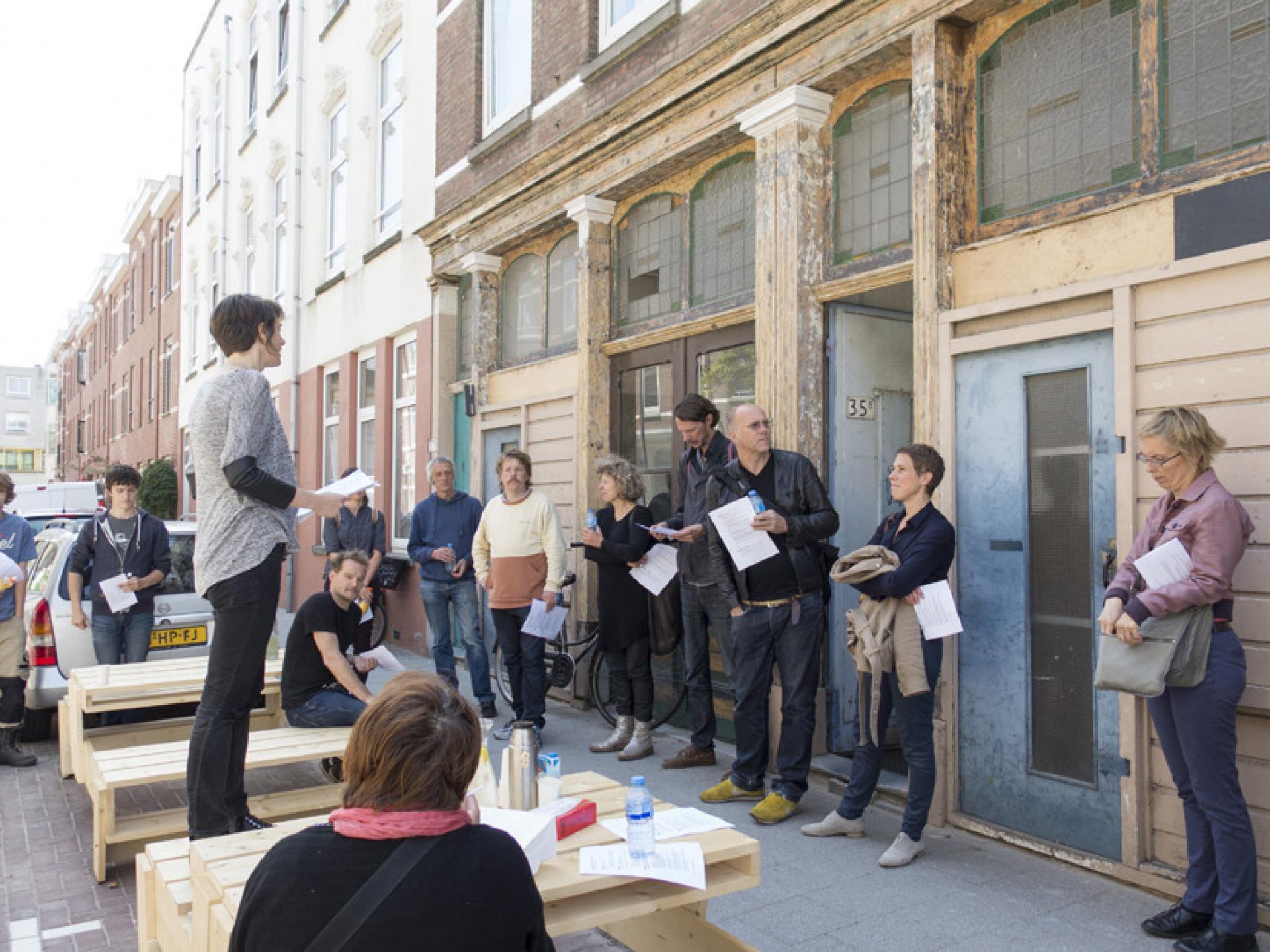 ADŽ: What follows are a couple of key moments; first is that the housing corporation came to the idea to experiment with what to do with these two buildings. They ask two groups (architects Superuse Studios and artists Observatorium) for a study of what can be done. The study suggests a variety of temporary uses, but no concrete plan how to start. A friend of ours, Erik Jutten, gets involved in this study and becomes interested how to make it real. Here we enter the story, together with Piet Vollaard, and start working on a proposal to sign the contract with the owner of the buildings. Instead of asking to get the buildings and pay for rent, we ask the owner for a financial contribution to open them up and bring them back to basic safety. The crux was a calculation that points that the owner would have a loss of 60.000 euro over ten years, even if these buildings would be closed. The owner would need to pay property taxes and basic maintenance so that the buildings would not collapse. Now, if that loss could be taken on day one, we would suddenly have an investment budget!
MN: So, we proposed an agreement in which we get these 60.000 euro and take over all the responsibilities. For the owner, this would economically have the same outcome, without need to maintain the buildings, while they would gain relevance in the street, where they own much of the other property. That was the tipping point, Havensteder decided to go for it. For them it was interesting, but a bit risky. For us it was also a risk to commit for a period of ten years.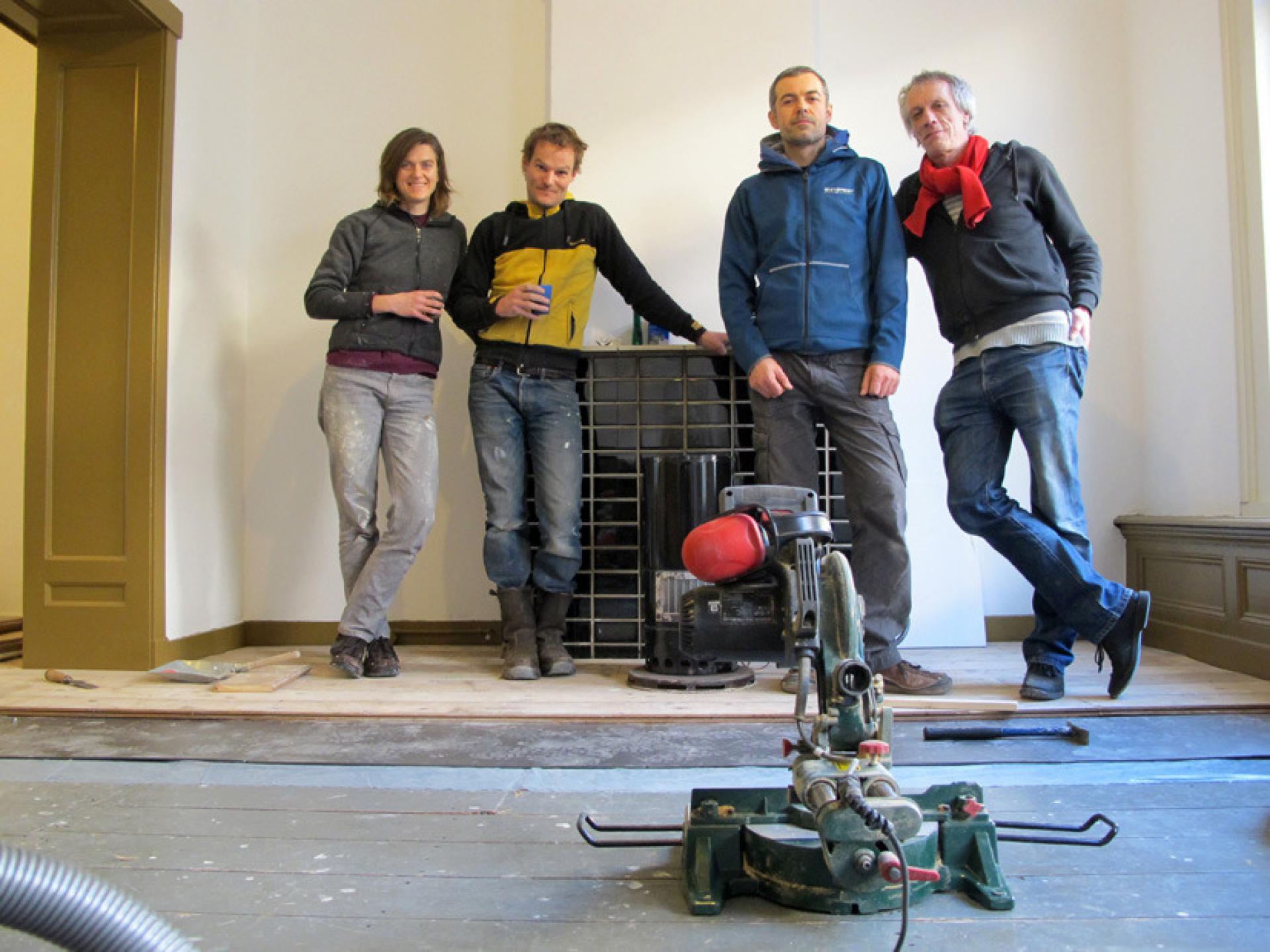 ADŽ: Back to these key moments. So, we decided to go on intuitively and not fix in detail how to do things. Let's start with the money that we've got and step by step do basic things that could make these spaces apt to live and work in. Along the way we developed principles how to run the entire operation, including the common spaces located on the ground, all based on an income generated from basic rent from the upper floors. Soon, the corporation offered another building, which we took over, and another one a year later. Each building consists of a group, tests another kind of constellation of people and their relation to living and working spaces.
Thinking further, we started to imagine how these and other buildings in a similar state could have a larger potential beyond a temporary timeframe. We came to three main ideas, one is to radically enlarge the number of buildings that we can run on a temporary basis (how about 100 of them?) in order to experiment how such pools of buildings can bring about different possibilities of living in the city. Another one is to create a community economy among the people involved, including an internal basic income. The third idea is to overcome this temporary condition by turning buildings to non-speculative, collective ownership. These challenges are exiting for all of us involved. And include questions like which organizational form this next phase should have.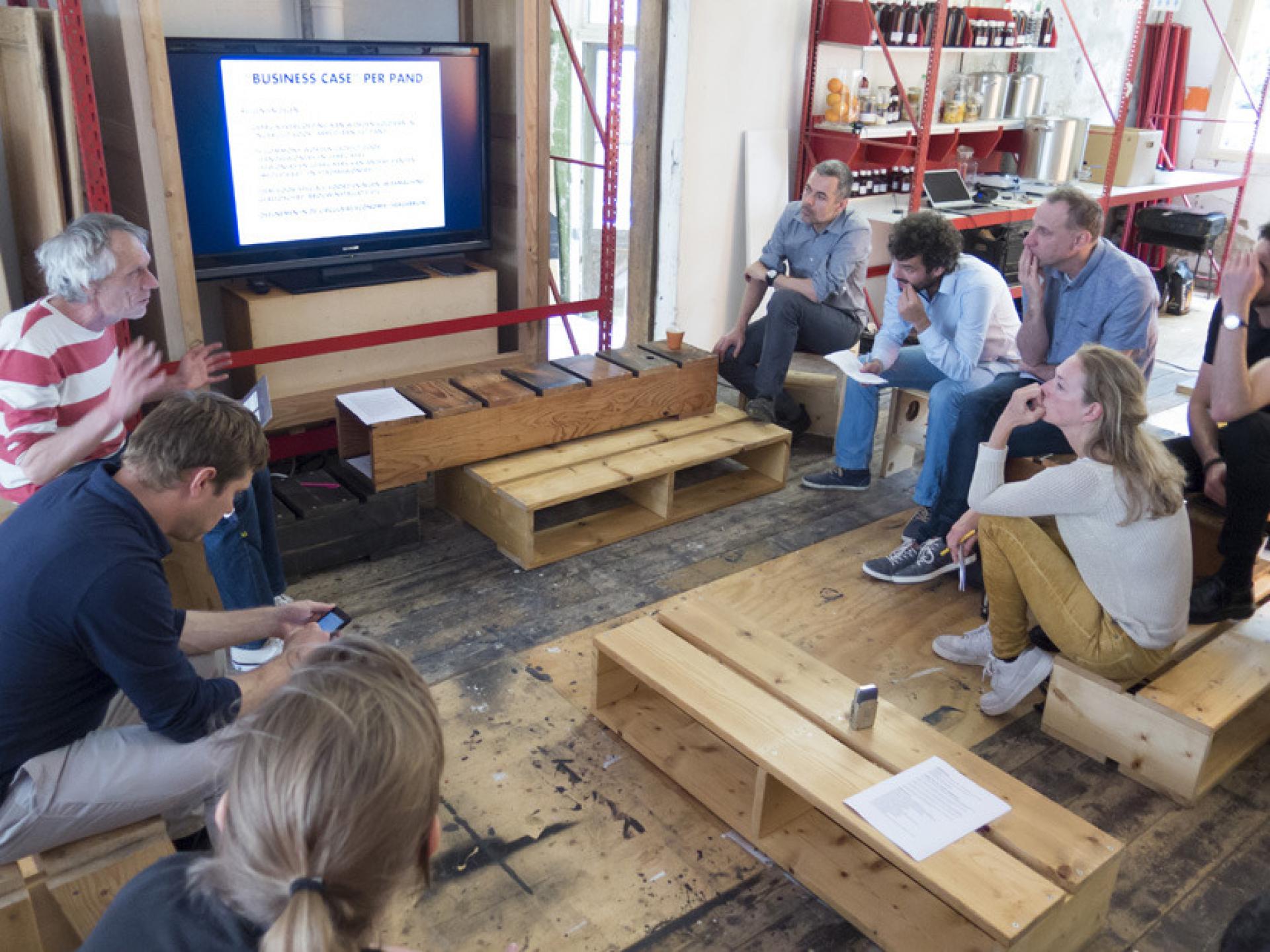 BB: On one hand, you operate with temporary structures, while on the other hand you have to build in a continuity of the work process. How does this work?
MN: On one hand, working with temporary buildings and structures is a way to operate in gaps left open by the market forces or by stalled development, on the other hand it's a possibility to experiment and test things. For most of the initiatives playing out in temporary spaces, temporality is not their final goal, they have a different ambition. We take it as a sort of training ground; space and time to figure out structures and relations a certain group or community could start building towards a different reality. Enter a process on a temporary basis, your agenda should be quite clear, also to those whose terrain you are entering or whose collaboration you are seeking. It is crucial that people know on which ground they can or cannot engage. In many temporary projects, there is a lot of promise, that in the end doesn't get fulfilled. And you are at risk of either exploiting the group of people or community you are dealing with, or at the risk of exploiting yourself. I can't say that we resolved all these issues, it is a tension embedded in approaches that are not fixed from the outset.
BB: There is a high level of motivation in all your projects. Where do you get the energy to do that many things?
ADŽ: What we realize is that from the start of STEALTH we have traded job security for something you could call thematic security – it is a different concept to guide your professional choices. Each project and longer term engagement has been building on experiences of previous ones, fostering those themes, rather than specific types of products as you would do in a more conventional approach to the practice. And most of the things we do are collaborations, without which not much could have been achieved! Each new project is also a set of discoveries that generate knowledge – produced and shared with others. That constant exchange and possibility to move between different contexts is where we take energy from. Still, at some points this can be pretty exhausting.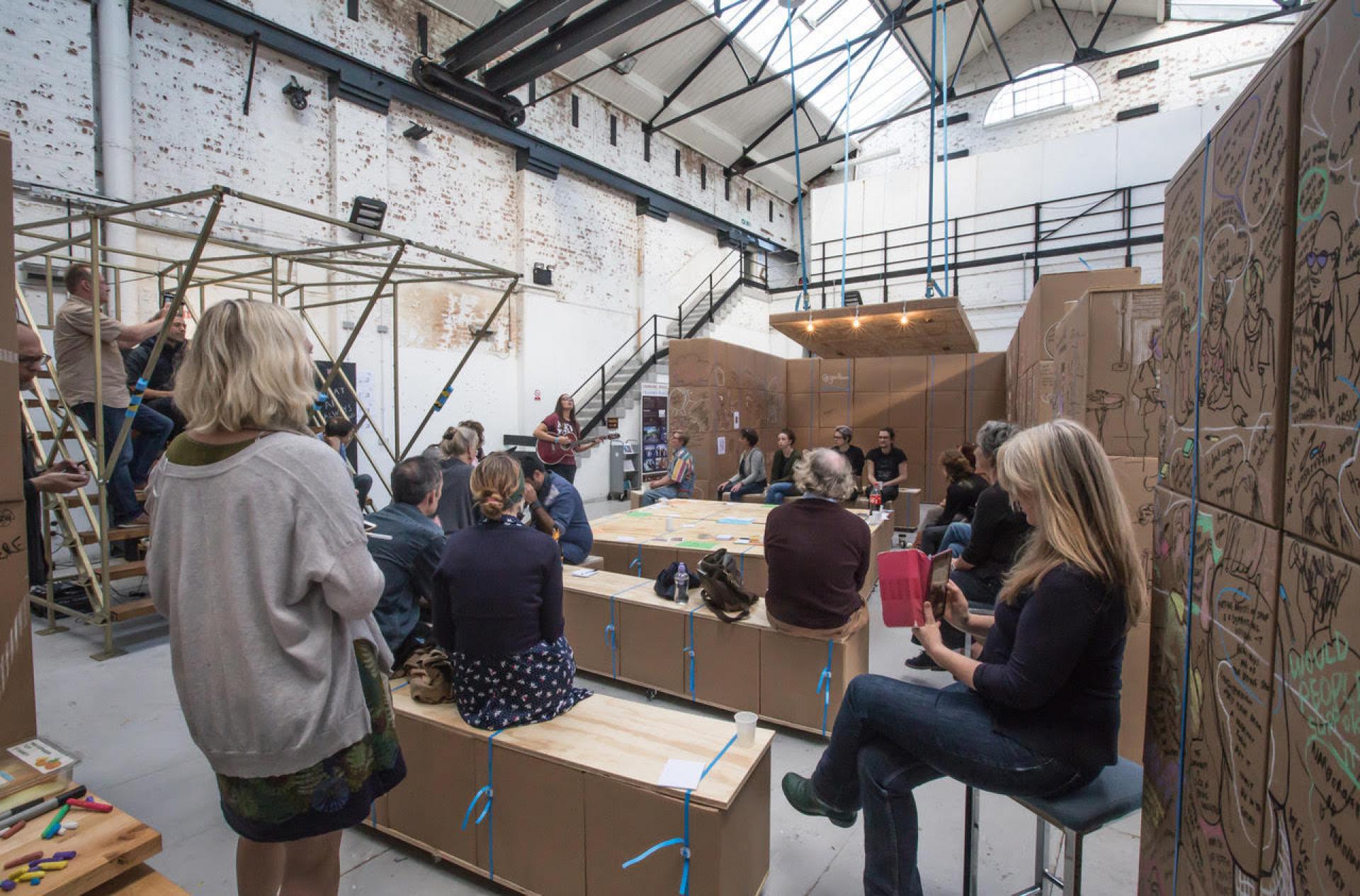 BB: How are you facing failures, if they occur at some point?
MN: I think that failures are essential. If you run without failure or without any sort of corrosive resistance, without any discussion, without any dispute, there is actually nothing going on. In our work – or maybe better to say our involvements – these are moments when you have to reset, rethink, leave the original idea half way into the project and restructure it. It's quite common and we have gradually learned to be at ease with the idea that what you finally arrive to might be quite different from what you started out from. At the beginning, it was not so easy to deal with it, because it unsettles you. By having enough experiences of cases where it turned out essential to quite drastically change intentions, working methods or collaborations along the way, we learned not to worry too much and let things take their course. To some degree, at least!
BB: How can your experiences transfer from one city to the other – are the models comparable?
MN: On a larger scope, they can work in a corresponsive way.
ADŽ: What we have set to do in Rotterdam with City in the Making or in Belgrade with Who Builds the City, involvements that have a timeframe of ten years and probably even beyond, I have difficulty calling these "projects". What somehow happens there is that your initial practice is partially dissolving into something larger. Your identity, in this case of STEALTH, becomes less important and relevant. You let go and let yourself be influenced and driven by the capacity of that group you found together with other people. The capacity of these groups is developed by the present and in different contexts there are different strengths of groups that you form. Still, there is a challenge to balance our involvement between the two contexts to which we devote most of our time – simply because we cannot be fully involved in both at the same time. On the other hand, moving between contexts allows us to bring experiences and energies from one to the other, which we think is very relevant.
BB: What does architecture mean to you?
MN: We are not so much interested in architecture in terms of buildings, but in the entire context, the networks and physical layout where our lives takes place. What that environment enables, what it can produce.
ADŽ: The architecture is a physical manifestation of certain ambitions and beliefs of society. Each period expresses itself in this built environment, these traces show what society stands for at that moment in time.
BB: Do you think architects' work will have to change in the future?
MN: Architecture has to adapt towards any future. I don't think it has neither a static definition nor is it a static practice. This is for instance what we tried to outline in Archiphoenix: Faculties for Architecture, our contribution for the Dutch Pavilion in Venice, at the verge of the crisis in September 2008. As Ana said, indeed in that sense it is really a reflection of our times – both in its practice and in its production. We are obviously again at a tipping point. Since the start of the financial crisis it has become visible that the position of "anything goes", in terms of spatial production for economic benefit, does not bode well for society at large.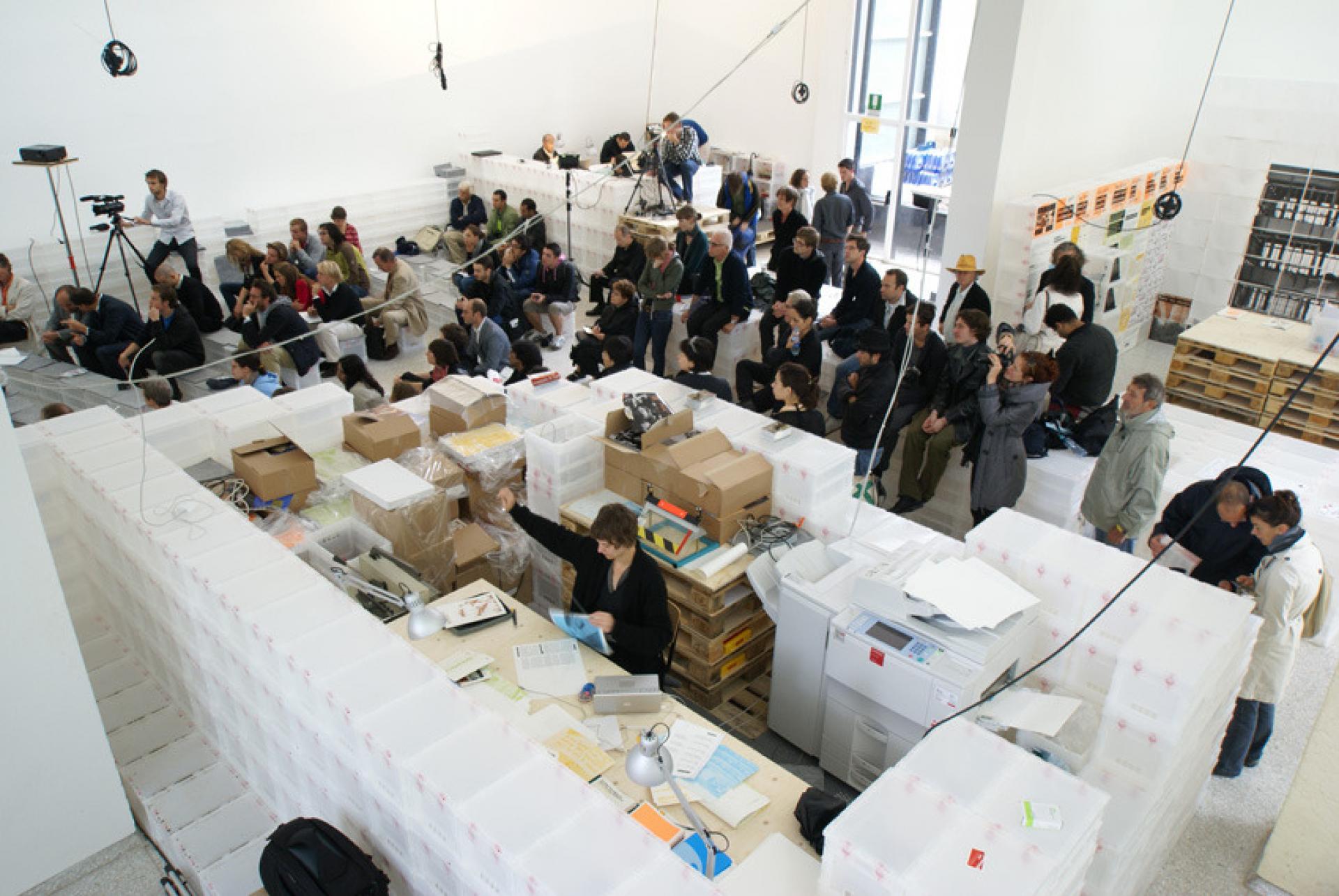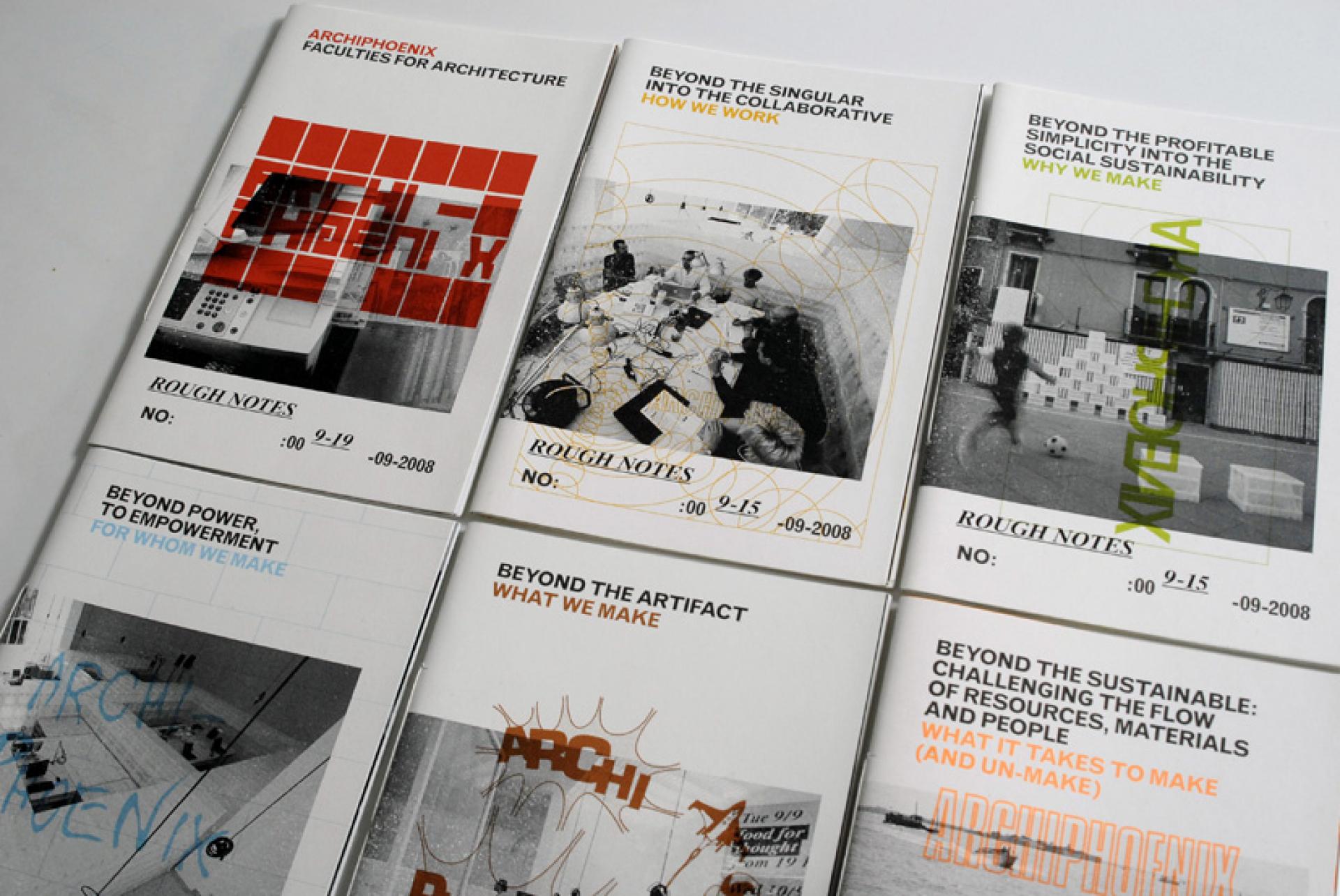 ADŽ: I think that architecture is in a crisis of relevance. Trying to find its relevance.
MN: That is also a continuous condition.
ADŽ: Yes, but for a large part of the past century, the modernist period was tightly woven within the context of the welfare state or socialist state, which gave architecture its societal task, its legitimation came from there. Today, its relevance is widely understood as in support of the market economy and its speculative real-estate production, detached from the real needs of real people. Its production has become vastly conflicting. Like Patrick Schumacher (also interviewed by Architectuul) bluntly revealed in his recent talk, there are architects that consciously embrace the neoliberal paradigm. I think that the time of clear political positioning is at our doorsteps. You have probably understood that our position is opposite to Schumacher's.
To add to the necessity for a repositioning of architecture and its production, global automation, the disappearance of wage labor and the introduction of basic income, as for instance suggested by Nick Srnicek and Alex Williams in Inventing the Future: Postcapitalism and the World Without Work, would lead to another change.
MN: They, and others who have researched the far-reaching effects of technological advancement, foresee a future in which not just the "simple" tasks will be automated, but also the more complex cognitive tasks, like much of the work of architects. If such a future indeed is ahead of us, much of our work will get replaced by machines. Right now, even in our professional field, our labor is still cheaper than that of machines. But this will likely end sometime in the next decade or two. Much of our labor will become obsolete at that time – a perspective we can hardly imagine today.
ADŽ: That is the point where Srnicek and Williams bring in the necessity of a basic income, which for many of us is still a puzzling horizon. But still, taking it from there, what is it that you would do, if you did not have to (or did not get requested to!) work for money any longer, would that change your practice and your life? Maybe we are already an odd experiment in this direction, with often slim budgets we choose to work on things that we consider important and socially relevant. So, this question is for us set in the present, not in the future.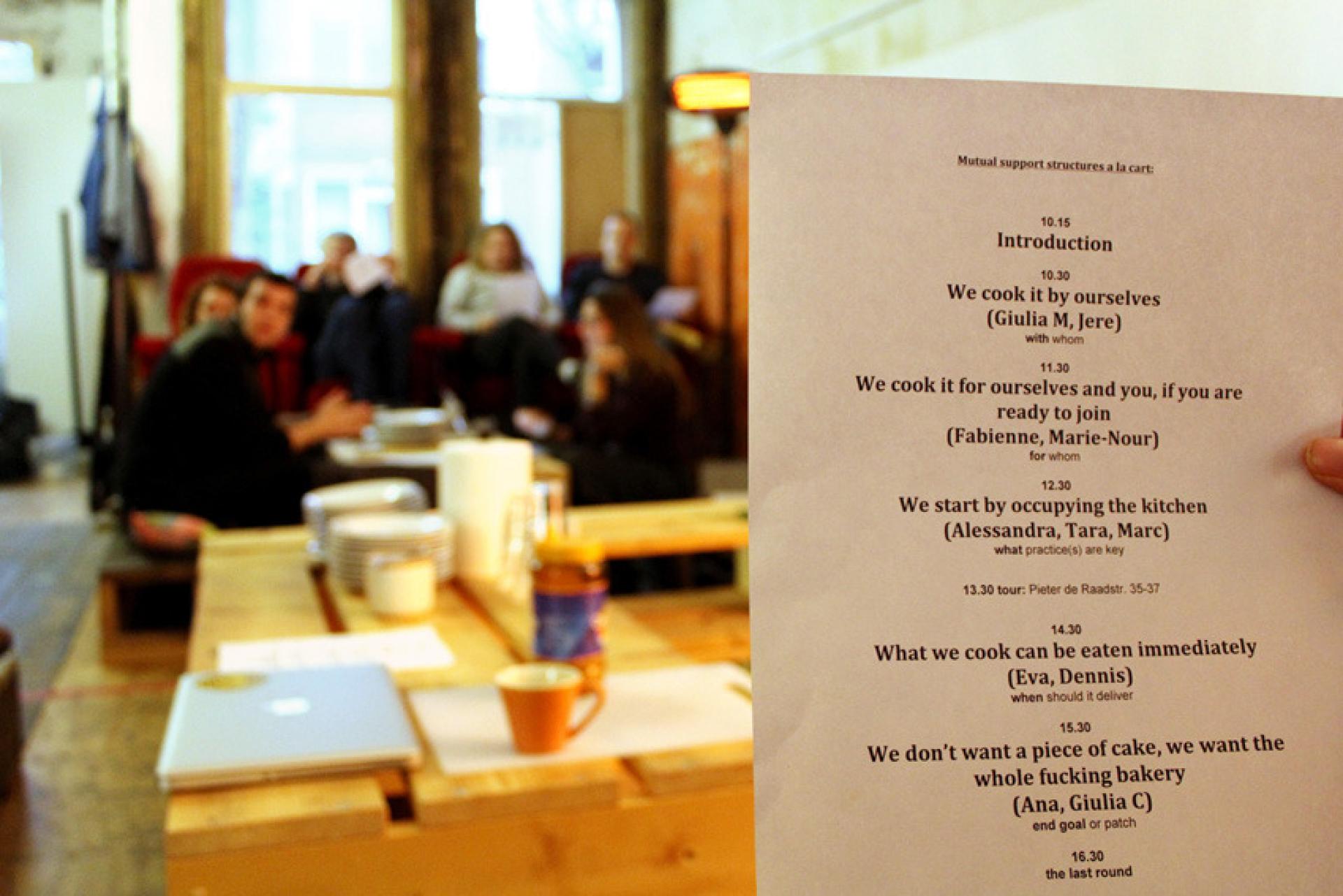 BB: You are architects but rather working with the content of the city, you don't use conventional tools. Can you explain more your methodology of work, research approach and the outcomes?
ADŽ: After 17 years since we started STEALTH, we recognize that there are different phases that we went through. The first phase, somewhere until the mid 2000s, was mainly a research phase: the research on the consequences of radical disappearance of the (welfare/socialist) state and locating the capacity of people to respond to it (Wild City research). This was very important for us. Through that, in the case of Belgrade, we realized how an answer to the lack of housing and other provisions can be generated bottom-up, but also the extent to which our profession had not been capable to respond and involve people in creating the urban environment. On the other hand, we became interested in figuring out what would be the potential of going a step further, the potential of collective ways of organizing, once institutions get eroded.
Following the research period, we mostly worked on bringing these topics across through exhibitions, talks, festivals - in the role of curators. And then, some six years ago, following the future fiction project Once Upon a Future, in Bordeaux, we came to the point where we recognized that this was simply not enough. There came a moment to act and translate that knowledge and experience that we previously encountered through the research of the commons and collectively run projects, into something tangible that we can unfold ourselves, together with other people.
That is where our practice changed. Somewhere from 2011-12 we started to engage in specific subjects through which we thought an impact could be made. This translated into co-initiating Smarter Building (by Who Builds the City) in Belgrade and City in the Making in Rotterdam which both deal with unaffordability of urban living, and how the speculation machinery and financialization of urban space pushes a larger and larger part of the population to the edge of existence. In Belgrade, some 70 percent of households have serious difficulties in covering their housing expenses, in Holland this situation is certainly less dramatic but sharply on the rise. In both contexts, you see that the role that public institutions previously played has been hollowed or disappeared altogether, leaving open the question – who is there to stand for this wider interest of people. I don't say that we can play this role, but we see that there is a need to take a position towards it, professionally, and as city inhabitants. Both by pushing institutions to take their responsibility (by for instance mobilizing recently around the new Law on Housing in Serbia), but also by trying to find a collective response by citizens, through, for instance, new housing cooperatives.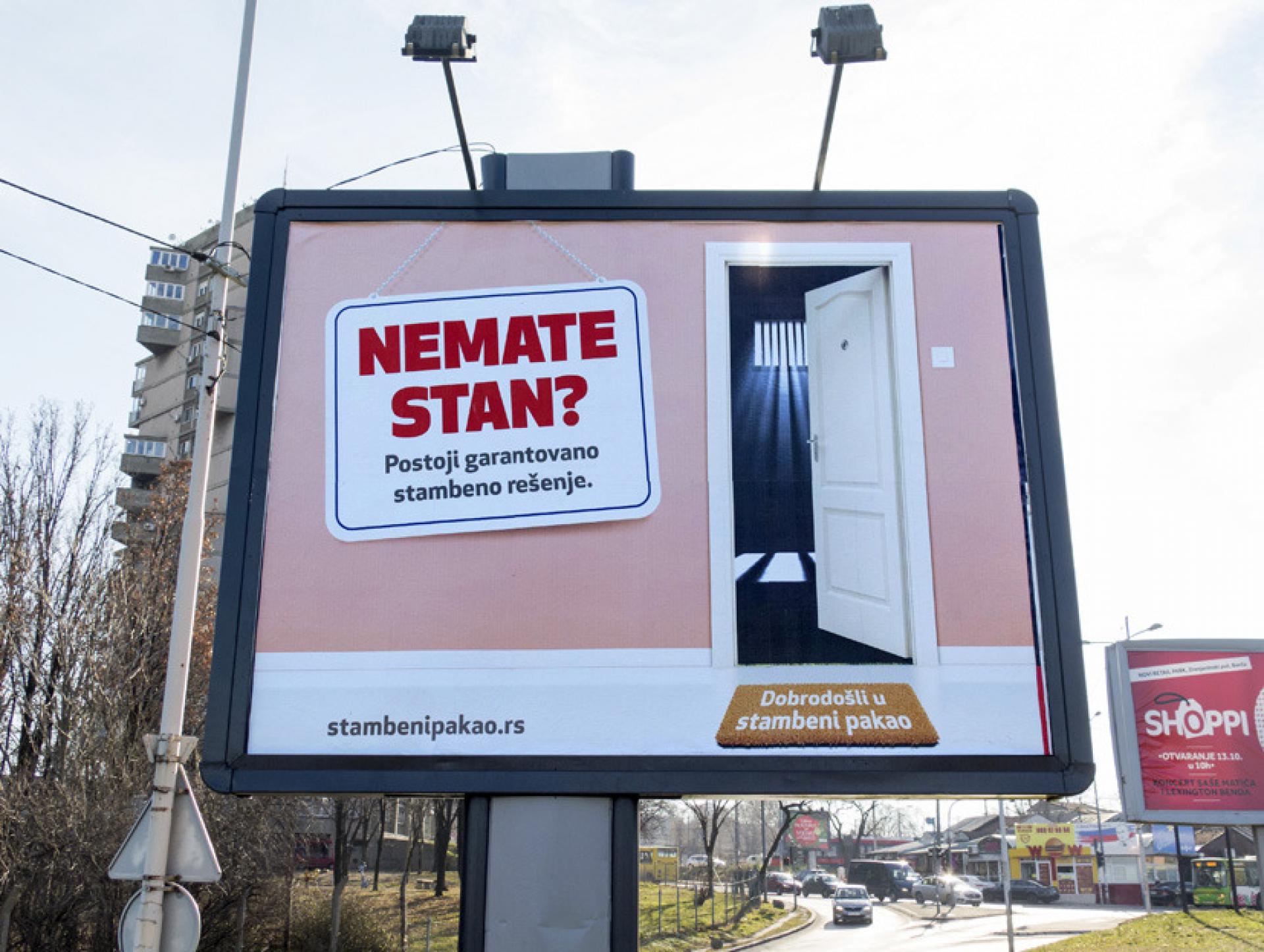 MN: You're also right that we are not using the conventional architectural tools, the ones that we picked up at the architecture school. We had to invent how to deal with these topics. Also, our relation with what we are doing has changed. In the last years, it's much more a personal relation, it's not any more about researching or exposing something out there, something happening to others.
Now we understand that we are among the endangered people and practices. Nowadays, cities are not so much places to give ground to life and work, they are rather investment vehicles. It is all about the dream of urbanization, selling the image of an urbanity that is what mainstream architecture is mainly contributing to. In the end that has nothing to do with inhabitants who have to live in that decor built for them. As soon as you start understanding that this kind of city is not an urban environment made for you and your fellows, your relation with that sort of production changes entirely. It suddenly gets closer to your own existence. Of course, you start to look around and imagine how you and your fellow citizens could claim a position in the city again. From that point your way of working becomes quite different. You are not looking for a client, but for fellows to work with.