N. Mutevelić: 3650 DA
3650 Days of Contemporary Architecture in Sarajevo edited by Nedim Mutevelić, 2018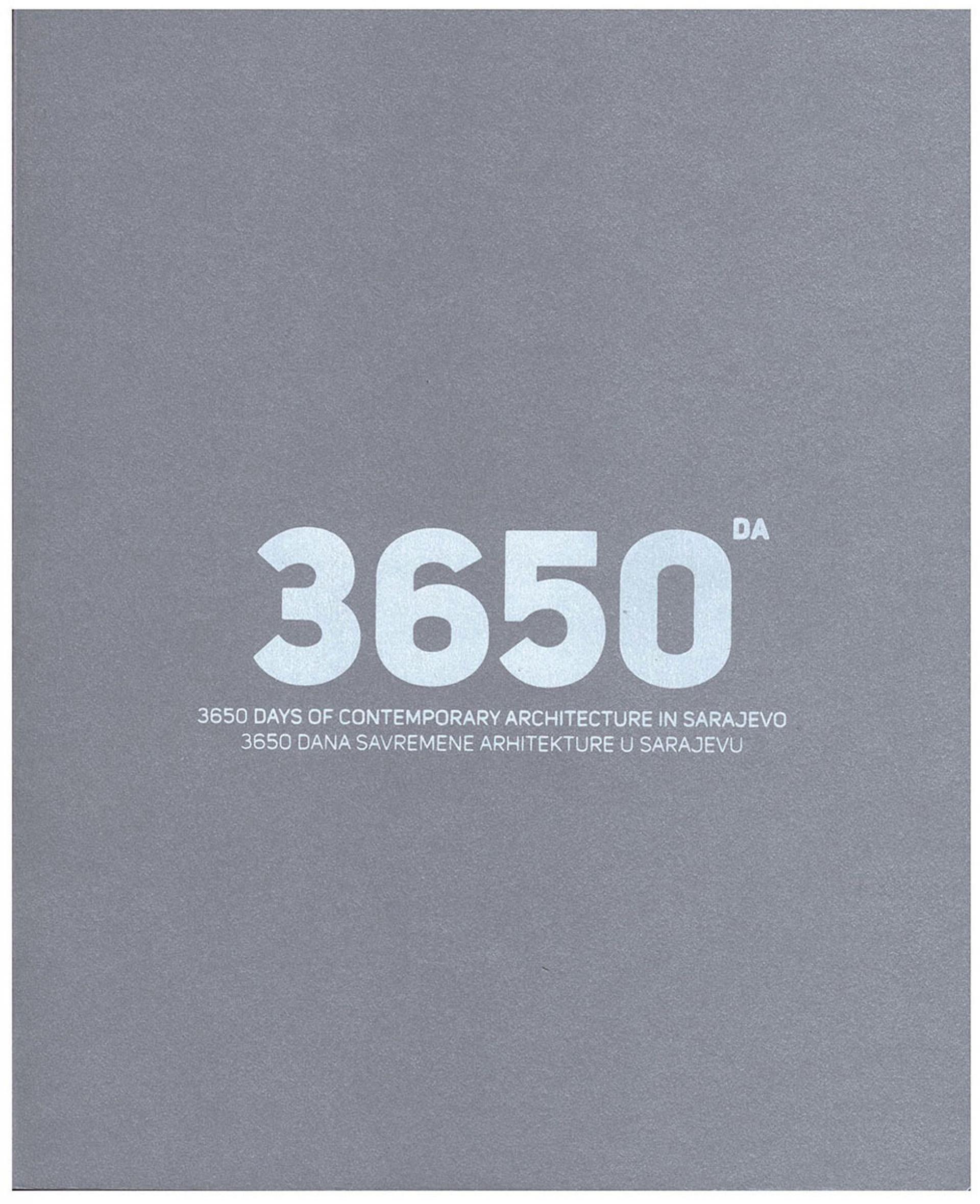 Days of Architecture is a festival in Sarajevo, which celebrated its 10th anniversary in 2018. Therefore, as is fitting for the occasion, a book was published for the anniversary. The book presents two thematically different parts in chronological order; the first part collects the material regarding important moments of the festival while the second part presents a collage of material selected from lectures, exhibitions and workshops during all ten years.
Smart decision on the side of the editor is that the two parts are linked with hashtags. In such way has been retrospectively deduced common thematic, problematic and orientations established over the ten years. In such way the book is created as an open and flexible database that can be further upgraded and modified within future festival releases.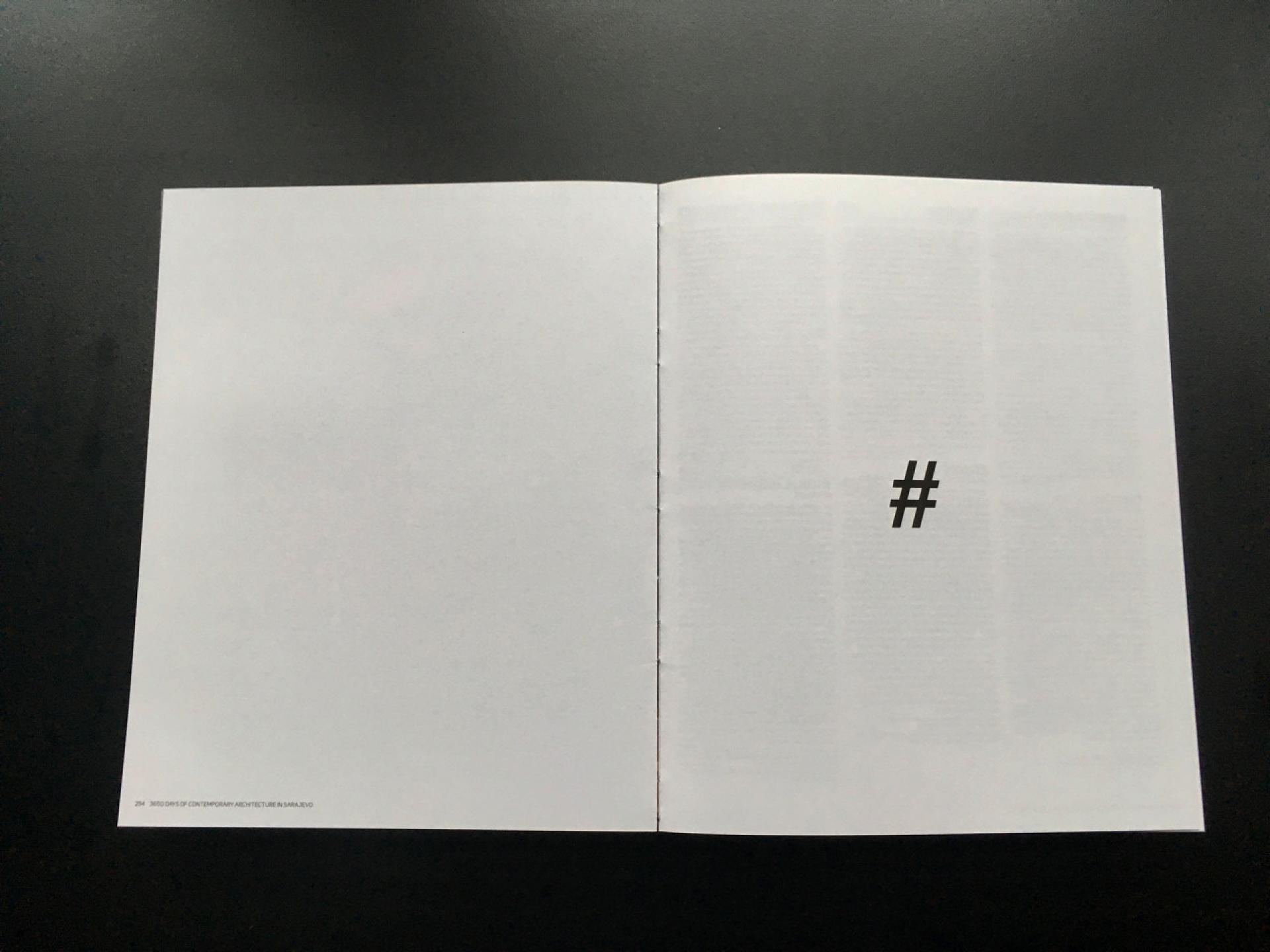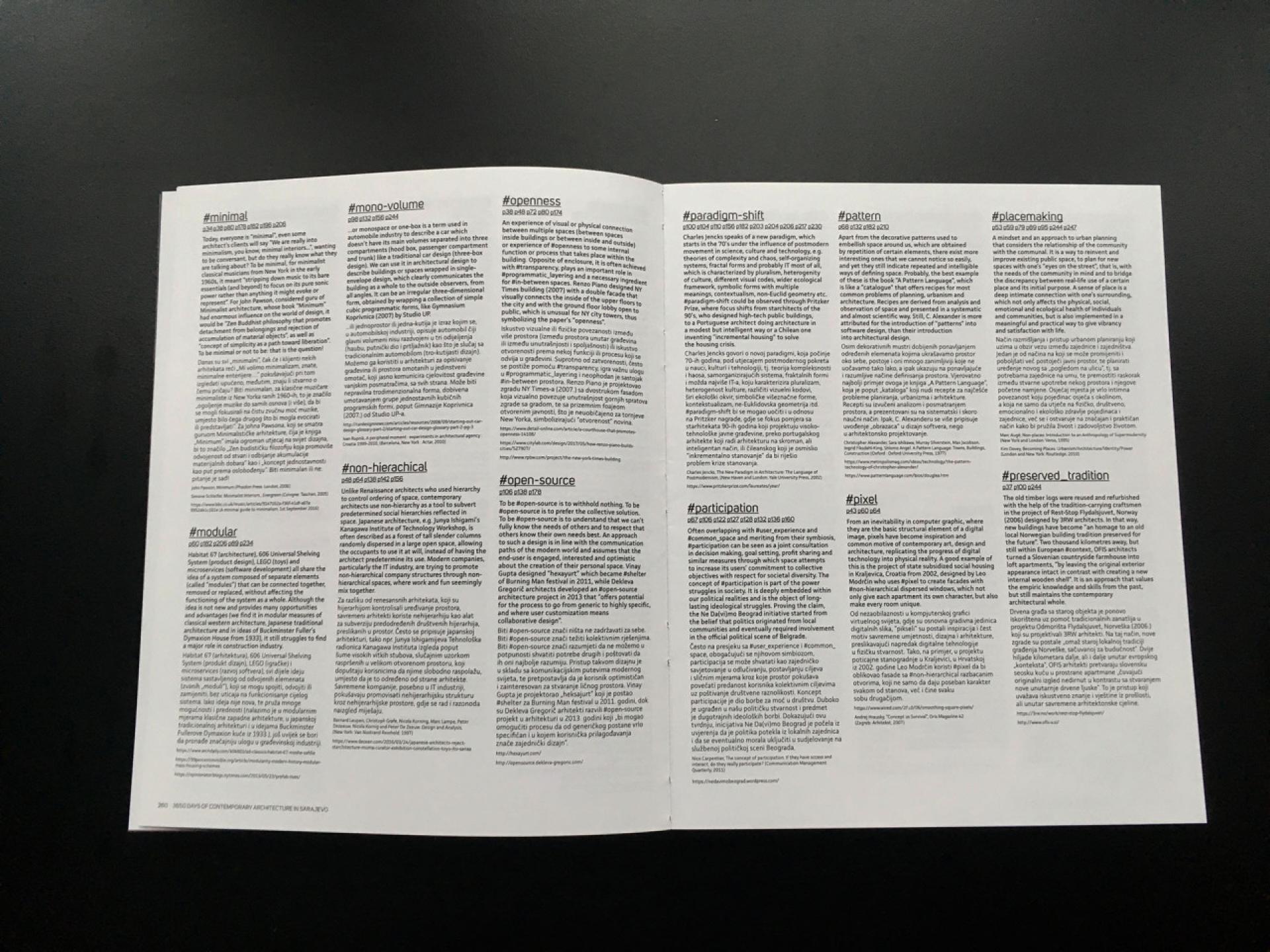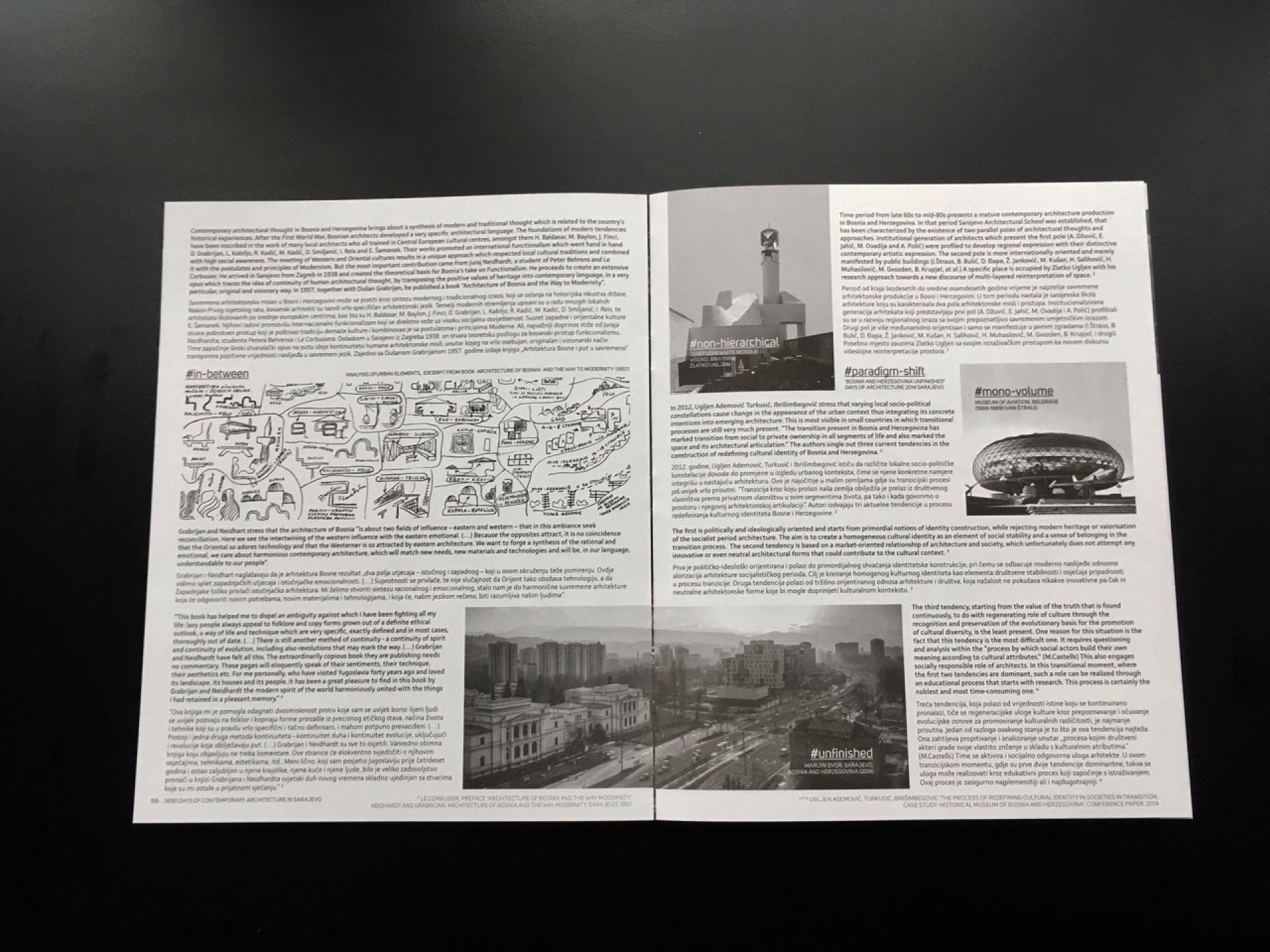 Architectuul was introduced to the festival programe with Unfinished Series in 2014 with a discussion about the theoretical basis for Bosnia's modern architecture. Juraj Neidhardt, a student of Peter Behrens and Le Corbusier, published a book Architecture of Bosnia and the Way to Modernity together with Dušan Grabrijan in 1957. With this book they develop a dictionary of architecture elements and building types for a modern Bosnian city on the assumption that "architecture of Bosnia is about two fields of influence – eastern and western – that in this ambiance seek reconciliation. Here we see the intertwining of the western influence with the eastern emotional. Because the opposites attract, it is no coincidence that the Oriental so adores technology and that the Westerner is so attracted by eastern architectures. We want to forge a synthesis of the rational and emotional, we care about harmonious contemporary architecture, which will match new needs, new materials and technologies and will be, in our language, understandable to our people."
What can we learn from Sarajevo? The vision of the modern Bosnian city was based on cultural identity and continuity. Urban form has been always linked to the social context. In the period from late 1960s to mid 1980s Sarajevo Architectural School was established, that has been characterized by existing of the two parallel poles of architectural thoughts and approaches. Later, in 1990s, the Balkan war destroyed all. On such basis a new generation started to build from scratch. Bringing up a festival in such condition is therefore an important and responsible act of creation of a new place.
Every year has each edition of the festival built a stronger connection between the local and international discourse. With a very local base, the festival nevertheless opened the discourse interesting on the international context. It started to build a bridge towards Orient. And however architecture meaning was changing, either on East or West, the capital started to took control of the cities with the same intensity. Hans Ibelings states in the preface of the book how "the festival have increasingly demonstrated that can carve out a provisional free space to discuss what architectural values and functions could be, what else architecture can be, with a multitude of activities catering to a professional audience and, to a certain extent, to a general public as well."
The festival featured presentations, workshops, discussions with Studio nonstop, ON/OFF, Studio UP, SAAHA, Dinko Peračić and FAR among others. Check the short statement by Bernard Khoury from the last edition.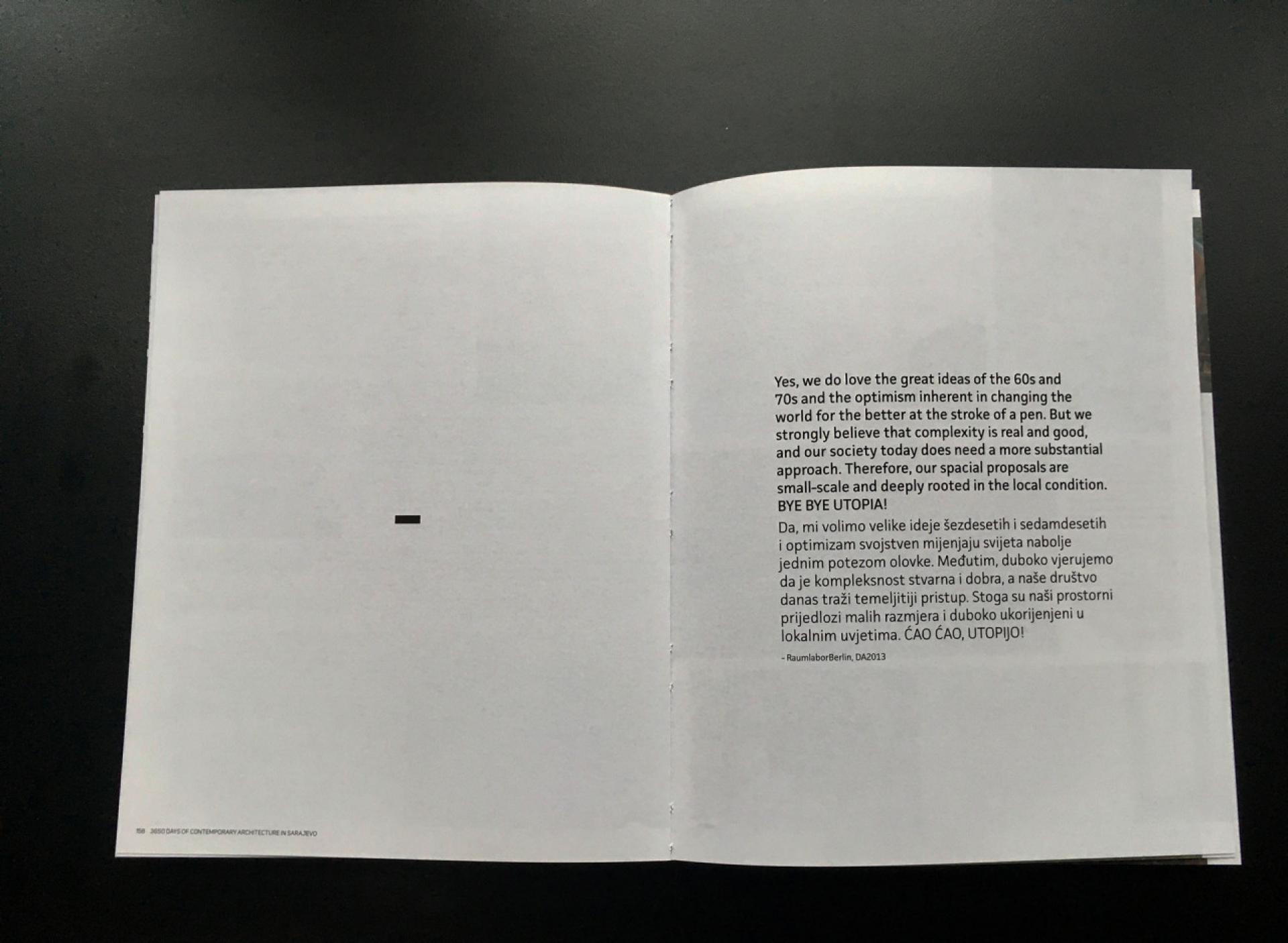 Just after Christmas, while Nedim Mutevelić brought fresh copies of the book to Berlin's publishers and institutions, many just didn't understood the meaning of it. Maybe because they weren't able to listen what the book explains. I asked Nedim, while drinking a glass of red wine, what is architecture today anyway? "Experience" he answered without thinking.
Therefore those who aren't able to listen, will never experienced or understand that "events like the Days of Architecture act both as an accelerator of exchange and as a site for production of architecture culture itself. After the event both what it has produced and what it has mediated can become subject of further mediation (similar to the process in which a subject is mediated in a book, and thereafter mediated in a book review.) In this book the organizers of the Days of Architecture take the lead in their own mediation" as Hans Ibelings explains.
—
3650 Days of Contemporary Architecture in Sarajevo edited by Nedim Mutevelić. Paperback, Text in Bosnian and English, 267 pages, 2017 Publisher Buybook